Texans Community | Houston Texans - HoustonTexans.com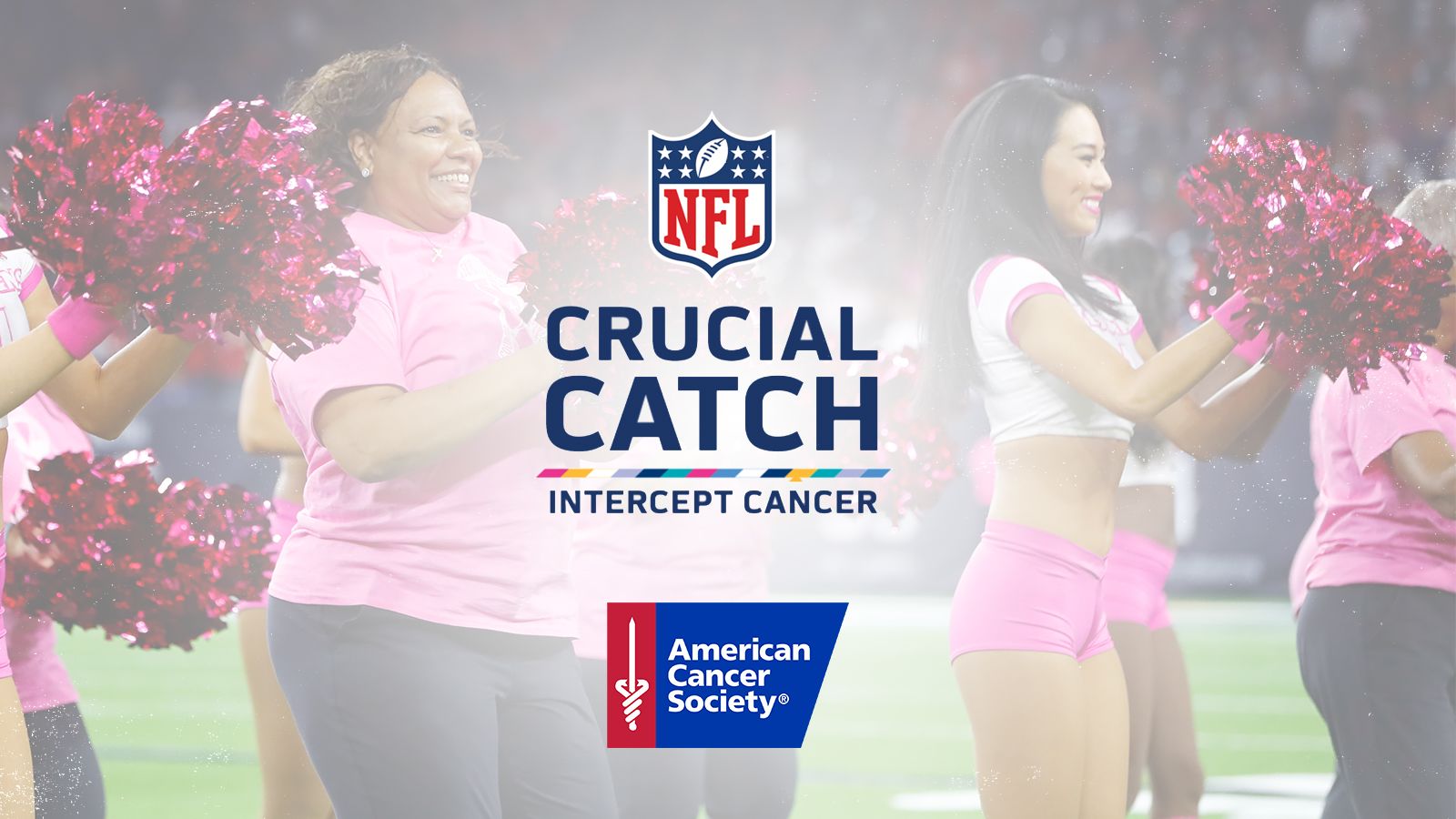 The Texans join the NFL and the American Cancer Society (ACS) to help save lives by promoting the early detection of cancer. The Texans focus on breast cancer screening, awareness, education, and community activation and annually celebrate survivors at Pink Ribbon Day presented by Kroger. The Texans also support Hope Lodge Houston and the NFL's A Crucial Catch Day.
Pink Ribbon Day supports Breast Cancer Awareness Month and celebrates individuals and their loved ones who have been affected by cancer. Zeta Tau Alphas from the University of Houston handed out pink ribbons to fans as they entered NRG Stadium. In honor of a loved one affected by cancer, Texans season ticket members held the Texas flag; Houstonian and breast cancer survivor Nicole Hurst, who toured with Justin Timberlake, sang the national anthem; and breast cancer survivors, including Texans co-founder and senior chair Janice McNair and the mothers of defensive back Kareem Jackson and quarterback Deshaun Watson, served as Coin Toss Captains.
The Texans hosted an event for 12 breast cancer survivors and patients representing Texans partners the ACS, Kroger, and Houston Methodist Hospital. The patients and survivors were invited to participate in a fashion show, where they were outfitted in clothes from Palais Royal. Each honoree was escorted down the runway by a Texans player (or two!), including wide receiver DeAndre Hopkins, defensive back Kareem Jackson, safety Tyrann Mathieu, and others. Additionally, Lady Texans provided makeup services for the survivors, and family and friends were invited to watch their loved ones strut down the aisle.
Tight end Ryan Griffin and cornerback Kayvon Webster visited cancer patients at Houston Methodist West for Breast Cancer Awareness Month. Griffin and Webster visited with patients, survivors, doctors, nurses, and even therapy dogs to help raise the spirits of those who are fighting cancer.
The NFL's A Crucial Catch campaign was developed with the ACS to focus on the importance of early detection through regular screenings. The Texans hosted A Crucial Catch Day at Legacy Community Health Center in Houston. Cheerleaders and TORO handed out Texans goodies while also interacting with patients. Women in attendance received free, life-saving breast cancer education and screenings thanks to a $100,000 CHANGE Grant from the ACS, the NFL, and the Texans.
The Houston Texans Foundation auction at the Pink Ribbon Day game benefited the American Cancer Society's Richard M. Schulze Family Foundation Hope Lodge in Houston. Set to open in 2020, it will be the largest facility of its kind in the country and will provide free lodging and support to cancer patients seeking life-saving treatment in Houston. As campaign chairs for this facility, late Houston Texans founder, senior chairman, and chief executive officer Robert C. McNair and his wife, Texans co-founder and senior chair Janice, have donated more than $5 million to the project, and the Foundation has contributed more than $85,000.