Texans Legends and Ambassadors | Houston Texans - HoustonTexans.com
The Houston Texans Legends Community was established in 2017 to celebrate, educate, and connect all former Texans players with one another and the organization. The Legends Community embraces the team's history by engaging former players. Through the community, Texans Legends will gather annually during Homecoming Weekend to celebrate all the great contributions of former Texans players to the game of football, the organization, and the city.
Homecoming Weekend
In October, more than 50 former players returned to Houston for Homecoming Weekend. That Thursday, Legends volunteered at the Chevron Market Pantry at the Houston Texans Teen Club with the Boys & Girls Clubs of Greater Houston, handing out food to 150 families. On Saturday, the Legends participated in "Chat, Chew, Change," an open discussion centered around the community perception of law enforcement and developing some actionable steps that the Legends can collaborate on and implement with local police departments. The discussion included Harris County Sheriff Ed Gonzalez, Houston Police Executive Assistant Chief (and now Houston Police Chief) Troy Finner, and Fulshear Police Chief Kenny Seymour. The conversation was facilitated by Houston Area Urban League President and CEO Judson Robinson III. Later that day, Legends reunited while bowling. On Sunday, the Legends were highlighted as they returned to NRG Stadium for gameday.
Houston Texans Legends Ambassadors
The Houston Texans Legends Ambassadors are a group of former Texans who represent the team at Texans games and in the community. The Legends Ambassadors program builds upon Houston's rich football tradition and celebrates its present-day impact. The Legends are a unique and integral part of the Texans stated goal of being the most community connected sports franchise in the world, often volunteering their time to the community at Texans events. Even during a time of social distancing, the Legends Ambassadors engaged fans in more than 110 virtual and in-person appearances.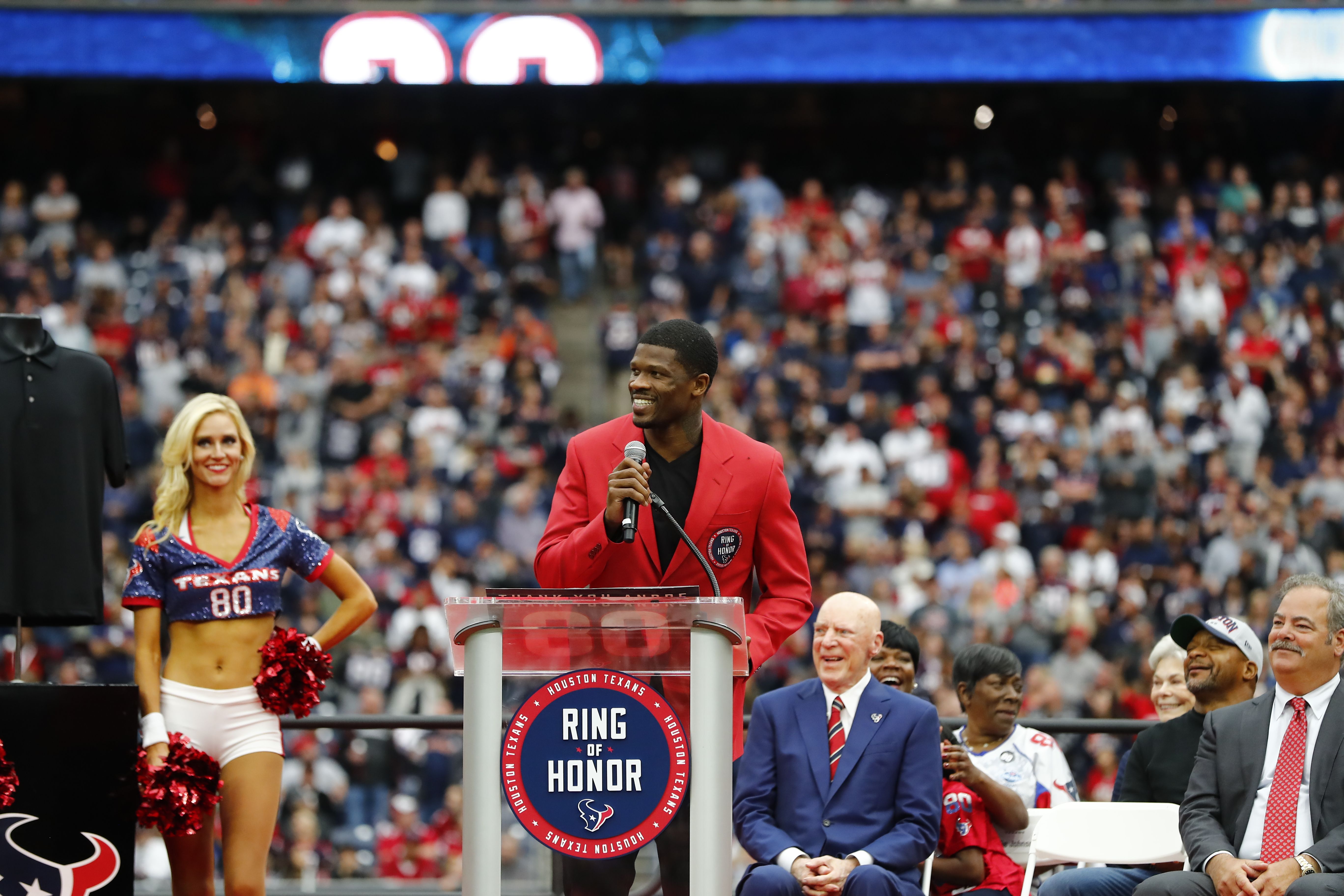 Andre Johnson
Texans Legend and Texans Ring of Honor member Andre Johnson was inducted into the Texas Sports Hall of Fame. The four-time All-Pro wide receiver holds the Texans' records for the most career receptions, most receiving yards, most receiving touchdowns, most receptions in a single season, most receiving yards in a single season, most seasons with 100-plus receptions, and most starts. He was the first player in NFL history to record seven games with 10 or more receptions in 2008. Johnson is the first Texans player to be inducted.