Grammy Award-winning group La Mafia highlighted Saturday's fourth annual Football Fiesta. The event took place after Saturday morning's practice. The heat did not impede the crowd to make its way to the area adjacent to the Texans Practice Facility.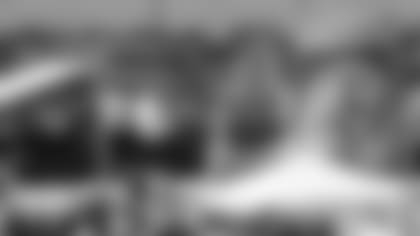 Football Fiesta, sponsored by Miller Lite, drew Texans fans who gathered to enjoy good music and an array of activities for the entire family. Those in attendance had a chance to preview the Bull Pen Pep Band as the opening act for tejano music sensation, La Mafia. The music groups delighted the audience by providing a football atmosphere just in time for the 2006 football season.
The Texan Cheerleaders and TORO were on hand to sign autographs and take pictures with the fans. Other activities included inflatable games for the kids, food and the chance to win prizes given by the sponsors of the event.
The Football Fiesta festivities also marked the first appearance by the Texans Ambassadors. This group of former Houston Oilers players, was created with the purpose to build a connection between Houston's NFL past, the Oilers, and the present, the Texans. Wide receiver Bubba McDowell (1989-95) and safety Haywood Jeffires (1987-95) were the two representatives for the Ambassadors at the event.
"With this new beginning for the Texans, it's important to build a foundation that includes the football past of our city," Jeffries said.
The Ambassadors were excited for the opportunity to reconnect with fans and be a part of the new era in Texans history. McDowell, current defensive backs coach at Texas Southern University, and Jeffires, owner and head coach of the Bay Area Gamblers, had an autograph and photo session for both old and new fans.
"We're happy to do this to enrich the history and tradition of the Houston Texans and the Oilers," McDowell said. "Aside from that, it's important that we do events for the fans. We need to give back to the community because they have always supported football in this city. The community was a big part of our success as Oilers and I'm happy to see that it's one of the traditions the Texans have followed."
Football Fiesta was one of many activities planned for the next couple of weeks before the Texans kick-off the season and Jeffires had a message for the fans.
"To all the old Oilers fans come on out and join us because we're going to be out here every week supporting the Texans," he said. "We are not two different teams anymore, we are all part of the same team. The Oilers and the Texans are going to live forever!"