* One day later, still the same:*As you might have expected, Gary Kubiak didn't feel much better about yesterday's last-second loss to the Bills than he did after the game.
After reviewing the game film with his coaching staff and players Monday, the film only told the Texans something they already knew.
was one or two plays from their fourth win of the season.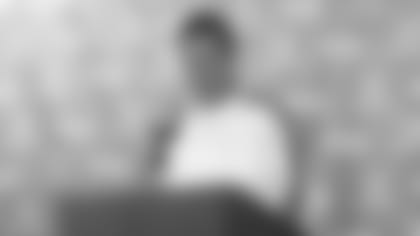 "Probably about the same," Kubiak said when asked how he felt Monday. "You never feel good when you work so hard during the week to get a win on Sunday, but my feelings are the same.
"We came up a play or two short at the end of the game, to close the game sort of speak. We could have found a way to have done that on offense, making a play to stay on the field and we could have done that on defense too, making a play at the end of the game, but we didn't. You have to give them a credit, they made a play to win the game and we didn't."
The play: The key play to the game, of course, was Peerless Price's diving catch in the back of the endzone with only nine seconds left on the clock. After watching the film, Kubiak said Monday the call defensively by the Texans was a good one and the Bills just made a play to win the game.
"I don't know how much you look at and you say you broke down," Kubiak said of his defense. "We're in a red zone Cover 2, there's nothing wrong with the call. We have to execute a little better. As coaches you always look, 'could you make a different call?' Yeah, you could make a different call. Regardless of what was called on the field, you have to execute it and try to keep everything in front of us as they take a couple of shots at the endzone.
"We didn't do that and the kid made a great throw and the kid made a great catch. You'd like to have that opportunity again to go make those plays."
Still there was some doubt that Price had made the reception. Even after watching several replays, it's unclear if Price's feet hit the ground first or his left hand. The fact that it was called a touchdown on the field made it difficult to overturn via replay.
"It's one of those where if it was called the other way, there might have been reason to leave it," Kubiak said. "But the fact they called it a touchdown, he definitely gets both his feet in whether or not his hand is touching out of bounds before they both get down, that's a tough call, but probably too close to flip it either way."
The other play: The Texans could have avoided Price's heroics if they had just converted on one more first down. Faced with a third-and-two with two minutes remaining in the game, Kubiak called for a pass instead of run despite the fact the Bills had just one timeout remaining.
The pass was broken up and the Bills took over, but considering that
never needed more than two plays to earn a new set of downs on the game's decisive drive, the fact that they were left with one timeout thanks to Texans incomplete pass on third down is probably irrelevant.
The bottom line is that the Texans went to their best player with the game on the line and David Carr and Andre Johnson just failed to hook up.
"They were in man free, had an extra man in the box, they locked us up and played man," Kubiak said of Buffalo 's defense on
's last play from scrimmage Sunday. "You expect that in that situation. Somebody is going to make you make a play.
"Can you still run the ball in that situation? Yeah, you can. We (have) things in our scheme that account for eight man fronts. If you're going to throw the ball, you know you're getting one-on-one outside, but that kid (Nate Clements) followed Andre all day. He's a fine, fine player and he did a good job on that play. We didn't make the play and they did so you have to give them credit in that situation."
One that got away:The theme of the day Monday was
's need to make one or two more plays to seal a win. But as Kubiak alluded to, that's pretty much the theme of the entire NFL schedule.
"In this league the games are usually separated by two, three, or four plays and when you make them you win and when the other team makes them, they win," Kubiak said.
With the Bills taking an early 14-0 lead, it would have been easy for the Texans to quit and they might have in September, but yesterday Houston fought back to take the lead.
"I was very proud," Kubiak said. "The way the game started, seven, eight, nine weeks ago, I don't know that we overcome some of that stuff. I didn't see a panic on the part of our football team. We played extremely well on offense in the first half to keep our team in the game. We came back in the second half and played better on defense to give ourselves a chance to win the game."
As proud as he was, Kubiak said the bottom line is wins and there are no moral victories in the NFL and certainly not for a team that he coaches.
"But still, you have to close the deal," Kubiak said. "You can look at it from the offensive standpoint that there were a couple of plays that we could have made or I could have made a better call for our team on third-and-two to close the deal. And on defense we still could have made a play to close the deal, but that's part of this league and you got to make those plays. There's nothing easy in this league. If you ever show up on Sunday and think maybe we get this one easy, it just doesn't happen. Week in and week out in this league there's just too many good athletes and good coaches and when they go against each other, it's a fine line and that fine line is usually a play or two."
Rookie review:Eric Winston started at right tackle for the first time in his pro career Sunday. Though Winston has seen sporadic action for much of the season at both tackle positions, Sunday was the first time he was on the field for the game's initial snap.
Though there were some rough spots, Winston earned some praise from his head coach.
"He battled all day, Kubiak said. "He started rough, on the first interception he got beat inside. Those two guys rush the passer very well. But he didn't let it bother him. At the end of the day on the second-and-10 when we had the ball right before the two-minute warning when we ran Samkon (Gado), he's knocking people off the ball giving us a chance to win. I liked his will to get better throughout the game and I think you're going to see him get better each week."
Mathis update:Pro Bowl return specialist Jerome Mathis remains a question mark for the rest of the season. Kubiak said that if a decision had to made Monday, Mathis would would miss the rest of the season.
However, since the Texans have roughly a week to make a final diagnosis on Mathis, Kubiak would not rule him out entirely.
"I would say this, what I saw last week, if I had to make a decision today based on what I saw last week I would say no, I don't think he's ready to go," Kubiak said. "But he did make a lot of progress last week and if he makes that same amount of progress this week, that decision would be harder for me."