We are going to shock the world on Monday night...at least according to Madden 16.
Welcome back to the Madden Matchup, as we use the popular football video game to preview the Texans upcoming contest. I trust everyone enjoyed the bye week (I sure did), as Texans fans (and the organization) took this past Sunday off from the gridiron. It almost feels like two off-weeks, since Houston doesn't hit the field again until Monday night, as they travel to Cincinnati to take on the undefeated Bengals.
NEWS FLASH -- the Bengals are pretty good. Did the 8-0 record give it away? Undefeated in real-life translates to high skill on Madden 16, as Cincinnati rates at a 91 overall, compared to the Texans 77. The Bengals began the season with a team mark of 84, which shows the improvement the game has given them as their record has continued to climb. However, the Texans have improved since the last roster update, moving up three points after their convincing win over the Titans. You can see the team matchup below.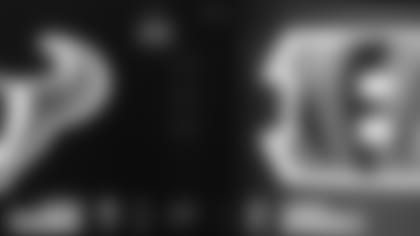 When it comes to Madden 16 (and like most cases, in real-life) the Bengals have a lot of high-end talent. 8 of the top 10 highest rated players in this matchup are Bengals. All eight of those players are ranked above 90, and include skill position players (A.J. Green and Andy Dalton) and those in the trenches (Andrew Whitworth, Geno Atkins). Whitworth is the game's third highest rated left tackle, behind only Tyron Smith (Cowboys) and Joe Thomas (Browns). Texans LT Duane Brown checks in at 11th overall, with an 86 rating. However, I feel obligated to mention that the highest rated player in this matchup is a Texan, with Justin James Watt still maintaining a 99 overall.
The key matchup in this game from a Madden perspective is the Texans defensive backs against the Bengals wide receiver core, namely Green. Green's 95 overall rating puts him among the best, and he has an impressive 94 catch mark. Green joins Marvin Jones (83) and Mohamed Sanu (80) to give Cincinnati a tough trio of pass catchers. Throw in tight end Tyler Eifert (85 overall), and the Texans secondary has their hands full.
Matching up against all this talent will be Johnathan Joseph and Kevin Johnson (see below). Joseph's marks are still strong despite the team's slow start, as he boasts an 89 speed rating and 84 mark in total. Johnson is more of a raw talent in Madden's eyes at this point, showing great agility (92) but being rated only a 75 overall. We'll see if Johnson's talent can match up with Green and company's ability.
Madden Matchup: Texans 31, Bengals 24
How about that? Madden 16 predicts a 17-point fourth quarter and a Texans win on the road on ESPN's Monday Night Football. We'll take it. I know there has been talk of curses around these parts (my fault), but much like Bill O'Brien has said to the media this week, we are not looking back at the past. We are on to Cincinnati.

So, with that said, let's hope the game is right. In the simulation, the Texans jumped out to a 14-0 lead, which we'll all agree would be the best case scenario. The virtual Texans generated 433 yards of total offense, including 339 through the air. The Bengals ground game struggled to find traction, gaining just 69 yards in the contests. The Texans also forced two turnovers.
Quick starts, stay on schedule, cause turnovers. Sound familiar?
Seems as if the virtual Texans are taking a page from the actual O'Brien playbook. Let's hope that means success is coming for us on Monday night.