---
EDITOR'S NOTE:**Tight end Owen Daniels will be providing periodic diary entries for HoustonTexans.com to give fans insight into the life of a rookie draft pick.
*We're going into day five of training camp now, but it feels like we've been going at it for a month. I came back to Houston a little earlier than most of the guys out here. Rookies had to report the Monday before camp began so I've been in town since July 23. I checked into the hotel that day, so I've been livin' it up in the hotel for a week-and-a-half.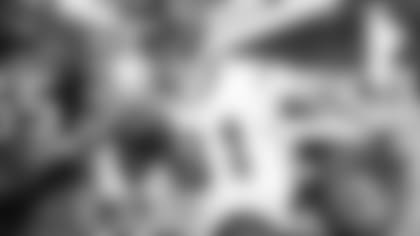 Coach Kubiak gave the veterans the choice of staying at home or staying at the hotel. Some have decided to stay in the hotel with us rookies, but other guys are commuting from home. I just got a townhouse in Bellaire, so I'll have a short drive to the stadium once the season starts. But for now, it's the Springhill Suites for me. I haven't been in Houston long, but I've already taken notice of the traffic… wow, I'm glad I will be living where I am.
Training camp is pretty busy, but pretty much what I expected. Obviously, all of us have been through summer camps before in high school and in college, but like you would expect, the NFL is something different. You always have the heat to deal with no matter where you are, but it's pretty hot down here. A lot of our day is spent mentally preparing for the season. We're working about 10 hours a day. In college, you're allowed to practice only 20 hours a week. Luckily for my legs, the most time we ever spend on the field is four hours a day. Let me try and explain.
I get up about 6:30 a.m. every day and take the shuttle over from the hotel. We can eat breakfast any time from 6:30 to 8:15, but since our morning practice starts at 8:30, I like to get something in my stomach relatively early so it can digest. I get out to the field early, get a good stretch in and then we get going. The last few days we've been in pads and it's a little different than I'm used to, but I'm getting the hang of it.
The one thing I notice is how close they monitor the players. Our training staff is awesome and they make sure we have plenty to drink and the coaches give us a lot of water and Gatorade breaks. Coach Kubiak is really in tune to who needs a day off now and then, too. I'm really sore and I'm a young guy. Guys like Eric Moulds and Steve McKinney have been out here for a decade. I can't even imagine how they feel at the end of the day, but they get to sit out and recover every once in a while.
Anyway, after our morning practice, we shower up and head to lunch, then I usually head back to the hotel for an hour nap before it's back to the stadium. We have meetings at 2 p.m. and then it's out to the practice field again at 3:30 or 3:15 depending on whether it is just special teams or everybody practicing. We practice in the bubble in the afternoon, which is nice. We're lucky to have such a great indoor practice facility. Training outside wouldn't be much fun as everyone in Houston can imagine. After practice, it's another shower and dinner before more meetings until 9:30 p.m. Then it's back to the hotel. Curfew is 11 p.m. and that's never a problem. I'm usually fast asleep by then.
I'll be updating my rookie diary every few days, so check back and see how I'm doing.