 ](/news/article-1/camp-quotes-day-3/B4EA46D6-F1C8-44C5-80FB-1B3F36EA945C)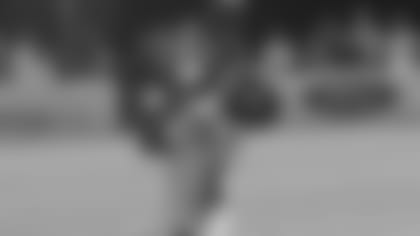 Full pads on: The Texans came out full force Sunday morning for their first practice in full pads. The third day of training camp also drew the most fans since day one, and the spectators saw plenty of action.
"Every camp I've ever been in the National Football League, when you get to the third day and you throw those pads on, there's a big elephant that gets on your back," Gary Kubiak said. "We got started early with some thumping early and I liked what happened at the end of practice. Everybody was dead and tired, yet guys were stepping up to make some plays at the end, on defense and on offense."
The first hour of practice included individual and position drills before the offense and defense went head-to-head. The quarterbacks had a chance to practice with their receiving corps before taking on the defense.
Kubiak has taken notice of Joppru's improvements.
"I would think that he will help us out after what's happened to him his first few years here," Kubiak said. "I've seen that happen with other players in other teams that I've been on. They struggle early in their NFL career with their bodies, and then all of a sudden when they do get it right they play for a long time. I'm hoping that's the case with him. He's having a good camp."
Wide receivers then joined the action, but not before the secondary stepped in to challenge the air strike. Cornerback Phillip Buchanon was consistent throughout the drill as he gave the receivers a hard time all day, breaking up a couple of passes and stepping in front of Andre Johnson for an interception on one deep ball. The highlight of the day was Tramon Williams' one-handed interception that got an approval reaction from the crowd.
McCleon in the mix: Speaking of cornerbacks, free agent Dexter McCleon arrived for his first day at Texans training camp Sunday. Head coach Gary Kubiak spoke out about his interest in acquiring veteran talent at cornerback, and McCleon is the first piece to a puzzle that has yet to be completed.
"I have been working out and training hard the whole time," McCleon said. "There's a difference in training in the off-season and coming out here and doing it on the football field. It's totally different. My conditioning was good and I'm in shape, but I have to get my legs and feet back doing football movements. It takes a couple days to get the feel back."
McCleon was a member of the 1999 Rams Super Bowl team before spending the last three years with the Kansas City Chiefs.
"I see my role as doing whatever it is they need me to do," McCleon said. "Whether it's playing corner, whether it's playing nickel or dime, I want to help these young guys. First of all, I have to get a feel for what's going on here, the scheme. Then I can come to these guys and help them a little bit. But right now, I'm just trying to get my feet on the ground, get myself settled and learn what's going on."
Kubiak was happy to give McCleon a chance.
"I know a little bit about Dexter (McCleon) having been in Denver and playing against him in Kansas City many years," he said. "He's been a fine player for a long time. He's a veteran guy with experience. I've gotten some great calls on him from a character standpoint and the type of person he is. We're just looking forward to giving him an opportunity with our football team and in the situation we're in it's a great opportunity for him."
Making it up: Rookie running back Chris Taylor missed his first play of the day on a reception attempt from Sage Rosenfels. He made up for it big time by running the ball all over the field and shunning away defenders the rest of the morning.
Well into the second hour of morning practice, the fans in attendance were allowed to get a closer look from the sidelines. The hard-hitting defense put on a show when the unit gathered momentum with Buchanon's interception. That was followed quickly by an Anthony Floyd hit on Donovan Morgan that sent the wide receiver flying into the crowd as he attempted to reach the end zone.
Veterans and playing like one:With so many rookies on the team, veteran experience is fundamental to leading the way for the team.
"To have some veterans in here like Eric Moulds and Andre Johnson who have played in games certainly enhances us to be able to teach," assistant head coach/offense Mike Sherman said. "They're not going to play in their first football game when they line up against Philadelphia. Despite it being a different scheme, they will have already played in some games previous to that. To have them having already played under the lights under a great home crowd is going to be critical for us and our success in that football game."
Rookie DeMeco Ryans received praise from Coach Kubiak on his character and athletic skills.
"He's very smart, so he handles a lot," Kubiak said. "He's playing Will (left linebacker) and he's playing Mike (middle linebacker) so that's a big value. The kid loves to play. If you could see him in a meeting room and the way he goes about his business for Coach Joe Marciano and our team, he's like a seven or eight year veteran already. He's a great kid, and we knew that. His character is tops, and his football is pretty good too."
Rolling the film: Kubiak was pleased after reviewing the first days of practice on film.
"Everybody's working hard," Kubiak said. "I liked the way we worked today. We had a really tough morning. We got after it really good physically. I want them to come out in the afternoons and get into their shorts and get into routine. We actually cut practice about 15 minutes short because I think they're working well and pay good attention to detail."
Injury update: Domanick Davis spent the first half of morning practice watching from the exercise bike and then sat out for the afternoon.
"First off, we want him to go every morning with it," Kubiak said."That's what we what we want him to do. The first two days were good. He had a little soreness yesterday and he came in and we took a look at it. We took an MRI yesterday; it looked good. It is bothering him; he is sore. It may be a process where he goes two days and then takes a day off and come back with two more. We're going to do what's best for him and this football team. But the key thing is that we have to make sure that everything is fine with the knee. It looks like it is, so we have to sit down and chart out the course."
"Robinson rolled his ankle, he came back the next morning, and it bothered him again." Kubiak said. "We pulled him out. He just went and had x-rays done, just to ease our minds. He's fine, and we need to look at some of these other guys anyways. We'll get him healthy, even if it takes two or three or four days so we'll do what we have to do to for him to be ready to play."
Rainer's and Peek's injuries will be determined following x-rays.