 First day jitters?:The Texans began the 2006 season Friday under a blazing sun in the morning and then beneath the comfort of their practice bubble in the afternoon. They got right to work as the up-tempo mini-camps in June led to a smooth first day as both sides of the ball seemed to be in second week form.
Even though he's been head coach for a little over seven months, Friday was still Gary Kubiak's first day at an NFL training camp as head coach. Despite being a part of three Super Bowl Champions as an assistant, his first camp in charge is still not something he's taking for granted.
"It (the first day) was very exciting," Kubiak said.  "Just driving down Kirby today knowing that I was coming here to do that was pretty exciting.  You find out it's about work, and we have a lot of that to do, and it's going to be a long process.  So you just put your blinders on and go to work."
Kubiak and the rest of the coaching staff were probably more excited than the players, especially some of the veterans who have been through training camp several times.
"It's nice to be out here, but to be honest, no one likes to practice, it's kind of a necessary evil," tackle Zach Wiegert said. "I can't say that I enjoy being out here in a 100-degree heat and enjoy being beat up. It's not that fun. I missed the guys and the locker room, that stuff makes this part of the job bearable."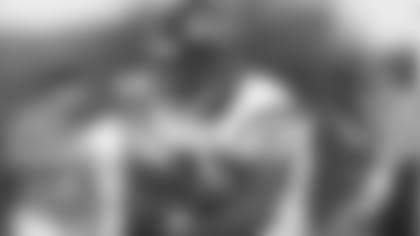 back in action**: Domanick Davis, who sat out during mini-camp returned to the practice field Friday. Davis, who had been nursing a sore knee, split time with a bevy of other Texans' running backs, but the fourth-year player out of LSU said he felt fine following Friday morning's practice.
"I'm feeling pretty good,"
said. "I did a little more than they wanted me to do so it's feeling pretty good. Whenever I start feeling like it's back to normal then that's when I'll do more. I'm kind of pushing it a little more to see how far it'll let me go without swelling up and it's not so that's pretty good."
was slated for just individual periods Friday morning. Knowing that he's only going to practice once a day,
decided to do more than just position drills.
"I did way more than that because I'm pushing myself a little hard too. It's not normal but it feels good enough to do it. I'm just going to take it one day at a time and just take it slow."
was just one of many players who talked about leadership Friday. Kubiak put a premium on finding leaders for his new team this offseason and it was hot topic at the first day of training camp
"I'm not the kind of leader that's going to get out here and talk about doing this and doing that,"
said. "I'm going to try to be a leader by what I do. I want to be the leader they can count on when they need me to come through. More actions than anything, you won't hear me talk or say anything, maybe clown or say something to get the guys to have fun with what we're doing and that's it."
At Wednesday's pre-camp media gathering, Kubiak pointed out that newcomer Mike Flanagan has quickly establishing himself as a leader.
"A guy like (Mike) Flanagan comes in here and he did have instant respect from a standpoint upfront," Kubiak said.  "He played on a winner at
and he's been successful."
in Frank Winters, who played 17, 18 years in this league," Flanagan said. "From the first day, he was the guy who walked over to me and say, 'hey, I'm Frank Winters.' Anytime I had a question, he would help me out. That's how I learned. It was comfortable for me, it was comfortable for Frank. I mean, let's be honest, I'm only here as long as I can last, somebody's got to be ready to step up. If I can help these guys out, I'm going to."
Flanagan wasn't ready to anoint himself top dog, he's been around long enough to know that leadership is earned, not given.
"There's no set rule in this leadership thing, it's not given, it's earned. If (my teammates) consider me that, I would love for that to be part of my role, but I have to earn it first.
Birthday boy: Rookie linebacker DeMeco Ryans will always remember his 22 nd birthday, it was today and fell on his first day of training camp in the NFL.
"A few guys knew it was my birthday," Ryans said. "I don't think everybody knows. It's a grind being in two-a-days so everyone is just focused on doing that. I got a lot of missed calls on my cell phone."
Injury report: Friday morning saw wide receiver Eric Moulds and rookie tackle Charles Spencer go down with cramps related to the heat. Both players were back in action during the afternoon session.
During the afternoon practice, cornerback Demarcus Faggins made a great play on the ball and collected his first interception of training camp. Unfortunately, Faggins rolled his foot on the play. Kubiak, who was quick to praise Faggins during the offseason, said x-rays will be taken to survey the damage.