One more and done:The Texans began their second
's second mini-camp was originally scheduled to go through Wednesday, but Gary Kubiak announced Monday that Tuesday will be the team's last get together before training camp begins in earnest on July 27 th. Kubiak was pleased with Monday's workout, but he was pretty clear about his sole objective over the next two days.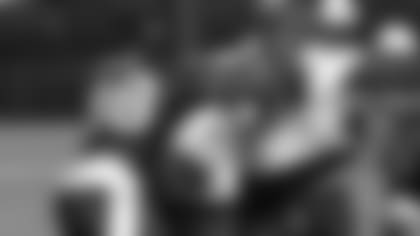 "It (practice) was good," Kubiak said. "There was a couple of things we wanted to get done these last two days before we take a break this summer and I want to make sure we're all healthy when we walk out of here tomorrow so we took the helmets off, but we still got a lot done."
Some may think that practices that don't even include head gear are easy, they're not. Kubiak has spent the past few weeks trying to determine if the team can have an intense practice without pads, or in Monday's case, helmets. Over the course of a long NFL season, it's critical that teams can take it easy on their bodies and if the last few weeks have been a tryout for his new team to see if they can handle it, the new head man seems to have given the Texans a passing grade.
"I think we've learned how to practice without pads," Kubiak said. "That's important because I'd like to be able to do that. That was important from a tempo standpoint. What we expect, how we meet, how we come out here ready to practice, our tempo, the way we task them mentally, I think they responded well. The key will be that we can't start over when we come back July 27 th."
Landing a leader: Even with
's long NFL tradition, some fans forget that the Texans will be competing in just their fifth season when the NFL kicks-off this fall. That hasn't escaped Kubiak. High on the list of priorities when the Texans reconvene at the end of July will be finding some veteran leaders.
"I think the key to this team is that we find leaders," Kubiak said. "It's such a young team, only four years. There are guys that have been here for a long time that people just look to when times are tough and we'll find those people. We'll establish those people in training camp. I feel good about that. It's going to be a tough go ahead of them. It's a tough division and we have to get ready to go. But we've had a good summer and we'll finish strong tomorrow and we just have to maintain that when we come back."
Shopping list:Like every other NFL team at this time of year, the Texans will be watching the NFL transaction wire closely over the next month in the hopes of adding some key additions before training camp. Kubiak addressed some of the team's needs Monday.
"We're going to continue to look," Kubiak said. "I've talked about a veteran running back. We're going to continue to look for a veteran fullback and this team, I think, will continue to look for a returner type, receiver guy. There won't be a day where Rick (Smith) and I don't see what's going on."
That veteran running back could be
. Kubiak confirmed that interest Monday.
"We've talked to them over and over again. To my understanding, he's basically been their starting back over the offseason because Reggie (Bush) has missed some time and I don't even think Deuce (McCallister) has worked so their not just going to let their starting running back go at this point. He's a fine player and I'm sure we'll talk to them throughout the summer, but it remains to be seen."
Walter no more:One of the most improved areas of the Texans offense this fall will be the receiving corps. With a healthy Andre Johnson and with the addition of Eric Moulds, the Texans have one of the better one-two punches in the NFL. But another receiver has been making a name for himself over the past week. Kevin Walter came over from the Bengals this past offseason in a move that didn't exactly make headlines.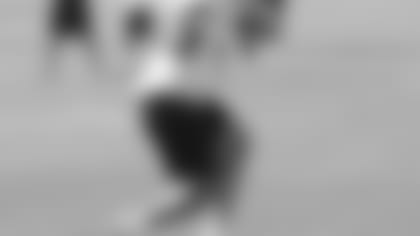 However, Walter is already displaying an uncanny ability to get open and could slide into the slot as the Texans' third wide receiver. It's a role he's interested in.
"I'm trying to strive to be the best receiver I can possibly be," Walter said Monday. "I can only control how hard I work and I'm going to work hard and whatever that place is on the depth chart, that's their (the coaches) decision."
Walter was buried on a crowded Bengals depth chart since coming out of
and he didn't hold anything back when asked if he thought that this season might be his chance to make a name for himself.
"Most definitely," Walter said. "But every year is a chance, a chance to go out there and prove what I can do. Hopefully, I'll get a little more opportunity to show what I can do as a receiver, but I'm also going to bust my tail on special teams. Whatever they ask me to do, whatever coach asks me to do, I'm here to do it 100 percent."
Walter also said he's already seen improvements in the new Texans' offense.
"From day one until now, we've made great strides on offense. I think we're going to continue to do that well into training camp and the preseason and we're going to work hard and get better from there."