Quarterback David Carr threw for a career-high 371 yards the last time he faced the Titans.
But that's because he had to throw, early and often. Tennessee jumped out to a 21-0 lead, forcing Houston to abandon the run and throw the ball 42 times.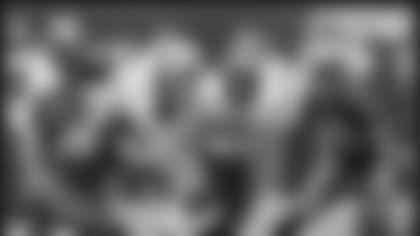 The Texans will need a huge effort from Davis against Tennessee.
If Carr plays this Sunday against the Titans -- and it looks like he will -- the Texans will have to produce positive yards on the ground to help him out. Trouble is, Houston has averaged just 67.5 rushing yards the past two games, compared to a 184.5-yard average for the opposition. And now the Texans face the league's best defense against the run.
Tennessee yields just 79.6 yards per game on the ground, a staple of head coach Jeff Fisher's philosophy since he took over as head coach of the franchise. The Titans have always tried to stop the run, force the opposing offense to become one-dimensional and unleash their pass rushers on the quarterback.
Thus, if the Texans want to control the tempo in Sunday's game and keep Carr upright, they'll need to establish some semblance of a running game. It may require some creativity since the Titans are so physical in the interior. But in running back Domanick Davis, Houston has a pretty creative and elusive back.
In that Oct. 12 loss to the Titans, Davis rushed for 59 yards and caught seven passes for 70 yards. It was a performance good enough to impress the Titans and earn Davis the starting job the following week.
"He didn't get a lot of touches in that game, but you could see he had talent," Titans linebacker Peter Sirmon said. "It says a lot for him to be chosen in the fourth round and come in and lead the team in rushing. There have been players in the first round who couldn't come in and live up to such high expectations."
Since earning the starting job Oct. 19 against the Jets, Davis has accounted for 46.8 percent of Houston's offense and is just 119 yards shy of the 1,000-yard rushing mark. Tennessee is well aware of those numbers.
"We pride ourselves on stopping the run and making teams one-dimensional," Titans defensive tackle Robaire Smith said Wednesday. "We don't want (Davis) to get over the 1,000-yard mark against us. Nobody on this defense wants to be part of highlight film."
Davis got his sea legs back last week at Tampa Bay after missing the previous week's game at Jacksonville with a thigh injury. And he knows playing well the next two weeks against the Titans and Colts (who own a combined record of 21-7) could go a long way towards helping him snag NFL Rookie of the Year honors.
"I'm just going to keep doing what I'm doing," Davis said. "I always practice hard and I always push myself harder than the next guy."
Davis possessed his usual zip in practice Wednesday. Carr, meanwhile, is convinced his sprained right shoulder is healed and ready to go.
"I expect to be out there," Carr said. "It's to the point now where I can push it a but and see how it feels. I want to get as many reps as possible because I haven't exactly had the most reps the past four or five weeks.
"I have better range of motion. When I wake up, it's not as sore. I can actually sleep on it now."
Wednesday's practice was as good an indication as any that Carr is close to returning.
"David took everything in practice that we had scheduled for him," head coach Dom Capers said. "He threw the ball, I thought, like we're used to seeing him throw."
That should have Texans fans excited. It already has Carr excited.
"We only have two more games," he said. "They're both at home. I haven't played in awhile so this is kind of exciting. I feel like I'm starting a new season."
NOTES:The 2003 Pro Bowl selections will be announced tomorrow. The Texans players with seemingly the best shot at making the AFC roster are cornerback Marcus Coleman, linebacker Jamie Sharper and punter Chad Stanley. "You have to be honest with yourself," Coleman said. "You know whether you've played well or not, and I feel like I have. Whether I've played well enough to go to Hawaii? I don't know."
Center Steve McKinney appeared as if he was auditioning for Blue Man Group Wednesday. Somebody filled his gloves with blue dye and the result was, well, you get the picture. McKinney vowed revenge and refused to take off his emergency pair of gloves for reporters. The culprit, who will go unnamed here, better watch out. And next time use a lighter shade of blue…