 When the Texans exited the field after defeating the Cleveland Browns in their last game of the season, DeMeco Ryans probably thought he was going to have some time off.
It hasn't exactly worked out that way. Just days after finishing a rookie campaign that saw him lead the NFL in solo tackles, Ryans was named Defensive Rookie of the Year.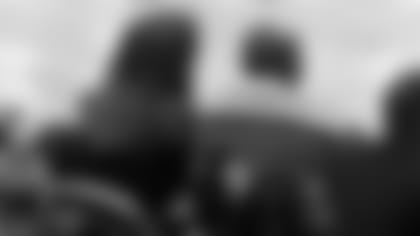 It shouldn't have come as a surprise to Ryans, he was a clear cut winner, securing the award with one of the largest margins in the history of the award. But beginning with a press conference last Wednesday at Reliant Stadium to announce the honor, Ryans has had quite the schedule for a player supposedly in his offseason.
Wednesday night he took in the Rockets game at
and was recognized with an ovation from the sellout crowd.
"They just asked to me come out and congratulate me for winning rookie of the year," Ryans said shortly before tip.
The Rockets certainly didn't try to hide him, providing him with the best seats in the house, midcourt, on the floor.
It was Ryans' first NBA game since he watched the Mavericks host the Golden State Warriors in
teammates played in the Cotton Bowl during his senior season.
His appearance at the Rockets game should be one of his last public appearances after a hectic rookie season.
"It hasn't been a whirlwind, just a lot of interviews at different studios, nothing too big," Ryans said. "But it's been busy."
Wednesday, Ryans chatted with FSN's Patti Smith courtside during the first quarter during the broadcast of the game. He predicted an easy win for the Rockets. Sure enough, they delivered a 25-point win.
He also signed autographs courtside, including one football that was thrown into the crowd by
's own "Clutch", the Rockets mascot.
The attention might have been a little overwhelming for the humble Ryans, who said he couldn't even remember the first person to congratulate him on his honor last week.
"Who was the first person that called me? I don't know," Ryans said. "It was probably Tim, my best friend from home."
And the first person he called?
"I called my mom, but she already knew. My brother found it on the Internet or something early in the morning and he told her."
With his schedule starting to calm down, Ryans should have some time to make some more calls, perhaps even to a team or two that passed on him in the draft and made him one of last season's biggest steals.