Owner Bob McNair was able to connect with Rick Smith on a professional level May 19. Two weeks later, McNair used his second interview with the Denver Broncos' assistant general manager to learn about him on a personal level.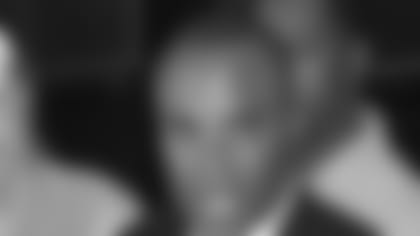 Smith and his wife arrived in Houston on Thursday, and they accompanied McNair, head coach Gary Kubiak as well as other team officials and their wives to dinner last night. Today, Smith observed the Texans' OTA workout before his second interview with McNair.
The informal setting at dinner allowed Smith to show a different side of his personality and discuss topics outside of football. This afternoon, McNair took particular interest in Smith's blueprint for building the Texans into a perennial winner. Smith characterized their visit as more informative than before, but he still leaves town without a job offer and no timetable for when McNair wants to fill the position.
"No, we're not at that point now," Smith said. "We're discussing some of the things that Mr. McNair might want or what I might want. We'll get back to that as time goes.
"I was excited to be invited for a second interview since I had come the first time. It was always understood that they would be bringing back the top two candidates, and that's certainly a possibility as well, so I was just excited to be in the second round of interviews."
Kubiak has played an intricate role in the hiring process, and has spoken in detail with all three of the general manager candidates: Smith, Green Bay Packers director of player personnel Reggie McKenzie and New Orleans Saints director of player personnel Rick Mueller.
While Kubiak has been effusive in his praise of Smith, who he worked with for a decade, he maintains an open mind regarding McKenzie and Mueller.
"Any of (the other candidates) would have my backing because I want what is best for the organization," Kubiak said. "Whoever we put in that situation is the guy I have to work with on a day-to-day basis. So whoever that guy is, he's going to get tremendous support from me."
A possible sticking point in any talks to hire a general manager is the subject of final authority over personnel decisions. But that doesn't seem to be an issue with Smith, who is not seeking total control over player moves.
"I have no predisposition on what the responsibility needs to be or how it needs to be structured," Smith said. "I think that what's most important is that everybody's on the same page and everybody buys into whatever it is that we're trying to get done. So that's what's important to me."
Smith's biggest selling point, aside from his strong working relationship with Kubiak, is that he comes from a proven organization that has had double-digit regular season win totals in seven of the past 10 seasons he has been in the Mile High City. Smith doesn't see any reason why that prosperity can't translate to Houston if he joins forces with Kubiak.
"I think what's been my message since I've been here is that there's a system that I come from that's been successful," Smith said. "Certainly, to a large degree, what's been done here, there's some successful elements that are here. So I think that there's a marriage there that could take place between what I know and certainly what's been done here, and I think that could be successful."