Few players remain on the Texans' roster from the 2002 inaugural season. In fact, there are only 12 of them left, and guard Fred Weary is one of them.
The 2006 season has brought with it a new coaching regime, new mentality and a new offense, among other things. Under head coach Gary Kubiak and offensive coordinator Troy Calhoun, Weary has moved from right guard to left guard in an effort to find his niche on the offensive line.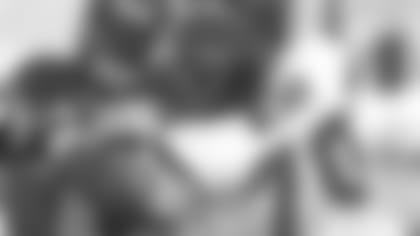 "I knew that the coaches were going to bring in a new offensive system," Weary said "So I felt I had to get comfortable with the (zone-blocking) system and I had to go out there and do everything I had to on the football field. There was a lot to learning the system, learning the plays and everything that came with that."
Weary was as eager as the rest of the team to improve, particularly because of the heavy scrutiny the offensive line has received for its perceived lack of pass protection over the years.
"There's a whole lot of pressure for the offensive line," Weary said. "We've really been the talk of the team year in and year out. People would talk about how the offensive line wouldn't block and protect for running plays for Domanick (Davis). We're taking initiative to do something about that this year. We're trying to go out there and set the tone for the offense so they can see us prosper."
the past two seasons, offensive line coach John Benton was brought in to help bolster the unit.
"There were some really good things we (coaching staff) could see when we first came in,"
said. "We wanted to start building on that and give them some foundation.
"When we first got here, as a staff, and started evaluating all the players, we noticed that Fred had limited repetitions. Therefore, we really weren't sure what we had with Fred. But he's been a pleasant surprise all through OTA's last spring and particularly in training camp."
Weary's road to this year's training camp has had its bumps. A 2002 third-round draft pick from Tennessee, Weary began his career as a starting right guard the first four games of that season before stepping down to a backup position and then back to a starter before the season was over. That season would denote the next three years in his career as he flip-flopped from seeing no playing time at all to becoming a starter. Weary's game never developed consistency.
"Experience is his weakness,"
said of the fifth-year veteran. "He probably hasn't seen the field as much as we'd like for him to have gotten veteran savvy."
The lack of playing time, however, has done nothing to Weary's mental game as he continues to stride for personal athletic growth.
"Fred is very conscientious,"
said. "He probably watches more film than anyone else we have here, film on himself and of others. He's really become a consistently good player for us. Quiet off the field, but one of our more physical guys on the field."
Weary is humble about his role on the Texans. He realizes that in order to make an impact on the team he has to earn a position. Nothing ever has been handed to him.
"I know the coaches feel like they've got confidence in me," Weary said. "That, of course, allows me to build confidence within myself. I have to work hard to first of all get a position in this football team."
The success of an offensive line, however, comes when the entity works together as one unit.
's formula will only work when the front men move in unison.
"The system lends itself to success,"
said. "We just have to bring it together."
"If one guy out of the five of us doesn't do his assignment, that can be a break in the chain," Weary said. "Each and every one of us has got to be on the same page. We have to be together. We have to work as one unit to go out there and get the job done because if one guy messes up, that can cause us a tackle for a loss or a sack. We have to do it every play to get the job to be productive."
After one preseason game, Weary and the offensive line got a taste of what could happen if they continue making progress. The line allowed sacks in all but one game last season. So far this year, the team has allowed no sacks. Of course, it is the preseason, and it was only one game, but Weary is excited about the fast start.
"There were a lot of differences from our last game last season to our first preseason game last week," Weary said. "The biggest one was the win. We didn't have any sacks, so that's something to build off on and that's something to look forward going into this weekend to do the same thing. We just have to keep going week in and week out and get ready for the Philadelphia Eagles to come in here."
Weary and the Texans don't need to be reminded that it's only preseason. They were reminded every day this week when they got back to the practice field to work on the mistakes that they made.
"Every time you get on the field on game day there are always changes from the week before," Weary said. "Bottom line is to play better than we did the last time we were on the field. We've had the opportunity to go over mistakes we did against
, and the plan is to go out there and correct those mistakes."
Training camp is still in session and this is only the beginning of the team's rebuilding effort. There are two more weeks until the final cut, but Weary is not going to wait until then to prove himself. ](http://store.houstontexans.com/family/index.jsp?categoryId=2238162&cp=2450577)
"Fred's a very physical presence inside for us,"
said. "He's a real stable force and he seems to be very durable. I don't believe he's missed a practice or even any reps since we started here. He is also a real dependable guy. He's a little bit stronger in the run game than he is in the pass game right now. But so far, I see him coming along well."
"Stable" is the key word, and Weary's biggest hope this season is that he continue to build on the foundation he already has started.