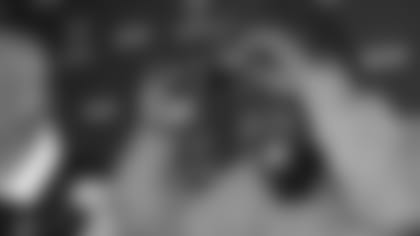 The Houston Texans officially announced the addition of safety Ed Reed to the roster at a press conference Friday morning. Reed, Founder & CEO Bob McNair and general manager Rick Smith spoke with the media.
ED REED PRESS CONFERENCE
Chairman, Founder and CEO Bob McNair
General Manager and Executive Vice President of Football Operations Rick Smith
S Ed Reed
QUOTES ON ED REED
Head Coach Gary Kubiak
Defensive Coordinator Wade Phillips
ED REED PRESS CONFERENCE
General Manager and Executive Vice President of Football Operations Rick Smith
"It is truly a great day for our franchise. As (Sr. Director of Communications) Kevin (Cooper) noted, we are here to announce and celebrate the signing of Ed Reed as a Houston Texan. I typically don't take notes to press conferences and it's a rarity that I do, but our award-winning PR staff handed me a sheet of paper and as I started reading this paper, I started highlighting some things that I want to point out. Nine interceptions in 15 playoff games—the most among active players and tied for the most all-time. The best interception return average in NFL history. The most games with two interceptions in NFL history. Has the longest interception return, two of them, in NFL history. I think you kind of see the pattern here. The only player in NFL history to score touchdowns on  punt returns, blocked punts, interceptions and fumble recoveries. (Note: It was discovered after the press conference that Ronde Barber has also scored in those four areas as well) Tied for an NFL record with three blocked punts returned for a touchdown. To say that we've added a player that can impact the game is an understatement in this instance. I am truly thankful that this deal came together. I'm thankful and excited about Ed's contributions to our football team, to our community. I'm excited to watch him and welcome him into our family. We always talk about player acquisitions and what you're trying to do, whether it's in the draft or free agency. You're trying to add players that are quality men that make an impact on the game and can make plays. We certainly feel like we've done that with Mr. Reed. I will let (owner) Bob (McNair) talk about it from his perspective of what it means and then we'll hear from Ed."
Chairman, Founder and CEO Bob McNair
"Thank you, Rick. First of all, congratulations Rick for doing an outstanding job. For those of you who aren't as familiar with what takes place during these free agency periods and the draft and what have you, you can't imagine how much work and effort goes into it. Rick and his staff have just been doing an outstanding job for us and this is another result of that effort. As you know, we have a plan and our plan is to keep our core players. We know that we can't keep everybody, but we have to keep those core players if we're going to be a contender for the Super Bowl every year, and that's our goal. But occasionally, we have the opportunity to bring in someone that can add a dimension to our team that really, really feels a need that we have. It's not often that we have that opportunity. We've talked before about the fact that as we get into the playoffs, we have to have that level of mental toughness that will allow us to handle the increased pressures that are taking places in that point in time. In order to do that, we need to have veteran leadership on the field. Coaches are not out on the field during that period of time. The general manager is not out on the field. It's the players out on the field. We have to have leadership from the players during those critical times. As a young team, we had very few veterans for obvious reasons. Now we're developing those ourselves and then to have the opportunity to bring in somebody like Ed Reed, who has tremendous leadership ability and also bringing a dimension of being a great ball hawk which we have not had. We've had some great DBs that are really strong hitters. We haven't had that guy who is our center fielder though, who can cover all the ground and go after the ball. Ed Reed does that. That's a dimension that really adds something to our team. It strengthens us greatly. We play the best quarterbacks this year. We're going to be going up against Manning. We'll be going up against Brady. We'll be going up against all these guys and to do that, they're going to be throwing the ball and we have to be prepared to defend it and go after the ball and get it. It's ours, isn't it Ed? That's his attitude. The ball is in the air, it's mine. I love it. He's a solid guy and he'll be able to help our younger players and strengthen our defense at the same time. Ed, we're delighted to have you with us."
S Ed Reed
"I'm glad to be with you. This is awesome. From the first day of free agency, Rick (Smith) called me and I think we both knew, just from the conversation, how things were going and how this could work. It was just a matter of time of getting it done. First, I would like to thank Rick for the call and Mr. Bob (McNair) for reaching out and telling Rick to reach out to me and the organization for laying out the red carpet on the visit. Everybody, they're just such great people. It was a good time that I just enjoyed being around good people. The facility is great, it's awesome. For a guy this late in my career and at this age, you think about things differently. I still love football. I know I can play football. It was just a matter of being somewhere that fits for me and the team. I thought that the team knew what they wanted and understood that my fit to their team and organization was perfect timing. I prayed on it very hard and left it in the Man's hands. Honestly, he showed me well before it even happened, that this was the home that I will be in next. It was just awesome to go from a great franchise to another great franchise, knowing that we had some classic battles when I was with Baltimore, and knowing that now I'm in that Battle Red soon to come. I can be a part of a great organization that I know already what they want to do and that's to win a championship. I came here to do just that and help as best I could with helping guys, whatever it may be on the football field or off the football field for this community. I'm all about working out and winning a championship when I'm training. That will never change. I know that Bob knows and that Rick knows that that's what they're getting, a championship effort every time."
(on his past week, leaving Houston without a deal and everything leading up to now) "I think the first thing was getting acclimated. It was my first and only visit. It's the first time for me to be a free agent and going through that whole process. We were reaching to get something done on that trip. Rick (Smith) and I talked about it pretty much the whole time. We knew what we wanted. We knew we wanted to get here. It was just a matter of time. Honestly, I had to leave town because I had to take my son to my nephew's birthday party on Saturday and the flight was about to board at some point. I had to get out of town and still work out some things from a business perspective because this is still a business at the end of the day. Rick and I knew it was about football, for us. It was just a matter of getting things done. It was a matter of getting to my family at the end of the day and having them have a great time, and the party was fun."
(on where Baltimore fit in and if there was an emotional tie to the Ravens) "Of course, man. That's 11 years; that's a storybook. I'm proud to say that the last game was the Super Bowl, in Baltimore, and that will never be taken back. I'll always be in that community and will always be forever grateful to my fans, to that city, to my neighborhood, my neighbors, to so many people. There are so many things, Booker T. Washington, the SEED School, community things that we've done, Stevenson University, just working with those kids in that community. That's what it's about. Football is what we do, it's our job, and it's a business. The relationships that I have with the people in Baltimore will never change. Now I've been placed in another place, here in Houston, where I can help in the community. There is somebody else that needs to be helped. My path has been directed here for a reason. I asked to embrace it as I get on my knees and whoever that I can help, I will try. I'm sure, hopefully, there is someone in the locker room that I can help and they can help me. I'm sure that's going to happen."
(on how important it was to look at the front seven and other elements of the Texans defense) "Anybody who is a football fan and knows me, knows that this is the right place to be—knowing that this is the perfect situation. I watched these guys, so many times. I've played against them. I know what this team has. I know what this organization has. I know what I'm coming into as far as the mentality. There is a goal that's been set from top to bottom. I come in just for that. I come in to play football and championship football is it. There is a growing process that we went through in Baltimore and now I've watched this team throughout that growth process and I've been able to win a championship with Andre Johnson, who is a great friend of mine. I know where his heart is at for this city. There is no other person who I want to help more, than to do that, than him. That's just what we're reaching for, man."
(on overcoming age by playing smart and with heart) "Like I tell kids in my camp, like I tell Lardarius Webb, Cary Williams, Bernard Pollard, you have to understand and know your limitations. As a worker, when you come to work, whether you're sick or you're injured, if you can go and not hurt the team and play, that's what you do. But you have to understand how you move on the football field. I've played through injuries. We've all seen them. I've played through hamstring injuries. I've played with a torn labrum. The mental part is probably the best thing that you should have. What they say is this game is 90 percent mental and 10 percent physical. Everybody knows father time catches up with you, but when you have the right people around and the right situation and you understand what you're doing in your role, you're able to move a certain way throughout a defense. That's why I'm calling Coach, like, 'Hey, I want to see a playbook.' I want to get the mental part down, because at the end of the day, if you can get lined up, that's going to be the key to success."
(on playing closer to home and his family in New Orleans) "That's awesome. I don't think I could've gotten any closer than this. Texas is neighbor to Louisiana. I feel it in the weather, man, just being in the south. It feels great. Knowing that my mom, my dad, can drive right on over and see me play football and bring my little nephews, that's something that you can't take back. That's something that won't ever happen in life. For them, to be able to see that, and for me to be able to be an inspiration to them and other kids, that's what it's about in life. You don't get those opportunities and I'm very thankful that Houston picked me to be that guy."
(on how he believes he can fit into Defensive Coordinator Wade Phillips' scheme) "I've seen and known about Wade (Phillips) for a long time and known the success he's had as a defensive coordinator. After talking with him, I know it's similar to the defenses I've been in, because he talks about how he keeps it simple; and that's one of the most important things about defense, to keep it simple. That way, you can play at your fastest. All of us in here know that the Texans defense has done that over the years since he's been here. So I don't think it's going to be hard at all for me to fit in and do the things that the organization and the team and the defense and the scheme that Wade brings to the table; I don't think it's going to be hard at all. We've had conversations on how we can do some little things just to get better already, so I'm excited."
(on when he realized that studying and exceling at the mental aspect of the game would help make him elite) "When my high school coach used to hand me a VHS tape and he'd just say, 'Go watch it.' You never know what you're doing by yourself like that, but over the years I've had some great coaching, starting off with Donnie Henderson in Baltimore, Chuck Pagano, who recruited me, Curtis Johnson, Randy Shannon. I could go down the list: all the coordinators that really embraced me and helped me to become a better player and understand the mental part of it. There are so many situations in life that also help with it, and mentors and friends who know about the countless hours of watching tape. Tape, honestly, just became like regular TV to me. I enjoy it because I know that football is a short chapter in our life, and I'm definitely excited about new challenges that it presents."
(on Curtis Johnson saying that he had an 'old man sense about him') "Should I take off the hat for you and show you the gray hairs? That comes from my parents, their work ethic and being as young as they were, but as old as they were from a mental standpoint, knowing that they had to take care of their kids and provide a better way for their kids, really stuck with me. I've surrounded myself with older people when I was a kid, just to get that guidance from people who were doing positive things. Like me and (Texans General Manager and Executive Vice President) Rick (Smith) talked about, you always can learn something from your elders: good, bad or indifferent. You always take some good from them; it's your choice how you react to things. I'm always looking for information; that's what this process was about, and that's what I tell my kids. How can I tell my kids at my camp that you need to get the right information to know the requirements to go to college and I not do the same thing? It's just about information."
(on the Texans offense) "Explosive. Very explosive; can control a game. You have to be able to run the ball and have a very efficient passing game, and I think that offense has it. I know the challenges that it presents from a defensive standpoint. I've played against it, like you said. There are so many plays – I'd like to see how thick the playbook is because they have so many plays that you have to memorize. They pose so many problems for a defense, but those problems can't be caused if the defense doesn't get off the field or if the defense can't stop the team from getting in the end zone. It's going to be our job to make sure that our offense is just as efficient as we are."
(on which person or people in Baltimore were the hardest for him to leave) "Honestly, everybody north of 695; everybody north of 295, should I say, was probably the hardest thing ever in life. But it's not so much as leaving, because I'm going to be a part of the community, and I'm going to be a part of this community because now it's my family. It was hard; it is hard, but like I said just a second ago, football is a small chapter of our lives. Eleven years is a great book and the way it ended, you can't write a better script. Eventually, we knew Baltimore had to make decisions and they made those decisions. I talked to (Baltimore owner) Steve (Bisciotti) and (Baltimore General Manager) Ozzie (Newsome) and Coach (John Harbaugh) this morning on e-mail, and they've taught me well from a player's perspective, from a business perspective, and just as a man. When I was in Baltimore, it was all about raising men; not just having players come in and out of there, but raising men, and that's the reason why they built up to the success, so just everybody who wore purple and black, it was tough."
(on what advice he has for his new teammates to help them reach the next level) "Don't change. Don't change what you've been doing. That's been a process that you've been going through to have that success you had in the last couple of years, and that process has built up. Like I said, I talked to (Texans General Manager) Rick (Smith) about it and I've been through the same thing; I've been through that with a bunch of great players and Houston already has the attributes, and I pray and hope that I was the one attribute that was needed to take this thing to the next level, and that's to be in New York come next year. We're going to continue to go through the process and have some fun and enjoy football the way we enjoy football, but like I said, I know what I'm coming into, I know the goal that's already been set, and that's always my mentality. So long as I'm in this game, it won't ever change."
Chairman, Founder and CEO Bob McNair
(on whether the performance of Baltimore's defense against New England the last two years impacted the team's decision to go after S Ed Reed) "I can tell you from my perspective, it was quite clear that Baltimore was able to play the Patriots and they were very effective, and I think their centerfielder had a lot to do with that. The quarterback has commented, (Tom) Brady, that the first thing he'd do when he got up to the line was he'd look for No. 20 and he wanted to know where he was. That's where the study comes in. Ed (Reed) studies it so well, understands it so well, that it reaches a point where he can sort of think like the other quarterback, and I think that that's just a tremendous asset. It's just something that he's acquired over a number of years. I suspect that he couldn't do that the first year that he was in the League; it took time to develop that skill and that effort, but I think he can help us be more effective against those types of teams. He has shown his resolve and his ability to play well under tight situations. The year before last when we played in Baltimore, I think he was the guy that intercepted the ball on his goal line when we were threatening to go in and win the game. That's the kind of performance you need: a guy that'll make the play when it's clutch time and Ed has that, so I think he'll do it for us, too."
S Ed Reed
(on whether he had an opportunity to speak with Baltimore Senior Advisor to Player Development O.J. Brigance) "He actually e-mailed me the last couple of days and just prayed for me and let me know that he was praying for me, that God would give me the guidance and strength, and really saying that He was going to guide you to make the right decision, more than anything. I talked to him about family and everything, and last night I let him know, he knew I was going to be a Houston Texan, and he just congratulated me, told me he was going to miss me. He knew I was going to miss him, but he also knows that we are going to keep in touch and that we're brothers for life. O.J. has taught me so much from Day One when I came into the League about being a professional, talking to the young guys about professionalism, he had me doing seminars, so to say, for the rookies that came in. There's so much that O.J. taught me, and I could talk forever about him, but that's definitely a brother, an uncle, to me for life."
(on playing with Texans DE J.J. Watt and the Texans defense) "It's going to be something to pay. It's going to be a lot of trouble for a lot of people come this fall with big J.J. (Watt) coming at you and Mr. (DE Antonio) Smith on the other side, and (ILB Brian) Cushing coming at you. We've got a squad, man! I'm already excited and now you want to talk football, so it's going to be exciting. This is going to be a very exciting year with those guys, with that pass rush, with that front seven. Talking to (SS Danieal) Manning and J. Joseph (CB Johnathan Joseph), we already know that we don't have to do much; we've just got to hold our end down and I know we will because I know what those guys already can do. I just plan to come and, like I told them, help be better. This is about getting better every day. That's all we're going to be about; I know that's what they're about. Any way I can help, I told them I will. So very excited that you've got J.J. because you've got a pass rush coming and you know if somebody gets their hands up, that ball might float a couple times and that's what DBs like. I know I do."
QUOTES ON ED REED
Head Coach Gary Kubiak
(on the signing of Ed Reed) "Obviously, it brings a wealth of winning experience to our football team, which is extremely important. We've got a young football team that has tasted the playoffs for a couple of years in a row now. Obviously, we're looking for some people to take us even further. He's been there, done that, and has been one of the all-time great players in this league for a long time. We're very fortunate to have him."
(on the leadership that Ed Reed brings to the Texans) "This league is about winning and this guy has led one of the most consistent defensive football teams for the last 10 years. He's been the top ballhawk in the business for a long, long time. It brings credibility in the locker room right away. All these young guys have a place to look now, to make a big play."
Defensive Coordinator Wade Phillips
(on what Ed Reed brings to the team) "I think number one, he's a great player. Anytime you can add a great player, it's going to help you. His knowledge of the game will rub off on the rest of the players. I think his study habits and great feel for the game itself really will influence our younger players. This is a guy that just won a championship coming in and saying, 'Hey, I want to win a championship here.' I think it's going to energize everybody."
(on the leadership that Ed Reed brings to the Texans) "Everyone that knows him and has been around him knows that he's a leader. It's hard to not only define, but find guys that are leaders. He steps in as a leader right now on our team, which is hard to do, but he's able to do that."
(on how the Texans can use Ed Reed defensively) "He's a great free safety and I think that will change our defense according to things he can do. One of the great things he can do is play the middle of the field. We'll try and keep him in the middle of the field as much as we can and let him roam and make plays from there. We want to utilize his talents and not stick him in to just the way we do certain things, but we'll do them the way he does them and that should help us."