Also, later today we'll have a video with some of the DB's that spoke yesterday to the media, including Florida's Joe Haden, OSU's Perrish Cox, Brandon Ghee of Wake Forest, and Devin McCourty from Rutgers. Other than Haden, who might go in the Top 10, the other three are projected as 2nd or 3rd rounders.
Tomorrow we'll have another video with DB's, including USC's Taylor Mays, Eric Berry from Tennessee and Larry Asante from Nebraska, to name a few.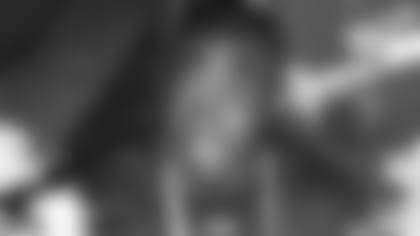 Nebraska safety Larry Asante chats with the media Sunday at the Combine in Indianapolis.
Plus, you can expect a podcast we did with Rick Gosselin of the Dallas Morning News. He's the best in the business when it comes to analzying/predicting/covering the Draft, and we expect to talk with him a few more times from now through late April.
Wednesday we'll have a video of our 1-on-1 interview with Cal RB Jahvid Best, as well as a podcast of our chat with Len Pasquarelli of ESPN.com
Thursday it's a video we did with Sports Illustrated's Peter King, and a podcast of the Best interview, while Friday we'll have a video 1-on-1 with DT Brian Price of UCLA. We'll also put up the podcast from our talk with King.
We have even more from the Combine, and we'll share that early next week.