Campeón de la Comunidad Award | HoustonTexans.com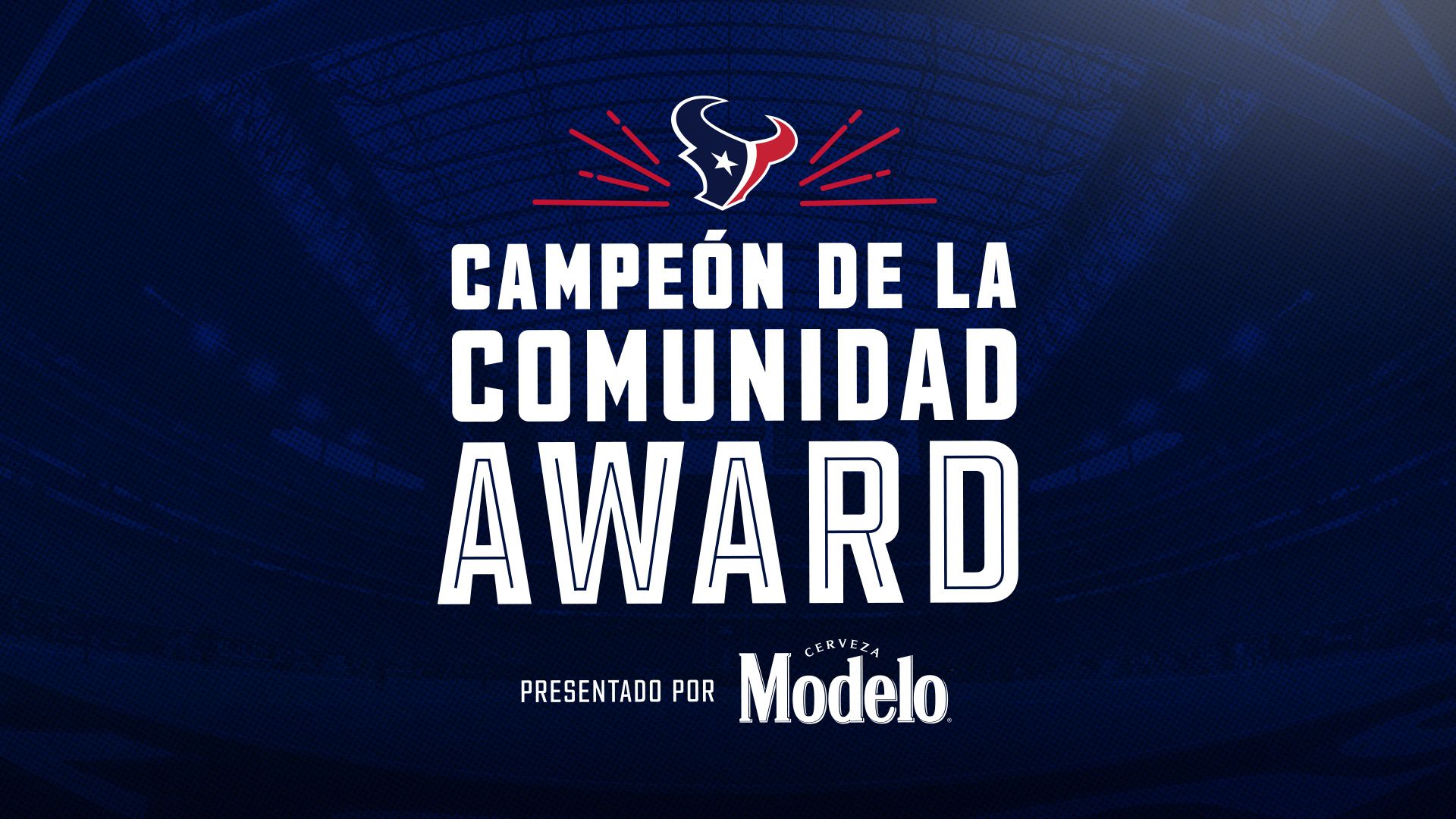 The Houston Texans Campeón de la Comunidad Award presented by Modelo honors an outstanding leader in the Hispanic community who is making a positive impact on the city of Houston through service and dedication to a local nonprofit. The winner will receive a $15,000 grant in their honor to the nonprofit of their choice. Two runners up will each receive donations in their name of $5,000 each.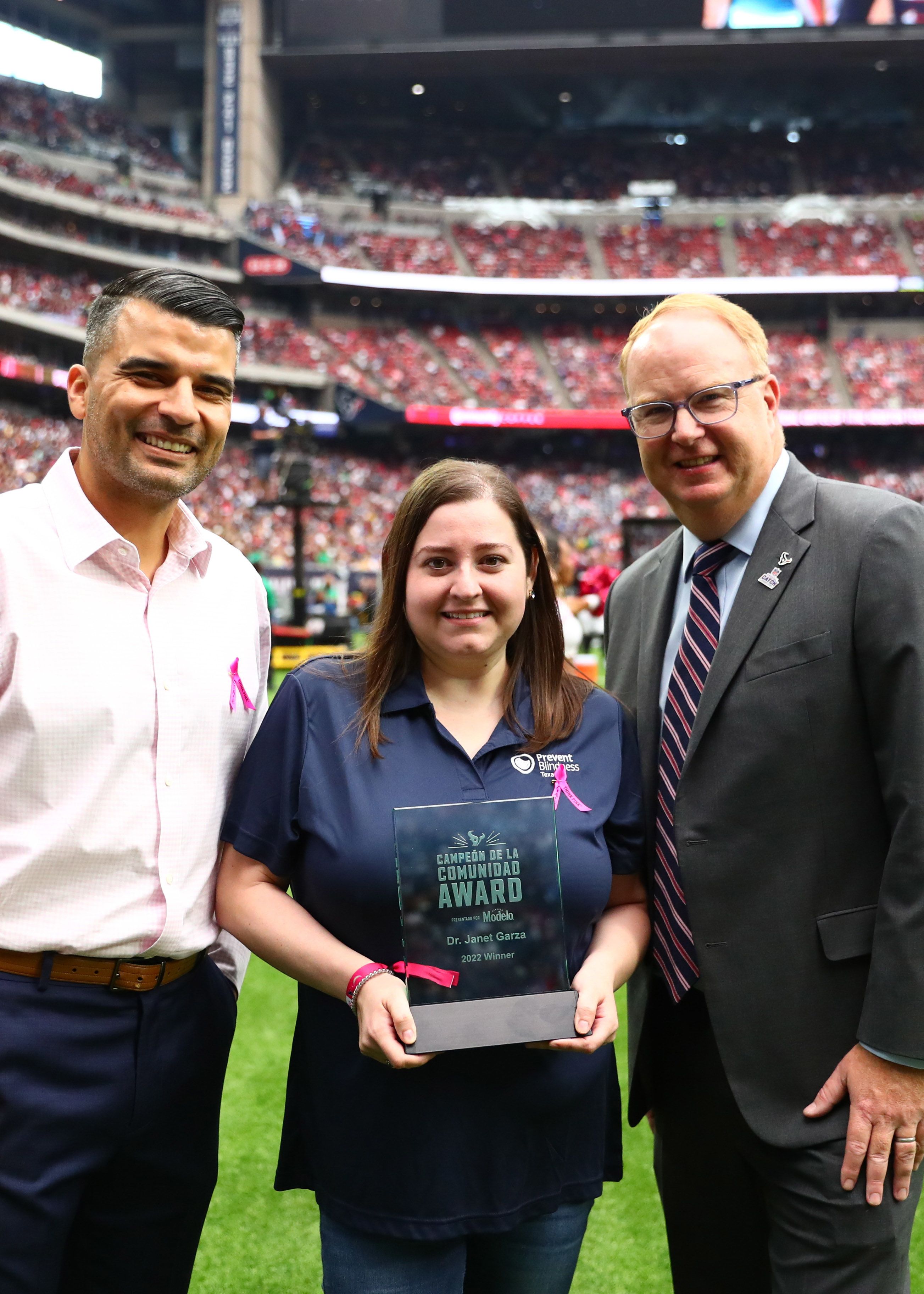 Dr. Janet Garza
Dr. Janet Garza, University of Houston - College of Optometry & Volunteer, Prevent Blindness Texas
Dr. Janet Garza graduated from the University of Houston College of Optometry and completed a residency in Community Based Family Practice. After working in private practice several years, Dr. Garza joined the University of Houston Optometry faculty in 2017 where she currently serves as the Clinical Assistant Professor, Director of Family Practice Residency Program and Clinical Director of the UH Eye Center-Heights Clinic. In her current role as an optometrist, Dr. Garza has dedicated her professional work to providing sustainable and equitable eye care services to help tackle preventable vision loss. She has proven to be a leader in the eye and overall health community and mentors countless students choosing a similar career path. Dr. Garza works with a wide range of nonprofit organizations such as Prevent Blindness Texas to make healthy eyes a priority in Texas. Through Prevent Blindness Texas, Dr. Garza has helped to facilitate follow-up eye care for more than 1,500 adults at risk of vision loss in the Houston community who did not pass a vision screening by providing access to comprehensive eye exams at free or reduced cost. Dr. Garza also understands that good vision is a vital aspect of academic success, and the social and emotional well-being of children. In the Summer 2021 alone, she was a key partner in helping to address the critical need of eye care and providing comprehensive eye exams and glasses to more than 230 school-aged students referred through Prevent Blindness Texas vision screenings. If not for her excellent commitment to increasing awareness of racial and ethnic disparities and patient-centered care, many of these individuals would not have received the necessary eye care resources.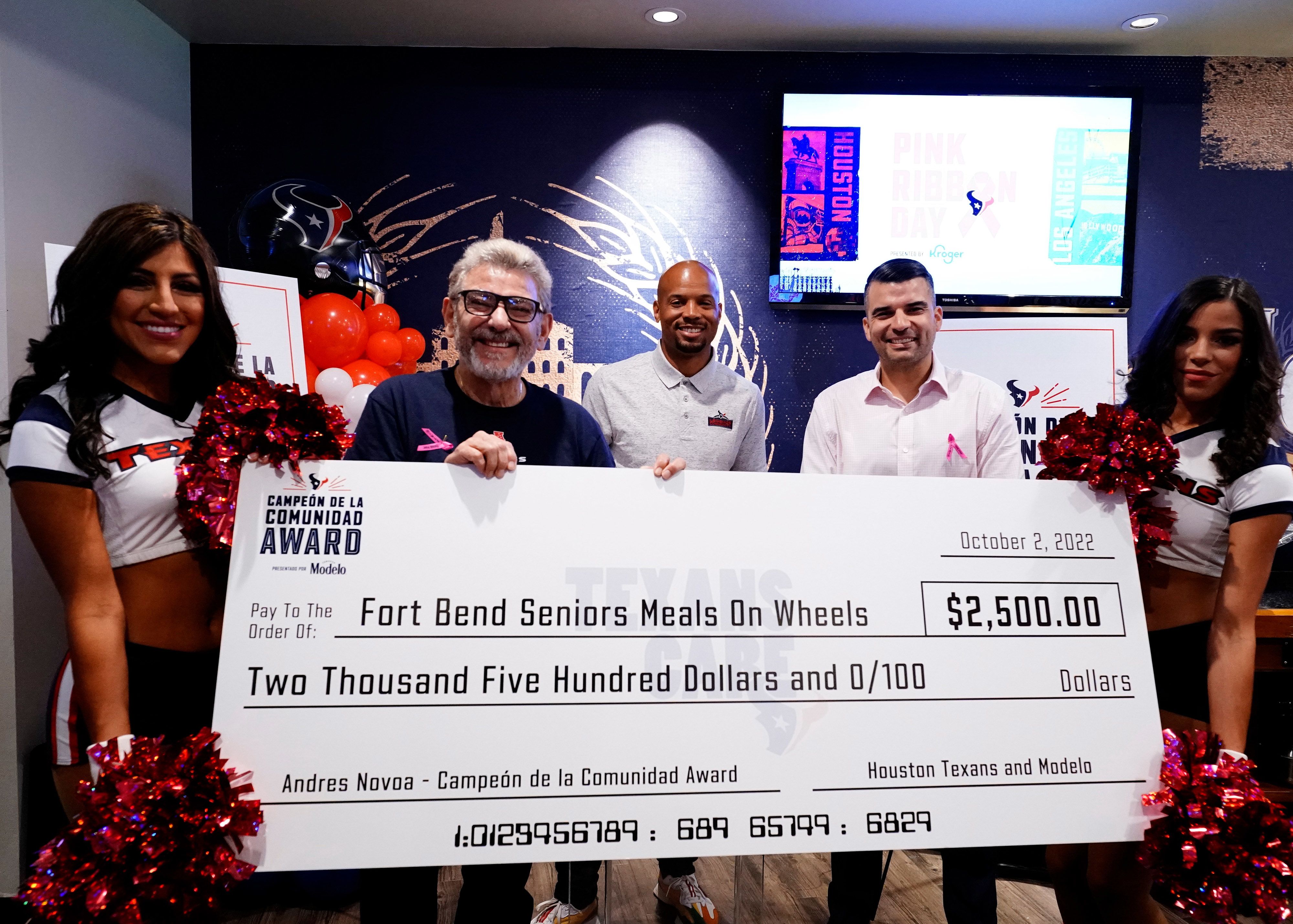 Andres Novoa
Andres Novoa, Owner, La Cocina Mexican Restaurant & Volunteer, Fort Bend Senior Meals on Wheels
Andres Novoa's story is one of perseverance. As a young man, he fled his native country of Nicaragua in the late seventies, seeking refuge in the United States. He was able to find work in the restaurant business, where he got his start with Mama Ninfa as a server and worked his way up to general manager during his 20 years with her. Mr. Novoa moved to Fort Bend County over 30 years ago and opened his own business, La Cocina Mexican Restaurant & Catering in 2000. Five years later, he discovered the Fort Bend Seniors and their commitment to the Fort Bend Community. Mr. Novoa has a special place in his heart for Fort Bend Seniors Meals on Wheels. Upon learning of local elders' struggle to afford or prepare meals, Mr. Novoa launched one the longest running fundraisers in Fort Bend Seniors (FBS) history. For 15 years, he and his restaurant have hosted the Cinco de Mayo Fundraiser in Richmond, TX and show no signs of slowing down. Mr. Novoa's "Cinco de Mayo" Fundraiser has made the largest individual impact on Fort Bend Seniors, raising over $485,000. Mr. Novoa and his La Cocina patrons also participate in Fort Bend Seniors' Secret Santa for Seniors program by collecting gifts to be delivered to 1,400 senior clients in Fort Bend and Waller Counties. He supports countless fundraisers by donating food and gift certificates and is always promoting Fort Bend Seniors.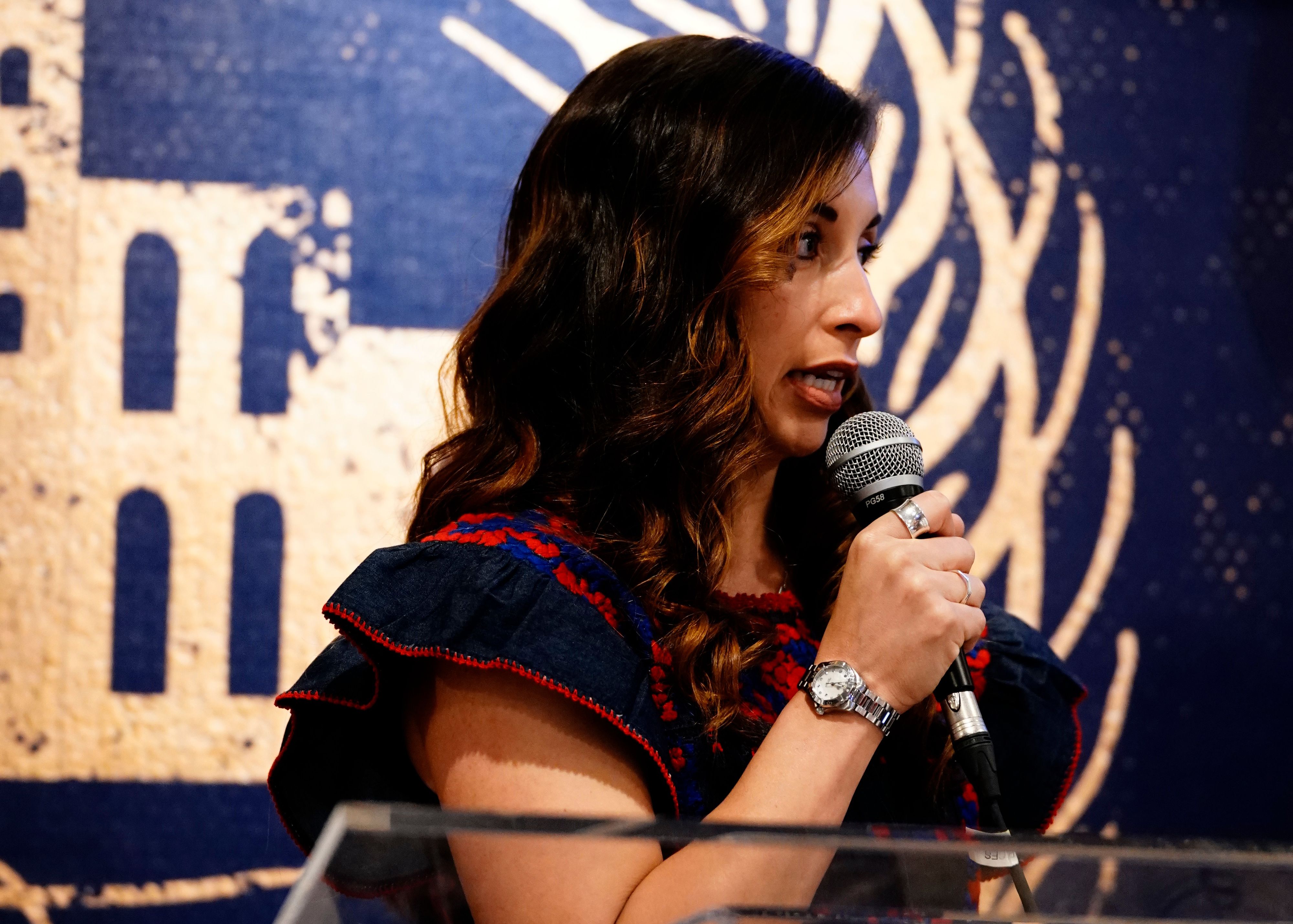 Marlen J. Trujillo
Marlen J. Trujillo, Ph.D., Spring Branch Community Health
Dr. Marlen Trujillo has served as the Chief Executive Officer of the Spring Branch Community Health Center (SBCHC) for the past 14 years, providing low-cost healthcare, educational and social services to a rapidly growing and underserved Hispanic community in West Houston. Dr. Marlen was one of the community leaders on the founding board of the community-based health center in 2003. In May 2004, the community health center was opened in the Spring Branch area, to target the Medically Underserved Population and help reduce healthcare disparities by increasing access to affordable quality health care. In recent years, a population explosion in the West Houston area, has increased the need for additional healthcare services beyond the original clinic in Spring Branch proper. Currently the organization has expanded to 8 locations and two mobile health clinics serving 20,000 individuals in need. Dr. Marlen continues to devote her talents to ensure that residents of Harris County receive affordable, high quality, culturally competent and linguistically appropriate medical, oral, behavioral, as well as support services to individuals and families who are underserved or unserved, while placing a special emphasis on the Hispanic/Latino Community. Dr. Trujillo also advocates for affordable housing by becoming directly involved in the Coalition of the Homeless - Houston's Housing Youth Demonstration Project by brining needed dollars to Harris County to provide youth and young adults who are at risk or experiencing homelessness with transitional and rapid re-housing services using a Positive Youth Development Model.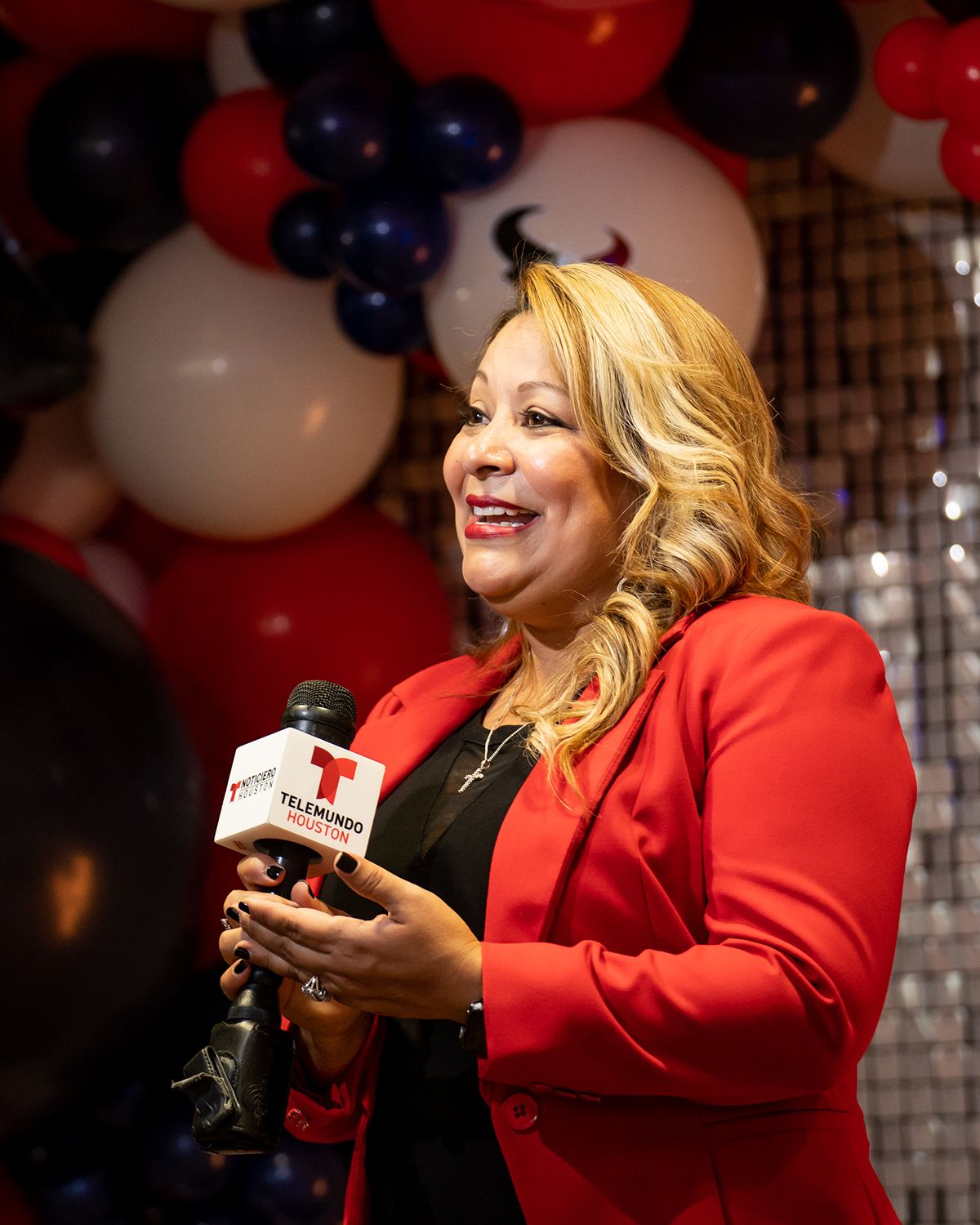 Jessica Cordero
Manager, Texas High School Aerospace Scholars, Office Of Stem Engagement, Nasa/Johnson Space Center | Volunteer, Kids' Meals Houston
After Jessica was introduced to Kids' Meals by her daughter in 2018, she never looked back. She started serving as a volunteer driver, delivering meals to hungry children, and became a regular in the organization. She then started to leverage her role on the Missions Coordinators Team at Hope City to get even more involved in the fight against childhood hunger in Houston. She began to plan monthly volunteer events for Hope City groups. When the COVID-19 pandemic hit, many churches stepped back and stopped their group volunteer efforts. Jessica knew that these children were relying on Kids' Meals to eat, and this was true now more than ever. The needs at Kids' Meals went up 138% as schools shut down, leading to all children in the home needing meals, and unemployment soared. During the pandemic, food insecurity rose 30% in the United States. Jessica and her team masked up and got to work. For almost one year, Jessica showed up every Saturday with 75-100 volunteers as Kids' Meals fed more children than during any other time in their 15-year history. Cynthia Stielow, Chief Development Director at Kids' Meals Inc., stated "as the number of children we were feeding skyrocketed due to the pandemic, volunteer numbers were decreasing. Businesses were no longer sending volunteer teams as they switched to working from home, and many individuals were choosing to stay home as well. Without the effort led by Jessica, we literally could not have produced the number of meals required each week to feed this many kids." Jessica has been at NASA for 30 years, and in her role seeks out students in underserved communities for free NASA STEM programs. As the Hispanic Employee Resources Group Community Outreach Co-Chair, she speaks about NASA to elementary students as often as she can to show they can benefit from NASA STEM resources. Jessica not only gives back to Houston but makes an impact around the world building water wells. Jessica is truly a Campeona de la Comunidad.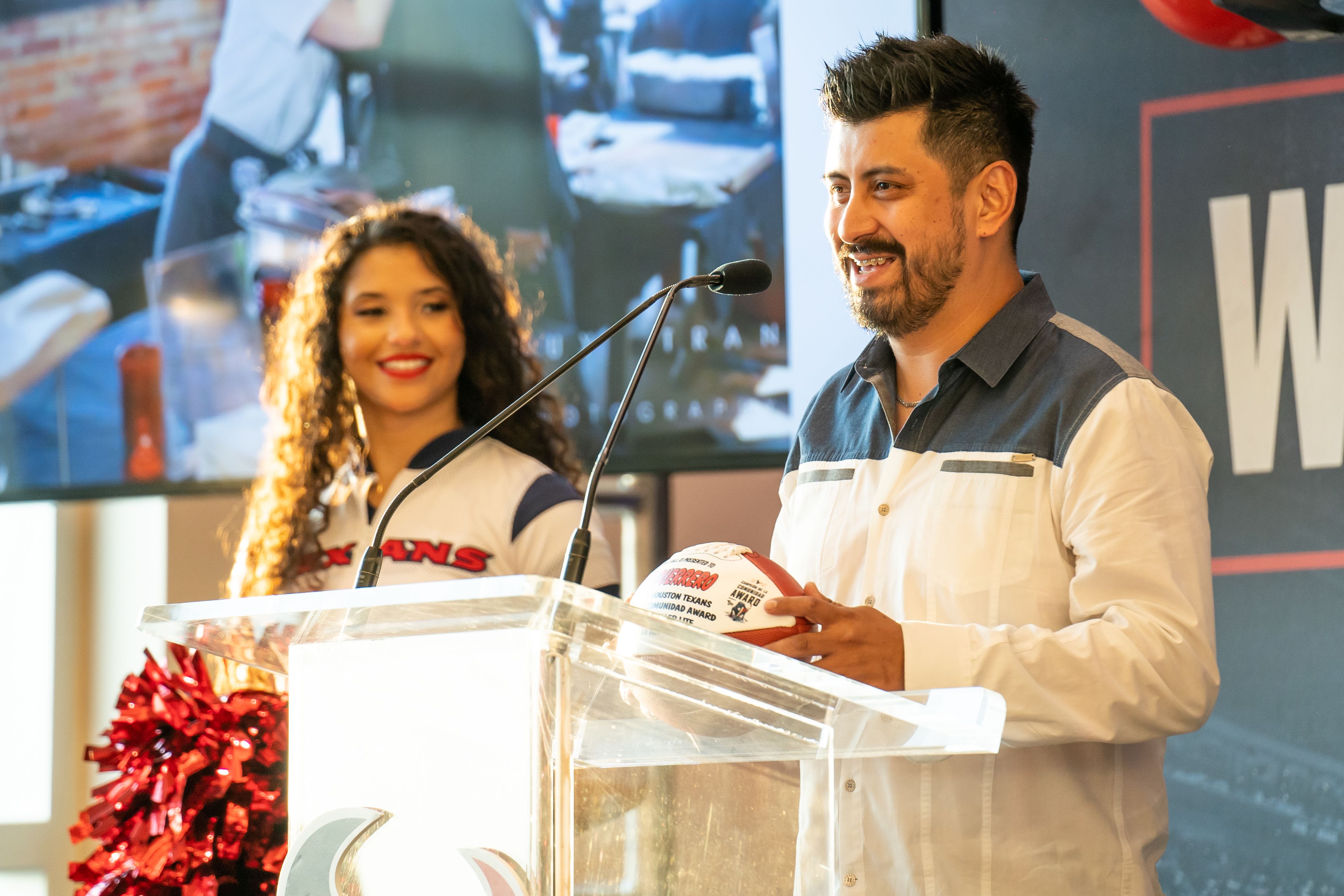 David Guerrero
Chef, Supporter of 86 Cancer
Like so many chefs, the industry has shown Chef David his fair share of success and failure. He opened Andes Cafe in East Downtown in 2013 and became a renowned chef for his unique South American cuisine. Battling a brain tumor in his 20's and at the peak of his career, he persevered. Five years later, the tumor re-appeared. He wants no pity, instead he insists that his story serve as an inspiration to those who face adversity. He supports 86 Cancer, a nonprofit dedicated to assisting those in the service industry affected by cancer, and first responders, cooking and donating food during Hurricane Harvey to 9,000 people at the George R. Brown. His motto, "Never give up." You can find him currently at MYKUNA Latin Asian Cuisine and a revival of Andes Café on the East End is next on the horizon.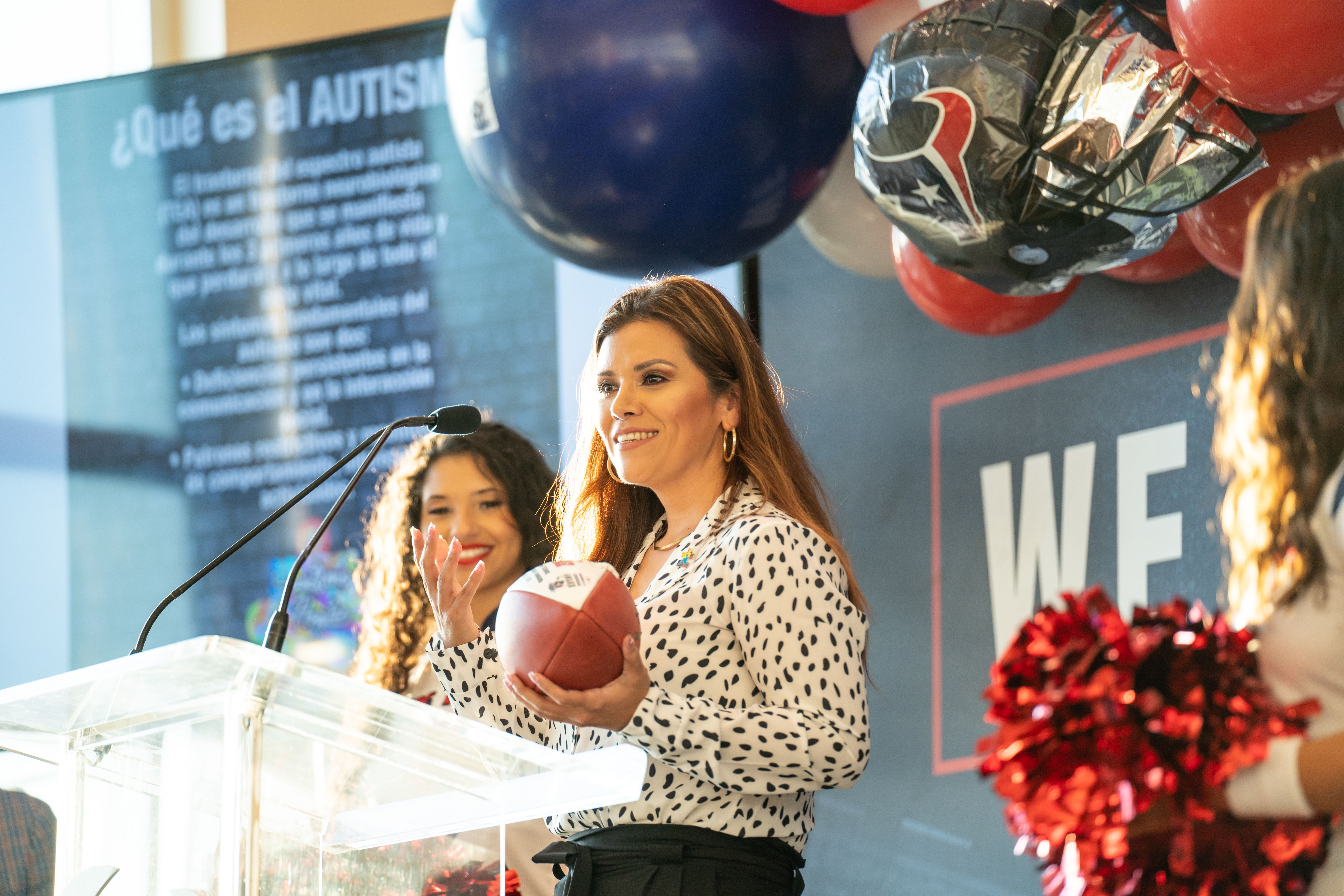 Yuliana Gonzalez
Mom, Founder of Autismo Houston
Yuliana, mother to Penelope and Luis, was inspired by her son Luis, a child with profound, non-verbal Autism and multiple disabilities, to start a Spanish-language family support group for parents with children on the Autism spectrum. "I thought if I could change the life of a disoriented parent like me, my mission was accomplished." Not only was her mission accomplished but Autismo Houston grew fast, quickly becoming the largest Spanish-language autism family resource and support group in Texas. Now, Yuliana helps raise awareness and money to fund programs for Autism Houston families.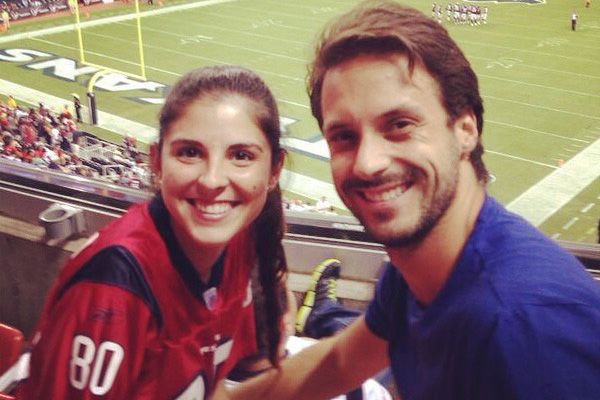 Maria Aguirre
Director of Community Initiatives, Avenue
Maria is motivated by a deep desire to serve others and help build a more equitable world. She has moved countries 15 times and has humanitarian experience in Mexico, Colombia, and Kenya. She has worked in oil and gas where she was taught project management and the great differences between the private and non-profit worlds. Her current work at Avenue is centered around teaching "poder" meaning "power" but also "the power to" in communities that have often felt powerless. She graduated from Baylor University second in her Major: International Relations, and was recognized for her dedicated community work in the Waco area. From her nomination, "When people in the community have a need, they reach out to Maria for help. They call her for help with rent resources, food, quinceañeras, house repairs, medical bills, and everything in between. People in the Greater Northside know that Maria will work tirelessly on and off the clock to help them with their needs. And when she isn't helping families with their pressing problems, she is working diligently to make the community safer, more beautiful, and more welcoming for everyone who lives there."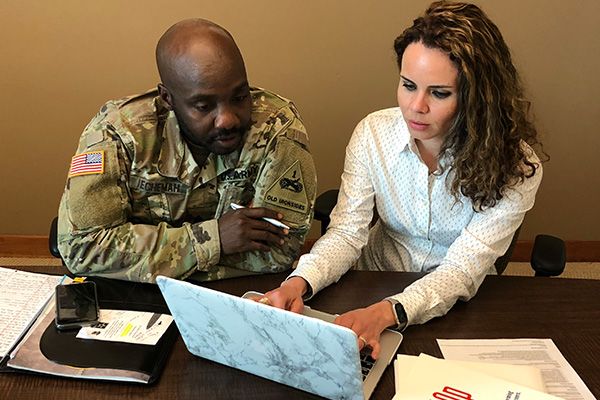 Mia Garcia
Texas Veterans Network Director, Combined Arms
Mia Garcia's service to our country and our community started 20 years ago when she raised her right hand to serve in the Marine Corps. Mia is a native Houstonian and proudly represented our great city as a highly decorated Marine Sergeant. After completing 10 years of service in the Marine Corps, Mia continued her service back home in Houston where she developed innovative military career transition programs to engage Houston-based employers seeking to recruit veterans and match them with those veterans seeking gainful employment. In her career with NextOp and Combined Arms, Mia has directly contributed to placing over 3,000 veterans into high-paying industry careers.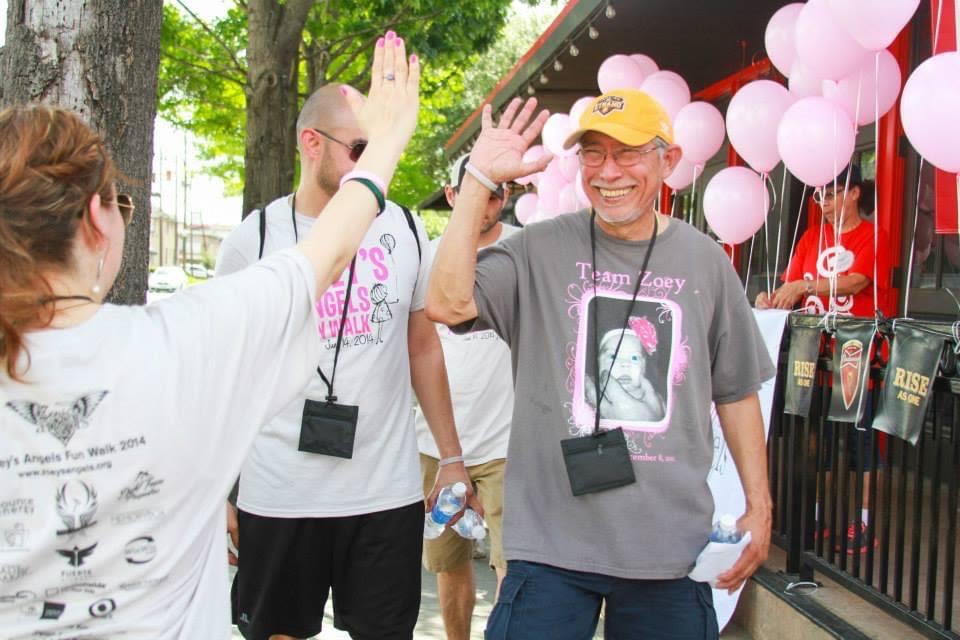 Joe Gonzales
Founding Board member and Past Vice President, Zoey's Angels
Joe is a native Houstonian who retired from an oil and gas career after 32 years of service. Over his career, Joe's volunteer activities included Houston Hispanic Forum, his church, helping repair the homes of inner city, low-income senior citizens, serving on boards and committees and many years mentoring middle- and high-school students in Houston ISD. Joe has always believed to whom much is given much is required and that was reflected in not only his life of community service but in how he raised his children. Joe and his wife Raquel have 6 children (4 by birth, 2 by marriage) and 8 surviving grandchildren. While still participating in varied volunteer activity, Joe's greater focus is serving on the Board of Directors of Zoey's Angels, a non-profit founded by his family in 2012 in memory of his granddaughter who earned her angel wings after a valiant battle with liver cancer. Zoey's Angels serves families who suffer the tragic loss of their infant child to disease or illness. Joe is the primary contact for Spanish-speaking families receiving Zoey's Angels' support. To date, Zoey's Angels has provided $285,000 to families. We are grateful for Joe's contributions to so many families.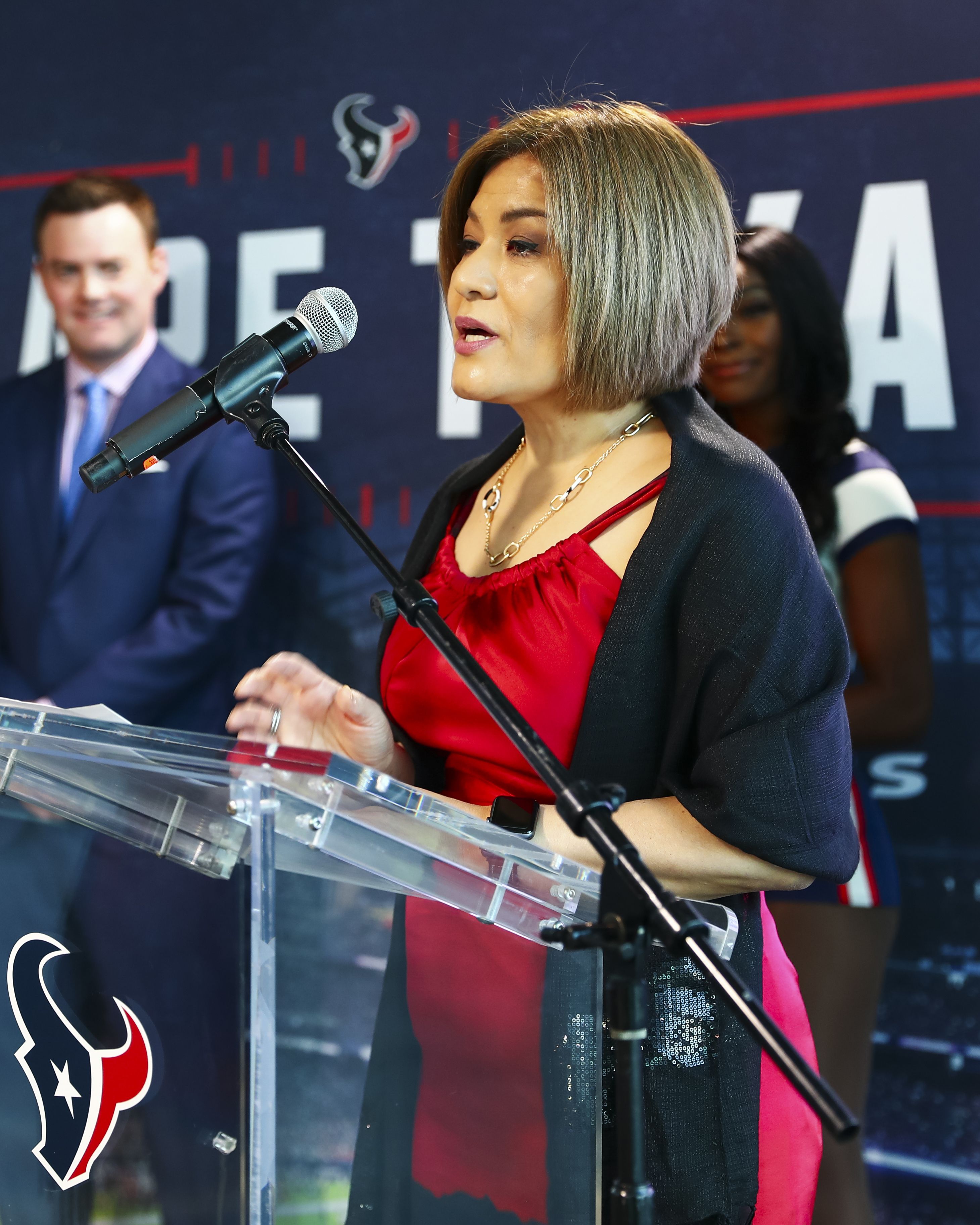 Sonia Corrales
Chief Program Officer, Houston Area Women's Center
Sonia Corrales has dedicated her life to anti-violence work. As a leading expert in our community, she has received numerous awards and honors. Sonia possesses a never-give-up attitude, standing up and being a strong voice for survivors during her 27-year career at HAWC. She is a wife and a mother of two daughters. A beloved leader, she mentors countless staff, particularly Hispanic women, and shows that accomplishing professional aspirations are possible. Sonia started her professional journey in the trenches as an advocate, so her awareness and compassion are inspiring.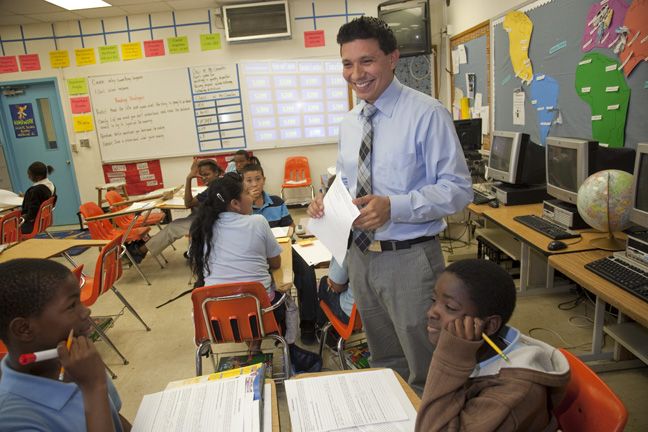 Andy Canales
Executive Director, Latinos for Education
Andy Canales is the Greater Houston Executive Director at Latinos for Education, an education non-profit organization focused on developing and placing Latino talent in the education sector. In this role, Andy works with a wide range of nonprofits to increase Latino leadership in their organizations. In just one year, Andy worked with a number of community leaders and nonprofit organizations to launch two Latino leadership programs focused on training Latino leaders to serve on education nonprofit boards and advance into senior education roles.
Claudia Aguirre
President & CEO, BakerRipley
As President and CEO of BakerRipley, Claudia Aguirre leads an internationally renowned community development organization that has transformed neighborhoods for 112 years. As one of the largest nonprofits in the country, BakerRipley serves 600,000 people specializing in immigration, education, workforce development, community engagement, and health and wellness programs. Claudia leads a team of 1,600 staff at 67 locations across the Houston region. Her experience of immigrating from Mexico at the age of eight helped her to pursue her dreams and ignited a passion to help others pursue theirs.
PAST LEADERSHIP AWARD WINNERS
Jessica Cordero
Manager, Texas High School Aerospace Scholars, Office Of Stem Engagement, Nasa/Johnson Space Center | Volunteer, Kids' Meals Houston
Maria Aguirre
Director of Community Initiatives, Avenue
Sonia Corrales
Chief Program Officer, Houston Area Women's Center
Carlos Valdez, Jr
CEO Las Palapas Hausman and YMCA of Greater Houston Board Chair & Volunteer
Tony Canales
President & GM, NBCUniversal/Telemundo, Houston Independent School District Volunteer
Armando Perez
Senior Vice President of H-E-B, Boys & Girls Clubs of Greater Houston Volunteer
Michael Cordua
Founder, Cordua Restaurants, Casa de Esperanza Board Member and Volunteer
Alex Lopez Negrete
President & CEO, Lopez Negrete Communications, Baker-Ripley Charter School
Rick Noriega
Former President & CEO, AVANCE, Inc.
Dr. Laura Murillo
President & CEO, Houston Hispanic Chamber of Commerce