It's a long way from Richmond, where I went to Eastern Kentucky, to here in Houston. But it's good just to experience different places. Richmond was a small town, but there are great people there.
Houston is a slow city. It's not like Cleveland, of course, which is where I'm from, but there are great people here and again, it's just an experience. It's great to experience all of these different cities.
I haven't settled into a house or anything yet, though. I'm in the team hotel for right now. They've got me under surveillance, I would call it. I am looking for a place down here, getting with my agent, calling my financial advisor and real estate agent, but right now, I don't know when I'll get a chance to move in somewhere.
I really haven't even gotten used to playing in the NFL yet either because they threw me in on the treadmill going a thousand miles per hour. But it's starting to slow down. I'm starting to get back on pace. That was the thing that I was looking forward to do in the near future, too.
I've learned a lot in these first few weeks. I was messing up in the past few days. I've just learned that you have to play in a hostile environment, especially when we had that crowd noise out here yesterday and practice sped up a lot. I think the number one thing is communication. This is a mental game, like Coach said, and I agree with that completely. That's just one thing I have to do, is just to adapt to it.
I'm learning with every snap, but I wouldn't say I'm getting comfortable. I think the game of football, it's about knowing what you're doing. With every rep, I'm definitely getting used to the formations, the technique that I was taught and things of that nature.
With Dunta Robinson on the sidelines and Fred Bennett and Demarcus Faggins missing a little bit of time, too, I can hopefully say that I've been taking advantage of the opportunity to get extra time on the field. But those guys have been just great teachers to me. They're not only rehabbing themselves, but they're also being good teachers, and that's the one thing that I really thank them for.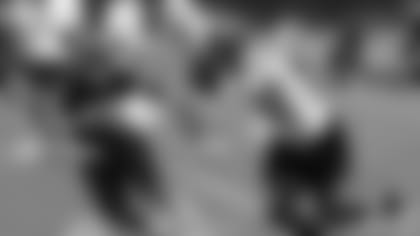 Coach Hoke and coach Rhodes have been stressing one thing: technique, technique, technique. I've been gifted with the ability, but in the NFL, a lot of people are fast, a lot of people are strong, a lot of people are quick. It just comes down to technique.
Learning from coach Hoke has been great, and it's just a good opportunity to be able to learn from Ray Rhodes as well. He's been in this business for 30 years, and it's a great opportunity to learn from a guy like that.
I'm looking forward to these last few days of OTAs. Hopefully, I'll come back for training camp way ahead of where I was when mini-camp started in May.