HOUSTON –The NFL announced today that Texans kicker Kris Brown was named the AFC Special Teams Player of the Week for his efforts in a 24-21 win at Kansas City on Sunday, September 26. Brown is the third Texans player to be named AFC Special Teams Player of the Week, joining WR Avion Black in 2002 and P Chad Stanley in 2003. In his sixth season from Nebraska, this is Brown's fourth career Player of the Week Award and his first with Houston.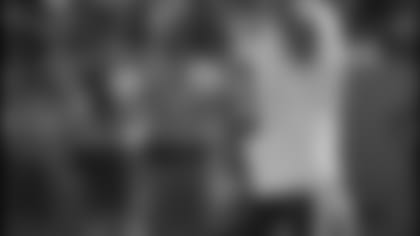 "Anytime you are recognized as having an exceptional week, it is obviously a very big honor," Texans K Kris Brown said. "I am not able to be successful without 10 other guys on the field. All 11 of us were able to go out and execute our jobs. I accept the award on behalf of my teammates."
Brown (5-11, 205) kicked a game-winning 49-yard field goal against the Chiefs with two seconds remaining in regulation to give the Texans their first win of 2004. Brown had connected on field goal attempts of 28 and 49 yards earlier in the game, as well as his only extra point attempt. It was Brown's eighth game-winning field goal of his career and his fourth game-winner as a Texan. He has converted all six of his field goal attempts this season and has made all 51 of his extra point attempts as a Texan.
"Kris is off to a very good start," Texans head coach Dom Capers said. "He's been consistent through the first three games of the season and I'm happy that he's being recognized. He's a guy I have a lot of confidence in, because he has done it time and time again."
Other nominees for AFC Special Teams Player of Week 3 were:
Denver kick returner REUBEN DROUGHNS, who while handling starting fullback duties, averaged 34.3 yards on four kickoff returns (137 yards), including a long return of 48 yards. Droughns also contributed with three special teams tackles.
Pittsburgh punter CHRIS GARDOCKI, who punted six times in wet weather conditions for a 41.4 net average and placed three punts inside the 20 in the Steelers' win at Miami. Gardocki also successfully fielded snaps of wet footballs as the holder on two field goals and a point-after-touchdown.
Kansas City kick returner DANTE HALL, who returned three kickoffs for 108 yards (36.0-yard average).
Baltimore rookie return specialist B.J. SAMS (FA), who returned four punts for 84 yards (21.0-yard average). Sams' long punt return of 63 yards set up the Ravens' first touchdown.