Hi Texans fans! My name is Celina and this is my fourth year cheering for the Houston Texans. I wanted to share with you a wonderful experience I recently had.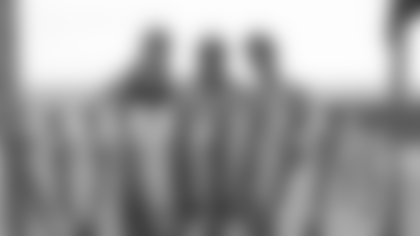 In the picture to the right is my sister, Christina, my dad, and then me. There are a lot of fish in that picture, but none of those were mine. Let me explain…

The whole family got together for a reunion and with 24 mouths to feed we decided to go and do some fishing… plus it was Father's Day weekend so it was a great way to spend some quality time with dad. My dad had fished in South Padre before with the Petty's so he hired them again to take us to all the "sweet" spots.
We woke up before the sun at 4:30 am, got dressed and headed out. We got out on the water at about 5:30 a.m. and started casting. My sister, Christina, should really think about making an occupational change and become a pro fisherwoman. She kept bringing in some pretty big reds. Janie (our guide) caught a few, but let me reel them in. Those reds are very stubborn fish and it took about 10-15 minutes to get the monsters in the boat. I almost fell in the water once!

By 8 a.m. I still hadn't caught anything by myself, and Janie decided it was a good time to find some trout. This is where my dad mastered the sea. He caught all three speckled trout that are hanging in the picture. I finally caught a fish… well, a baby fish… it was a trout, but he was just too small, so we freed him so I could catch him again next year.
By 10 a.m. we went back to trying to catch more red fish. I was determined to catch something, so I wasted no time. My technique was cast and real in, cast and real in… there was no time for breaks. (FYI: I wouldn't use this technique again considering it didn't work.)
After about 30 minutes at the new "sweet spot," I cast my line and I felt a little tug. I got so excited and reeled the line in as quickly as I could. There was no resistance, so I figured I was caught on some grass, which happened a lot by the way…hehe. I looked down where this huge chunk of grass should have been, but instead there was something that resembled a turtle. It was actually a flounder!!! Janie said that it was the first flounder that she had seen in a couple of weeks, and that made me feel a little better. He was tiny and we had to let him go, but I was still happy that I finally caught another fish.

At 11:30 a.m. we called it quits. We were hungry and tired. We fried the fish that night and the whole family was pleased with the outcome. I can't wait until next year… I just know I'll do better!

Our first home game is only about a month away, and I can't wait to see what this season brings!!