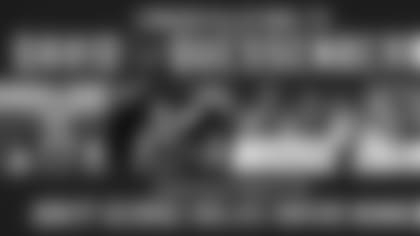 Houston Texans offensive lineman David Quessenberry, who overcame a three-year battle with Non-Hodgkin's Lymphoma diagnosed in 2014 to return to the field in 2017, by the Professional Football Writers of America (PFWA).
Quessenberry, the 49th Halas Award winner, is the first member of the Texans franchise to receive the honor from the PFWA.
Other 2017 nominees for the Halas Award were New England Patriots quarterback Tom Brady, New York Giants defensive end Jason Pierre-Paul, Baltimore Ravens tight end Dennis Pitta and Miami Dolphins defensive end Cameron Wake.
The Halas Award is given to a NFL player, coach or staff member who overcomes the most adversity to succeed. The award is named for Halas, a charter member (1963) of the Pro Football Hall of Fame, who was associated with the Chicago Bears and NFL from their inception in 1920 until his death in 1983 as an owner, manager, player and promoter. Halas won 324 games and six NFL titles in 40 seasons as a coach.
The Halas Award is one of the two-oldest awards presented by the PFWA, along with the Dick McCann Award, presented to a reporter who has made a long and distinguished contribution to pro football through coverage.
Quessenberry was selected in the sixth round of the 2013 NFL Draft out of San Jose State by the Texans, and he missed the entire 2013 season with a foot injury. In June 2014, Quessenberry experienced fatigue and a persistent cough during workouts, and was diagnosed with Non-Hodgkin's Lymphoma. He spent the 2014-16 seasons on the Texans' non-football illness list while battling the disease. After completing chemotherapy treatment in April 2017, Quessenberry returned to the field for the Texans' OTA sessions on May 22.
The career of OL David Quessenberry is chronicled here in photos.