Malcolm Sheppard was one of 16 undrafted rookie free agents to sign with the Texans on May 17. Since that time, the 6-2, 280-pound defensive tackle out of Arkansas has separated himself from the pack.
"Probably the young kid who has surprised me the most through OTAs and everything has been this Sheppard kid that we got from Arkansas," Texans coach Gary Kubiak said Wednesday, after the final practice of mini-camp. "I'm not trying to put pressure on him or anything, but he's been a very pleasant surprise. I think he's going to make a good push for this football team. He's played extremely hard, very physical, better athlete than we thought coming out. We thought he was going to get drafted but he didn't, and we were lucky to get him."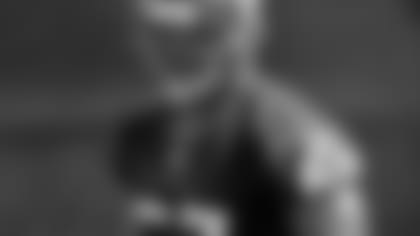 Added general manager Rick Smith: "He has done a great job for us. What you look for is you look for some redeeming qualities, very similar to the latter part of the draft when you're looking for… guys who have good football character and guys that have something about them that you like. He has shown flashes out here over the last few weeks that he is capable of playing in this league, and that's exciting for him."
Sheppard was one of the most consistent defensive linemen in the SEC from 2008-09, twice earning All-SEC second-team honors and totaling 24.5 tackles for loss and nine sacks. Most players in his shoes would feel slighted after going undrafted, but that's not the case with Sheppard.
"I feel like the good Lord has blessed me with an unbelievable opportunity just to be here," he said. "Every day I get here, I'm excited. I'm glad to just have an opportunity to try out for the team. You just take it one day at a time and try to be appreciative of the things that you do get, and that's with anything in life."
With OTAs and mini-camp complete, Sheppard said that he has enjoyed learning defensive coordinator Frank Bush's system and getting a chance to play against higher competition than he did in college.
"Guys here, they approach it just like you approach it," he said. "It's everything to them, and it's everything to me. So just to come here and to get reps against quality players, I feel like I've gotten better just by listening to Coach (Bill) Kollar and Coach Bush. It's been a blessing every day."