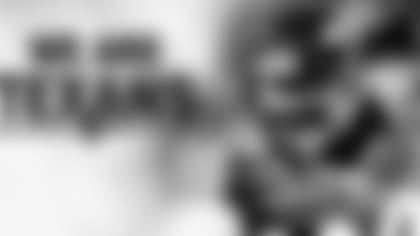 After a week of discussions and negotiations, the Texans have signed free agent safety Ed Reed.
The Texans do not disclose contract terms, but John McClain of the Houston Chronicle reports that it's a three-year, $15 million deal with $5 million guaranteed.
"It is truly a great day for our franchise," Texans general manager Rick Smith said in Reed's introductory press conference at Reliant Stadium on Friday morning. "To say that we've added a player that can truly impact a game is an understatement."
Reed, 34, was a nine-time Pro Bowler, five-time All-Pro and the 2004 NFL Defensive Player of the Year in 11 seasons with the Baltimore Ravens. He has 61 career interceptions, which ranks 10th in NFL history and first among active players. He has an NFL-record 1,541 interception return yards and has scored 14 touchdowns on defense and special teams.
The Texans hosted Reed for a visit last Thursday and Friday. Smith flew him down to Houston from Atlanta on Texans chairman and CEO Bob McNair's private jet. Reed said he had hoped to get something done with the Texans last week but that he had to return home for a family engagement.
"This is awesome," Reed, seated between Smith and McNair at his press conference, said. "From the first day of free agency, Rick called me and I think we both knew, just from the conversation, how things were going and how this could work. It was just a matter of time of getting it done. I would like to thank Rick for the call and Mr. Bob for reaching out and telling Rick to reach out to me and the organization for laying out the red carpet on the visit."
Reed started all 16 games for the Super Bowl champion Ravens in 2012. He had a team-high four interceptions along with three fumble recoveries, 15 passes defensed, 58 tackles and one interception returned for a touchdown.
"It's awesome to go from a great franchise to another great franchise, knowing that we had some classic battles when I was with Baltimore, and knowing that now I'm in that Battle Red soon to come," Reed said. "I can be a part of a great organization that I know already what they want to do, and that's to win a championship. I came here to do just that and help as best I could with helping guys, whatever it may be, on the football field or off the football field for this community."
Reed replaces Glover Quin, who signed with the Detroit Lions earlier this month, as the Texans' starting free safety.
"We've talked before about the fact that as we get into the playoffs, we have to have that level of mental toughness that will allow us to handle the increased pressures that are taking place in that point in time," McNair said Friday. "In order to do that, we need to have veteran leadership on the field.
"To have the opportunity to bring in somebody like Ed Reed, who has tremendous leadership ability and also bringing a dimension of being a great ball hawk, which we have not had -- we've had some great DBs that are really strong hitters. We haven't had that guy who is our centerfielder, though, who can cover all the ground and go after the ball. Ed Reed does that. That's a dimension that really adds something to our team."
Reed said he was excited to now play with a front seven that includes 2012 NFL Defensive Player of the Year J.J. Watt and Pro Bowlers Antonio Smith and Brian Cushing.
"It's going to be a lot of trouble for a lot of people come this fall with big J.J. coming at you and Mr. Smith on the other side and Cushing coming at you," Reed said. "We've got a squad, man. I'm already excited. This is going to be a very exciting year with those guys." Twitter.com/NickScurfield