At the TEAM Luncheon at the Westin Galleria on Tuesday, Texans head coach Gary Kubiak imparted a few words to the Houston crowd on wide receiver Harry Williams, who is **unlikely to play football again** after suffering a severe injury to his spine during a special teams play against the Dallas Cowboys last Friday.
From Kubiak's remarks, it's clear how much Williams, the person and the player, meant to the entire team and to Kubiak individually. Here's what the head coach had to say:
*"He's a great kid. He had come a long way. He started from nothing with our football team when he first got his chance. He found a way on the practice squad last year. Harry had made this team (this year). He was the best special teams player we had, by far. He was playing at a speed that wasn't even close to some of the other things that were going on, and our players know that. He's a special young man. Our players love him. *
"It was very, very unfortunate what took place the other night, but very, very fortunate that he is going to be OK. It's going to be a long, lengthy process for him and his family as he recovers, but I just want y'all to know he's a special young man. I hope y'all get a chance to know him like our football players do, and I would ask you to keep him and his family in your prayers as he moves forward. Great kid."
Williams is in Dallas recovering from surgery performed on Sunday to fuse vertebrae in his spine. The team had a giant "Get Well Harry Williams" poster for fans to sign at the luncheon; the poster will be delivered to Williams in the near future.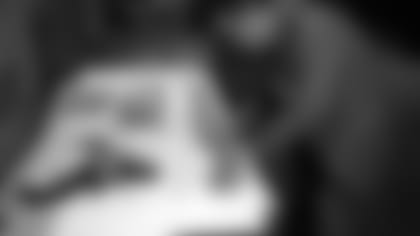 Williams truly will be missed in the Texans' locker room and on the field. We wish him all the best, and can't wait for his return to Houston. **Leave a get-well message** of your own for Williams in a thread on the HoustonTexans.com message boards.