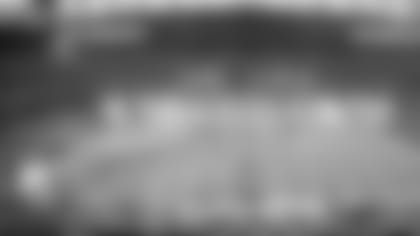 HOUSTON – The Houston Business Journal named the Houston Texans and The McNair Group as one of the most health-conscious employers in the Greater Houston area at an awards ceremony at the Hilton Post Oak earlier today. The full list of winners will be published in Friday's edition of the Business Journal.
The Texans and McNair Group were announced as one of 15 winners among companies with 100-499 employees in the Business Journal's "Houston's Healthiest Employers" contest. Companies were evaluated based on six key categories, which included culture and leadership commitment; foundational components; strategic planning; communication and marketing; programming and interventions; and reporting and analysis.
Texans and McNair Group employees have access to a variety of resources to help them lead healthy lifestyles, including annual on-site health screenings, nutrition advice, exercise programs and access to mental health care.
Team nutritionist Roberta Anding, a registered dietician who oversees the football team's nutrition throughout the year, is available to advise staff about healthy dietary options. Staff members also have access to the football team's weight room after work hours, and the organization also partners with 24-Hour Fitness and the Houston Texans YMCA to provide discounted membership rates for employees who prefer to exercise away from Reliant Stadium.
Another key component to the team's bid was the "Texans Fit" committee, a staff initiative designed to encourage employees to stay in shape. The committee has sponsored a number of interdepartmental fitness competitions, arranged to have fresh fruit delivered to the staff break room and sponsored an employee running club, among other initiatives. The committee also publishes a monthly newsletter which includes health tips along with advice from Anding and other health professionals.
Thanks to the efforts of Vice Chairman Philip Burguiéres, in 2000 the Texans became the first National Football League team to offer voluntary mental health parity as part of its health plan. The team's life assistance plan provides Texans and McNair Group employees with access to complimentary counseling sessions, along support for other issues such as crisis intervention, senior care and legal consultation services. Staff members also have access to the NFL's Lifeline program, which provides many of the same benefits.
Last year, the Business Journal recognized the Texans and The McNair Group in its annual "Best Places To Work" competition.