OTAs are drawing to a close, and head coach Gary Kubiak can't help but notice that one player, in particular, has improved a great deal: Amobi Okoye. After 12 OTA practices, it appears that the 10th overall pick in the 2007 draft is on his way to making the leap between years one and two that Kubiak says great players in this league tend to make.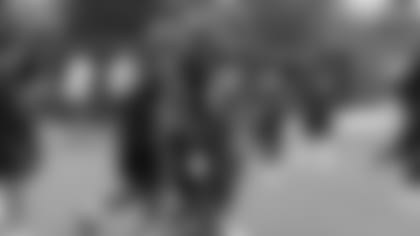 "I want to knock on wood, but in all honesty, this camp, I think he's the most improved player," Kubiak said. "He's a pretty dang good player to begin with, but what you saw take place here over the course of the last three weeks, you saw a guy go from still having some of his rookie habits (and) they went away in one week and we haven't noticed them in the last two.
"That's a good thing. It tells me he's growing up. He's becoming better. He's becoming a pro. And if that happens, we're going to be a better football team. I've been very impressed with the player he's become through OTAs."
Kubiak said while it's not fair to compare different players because no two are the same, he sees a striking parallel between the progress of Okoye and the improvement defensive end Mario Williams made between his first and second seasons on his way to 14 sacks in 2007. Williams had 4.5 sacks in his first NFL season in 2006. Okoye had 5.5 in his rookie season last year.
"The thing that is very comparable right away is the maturity, I guess I should say, and how he's handling himself right now," Kubiak said. "There's not a lot of distractions going on. He's just playing ball and he's got his mind in the right place, and I think that those are good things."