Thursday, Aug. 28 - 9:49 p.m.Tim Bulman isn't going down without a fight. The scrappy defensive tackle is known for giving unparalleled effort on every snap, whether it be in a game or in practice. He got to Tampa quarterback Josh Johnson and forced a fumble at the Houston 30 that was recovered by rookie defensive end Jesse Nading, an undrafted free agent out of Colorado State.
Bulman has four tackles in the game, giving Texans coaches plenty to think about when they make roster cuts tomorrow.
Thursday, Aug. 28 - 9:45 p.m.Brink's struggles culminated with a throw he'd like to have back. On second down and 10 from the Texans' own 32-yard line, he rolled out right to avoid the pass rush but threw an interception to Bucs linebacker Geno Hayes on the right sideline.
Thursday, Aug. 28 - 9:42 p.m.Rookie quarterback Alex Brink has struggled to get into a rhythm. He's four-of-nine this half for 15 yards. His longest completion went for six-yard gain. The Texans' offense as a whole totaled only 36 yards on 14 plays in the third and fourth quarters.
Thursday, Aug. 28 - 9:34 p.m.On what looked like an uncatchable pass from Bucs rookie quarterback Josh Johnson, Texans rookie corner Antwaun Molden was flagged for a 31-yard pass interference penalty that put the Bucs in scoring range. Questionable call that Molden was visibly unhappy about, but the officials felt that Molden shielded receiver Dexter Jackson from the ball with the use of his arm.
The penalty was the key play in the Bucs' seven-play 57-yard scoring drive that ended in another Matt Bryant field goal, this one a 29-yarder to put the score at 13-6 Tampa Bay.
With the Texans trailing by a touchdown with 9:10 remaining, Brink and the rest of the offensive players will have at least one more drive on which to make a big play that could solidify a roster spot for them.
Thursday, Aug. 28 - 9:21 p.m.Bucs kicker Matt Bryant's night just evened out a little bit. After he missed on his first two field goal attempts, Bryant put a 40-yarder through the uprights to make it Bucs 10, Texans 6 with 13:31 to play.
Thursday, Aug. 28 - 9:08 p.m.Earlier this week, Kubiak and defensive coordinator Richard Smith noted that though the Texans were not as concerned with getting more sacks as they were with getting the opposing quarterback out of his rhythm with more pressure in the backfield. They've been much better at that tonight. Though Houston has only one sack, defenders have been swarming toward the Bucs' quarterbacks on several plays. Rosevelt Colvin, Tim Bulman and Frank Okam all have had turns getting after Tampa Bay's QBs and keeping the offense out of sync.Thursday, Aug. 28 - 8:55 p.m.Injury note: Texans tackle Rashad Butler suffered a sprained right shoulder. His return is questionable. Cliff Washburn is in at left tackle now.
Thursday, Aug. 28 - 8:52 p.m.Another injury note: Rookie linebacker Xavier Adibi did not play tonight. The coaches really wanted to be able to evaluate him in a game situation before the regular season, but they'll have to base their decision on whether to keep him on the roster largely on his performance in offseason practices. Adibi left the Saints game early with a sore Achilles, and he has been slowed by back and groin problems in camp as well.
Thursday, Aug. 28 - 8:49 p.m.Rookie quarterback Alex Brink has the reins for the Texans offense in the second half. He'll have a chance to make his case to earn a roster spot over Boyd, who had a decent first half.
At running back, recently-signed Marcel Shipp entered the game for the Texans' first drive of the third quarter. It looks like Steve Slaton and Chris Taylor won't be playing in this game.
Thursday, Aug. 28 - 8:47 p.m.Coach Gary Kubiak said this week that the final preseason game can go a long way in determining the fates of players fighting for roster spots. Defensive tackle Anthony Maddox just made a strong statement with two big plays on the last drive.
First, Maddox broke through the line to sack Chris Simms for a seven-yard loss. Two plays later, Maddox came up with an interception near midfield off of a deflected pass.
Maddox has shown the ability to make big plays in the past. He recorded two sacks in both of his two seasons with the Texans.
Thursday, Aug. 28 - 8:37 p.m.Darius Walker, the fifth of five running backs on the Texans' roster, received limited playing time in the first three preseason games. The second-year pro out of Notre Dame didn't get on the field in the second preseason contest at New Orleans and got only 13 carries in the other two games.
Walker was the only Texan to run the ball in the first half, but it wasn't his finest two quarters of work as he finished with only 18 yards on nine carries. He has long runs of nine and seven yards, but negative plays have pushed Walker's yardage totals the wrong way.
It's hard to gauge Walker's performance since he was running behind second- and third-stringers. On several plays, he simply had nowhere to go as multiple Bucs defenders bored through the line of scrimmage.
Thursday, Aug. 28 - 8:29 p.m.Shane Boyd's accuracy is not his strongest asset, but he was on point on the Texans' final drive of the first half.
Facing heavy pressure from the Bucs' defensive front, Boyd still managed to go five-of-seven on the posession. One of his two incompletions occured when Boyd spiked the ball to stop the clock and set up a Kris Brown field goal in the closing seconds of the second quarter. The key play was Boyd's 18-yard strike to receiver Mark Simmons to the Bucs 18-yard line on third-and-10.
Through close to a full half of work, Boyd is eight-of-14 for 83 yards, with a long pass of 22 yards and a quarterback rating of 74.4.
In one series of action, Rosenfels was three-of-five passing for 39 yards and an 84.6 rating.
Thursday, Aug. 28 - 8:12 p.m.Faggins continues to make plays. The seventh-year pro, a member of the original Houston Texans squad in 2002, broke up a deep pass intended for Bucs receiver Brian Clark on the Bucs' last possession. A drive earlier, Faggins teamed up with safety Glenn Earl for another tackle for loss on running back Michael Bennett. He has five tackles (four solo) in the game.
Thursday, Aug. 28 - 8:06 p.m.Tampa Bay kicker Matt Bryant's night just got a lot worse Bryant missed a 36-yard field goal after coming up short on a 54-yarder. Lucky for Bryant, there's not another kicker on the team.
Thursday, Aug. 28 - 7:56 p.m.Bucs quarterback Chris Simms entered the game midway through the second quarter. A little known fact: Texans offensive coordinator Kyle Shanahan has Simms' initials tattooed on his ankle. They became good friends when they played together at the University of Texas.
Thursday, Aug. 28 - 7:51 p.m.Who said the preseason is no fun? Defensive tackle DelJuan Robinson made what has to be the most athletic move of his professional career, returning the Bucs' kickoff 17 yards to the Houston 42. Doubtufl it'll play a role in Robinson's quest to make the team, but it got a nice roar from the crowd.
Bucs rookie Dexter Jackson out of Appalachian State burned the Texans' coverage on his 83-yard punt return for a touchdown that put Houston behind 7-3. The team was missing Harry Williams on that play. Special teams play can make or break a player's chances of earning a roster spot, so the Texans can only hope that that area of the game improves before the end of the fourth quarter.
Second-year safety Brandon Harrison, who played well on special teams last week against Dallas, did have a nice tackle on the first kickoff return of the game.
Thursday, Aug. 28 - 7:46 p.m.Some notes on the defense through one quarter:
Cornerback DeMarcus "Petey" Faggins has really stepped his game up this preseason. The much-maligned vet is continuing his solid play in this game. He has three tackles already, and has been laying the wood on the Bucs' players. On the first possession, Faggins had a tackle in the backfield for a one-yard loss. On the next Bucs possession, Faggins laid out a Bucs receiver in the flat, stopping him for a one-yard gain. Later in the drive, Faggins (5-10, 182) stopped a much bigger Maurice Stovall (6-5, 220) short of a first down with an open-field tackle, setting up the Bucs' failed fourth-and-two attempt.
Linebacker Kevis Coley got the start at weakside linebacker and is all over the field. A practice squad player to this point in his career, Coley has a game-high four tackles (three solo) through the first quarter. If he keeps this up, he'll make a strong case to earn a spot on the Texans practice squad. At the very least, he's putting up some nice game tape for other teams around the league to take notice of.
On the pressing issue of the pass rush, Rosevelt Colvin shed his blocker on the Bucs' second possession. He didn't get to athletic quarterback Luke McCown, but he did force McCown to dump it off in a hurry to a receiver in the flat for a one-yard gain.
Defensive tackle Tim Bulman and linebacker Ben Moffitt teamed up to stuff Bucs running back Michael Bennett on the Bucs' failed fourth down attempt, displaying exactly the kind of effort that will leave an impression with coaches as they make roster decisions tomorrow.
Thursday, Aug. 28 - 7:33 p.m.Correction - one regular starter did go with the Texans' first team today. Right guard Mike Brisiel has played on both of the Texans' two offensive possessions thus far.
Thursday, Aug. 28 - 7:29 p.m.Shane Boyd is in at quarterback for Rosenfels.
Boyd went 4-of-5 for 25 yards and had 28 yards rushing in leading the Texans on a game-winning drive in the preseason opener against Denver. He'll get a lot more action tonight; he and rookie quarterback Alex Brink should be the only Texans quarterbacks on the field from here on out.
This game will be critical for Boyd and Brink, who both hope to win the Texans' third quarterback spot.
Thursday, Aug. 28 - 7:25 p.m.Here are the starters on defense for the Texans:
LDE: Earl Cochran
DT: Anthony Maddox
NT: Jeff Zgonina
RDE: Rosevelt Colvin
SLB: Kevin Bentley
MLB: Ben Moffitt
WLB: Kevis Coley
CB: Antwaun Molden
CB: DeMarcus Faggins
FS: Nick Ferguson
SS: Glenn Earl
Houston held Tampa Bay to a field goal attempt on the Bucs' opening drive. Matt Bryant's 54-yard attempt fell short of the crossbar, preserving the Texans' 3-0 lead.
Thursday, Aug. 28 - 7:19 p.m.Kicker Kris Brown nailed a 53-yard field goal, his longest of the preseason, to put the Texans up 3-0. Brown is a perfect nine-for-nine on field goals this preseason. His field goal capped a nine-play, 47-yard scoring drive.
The Texans have now scored on every opening drive this preseason.
Thursday, Aug. 28 - 7:17 p.m.Looks like the entire first-team offense got a rest tonight. Chris White started at center for Chris Myers, Kasey Studdard started at left guard for the second consecutive game for Chester Pitts and left tackle Rashad Butler filled in for starting rookie left tackle Duane Brown.
Thursday, Aug. 28 - 7:12 p.m.Jacoby Jones took back the opening kickoff 16 yards to the Houston 19. Most importantly, he held on to the ball. Jones followed that up with a 19-yard reception on the first play from scrimmage. Nice start for the second-year player, who can be a big asset to the Texans' quest to becoming a playoff team if he builds up his confidence and plays smart.
From what I can gather up here in the press box, here are the notable starters: quarterback Sage Rosenfels, running back Darius Walker, right tackle Brandon Frye, wide receivers Jacoby Jones and David Anderson, tight end Joel Dreessen and fullback Jon Abbate, who was just signed this week after the Texans placed Harry Williams on IR.
Thursday, Aug. 28 - 7:06 p.m.Tampa Bay called heads on the coin toss. The Texans won the toss and will receive.
Thursday, Aug. 28 - 7:04 p.m.In pregame introductions, the Texans announced the kickoff team special teams unit in honor of injured wide receiver and special teams player Harry Williams.
Kicker Kris Brown, the senior member of the group, came out last carrying Williams' No. 86 jersey. Williams' name was announced after Brown's, earning a nice ovation from the sparsely populated stands.Thursday, Aug. 28 - 6:42 p.m.Though there's no official word on the starting lineups, running back Ahman Green is fully dressed and took reps with the first team offense during pregame warmups. Stay tuned; we'll see if Green gets back on the field for the first time since suffering a groin injury against Denver on Aug. 9.
Head coach Gary Kubiak said earlier this week that though he expects Green to be ready for the regular season, he didn't expect him to play in this preseason contest.
Thursday, Aug. 28 - 6:14 p.m.Things are a little more relaxed today with this being the final preseason game. The inactives and lineup changes, which normally become official 90 minutes before each game, won't be announced until the players run out of the tunnel, if then. We'll keep track of who's in and who's out of this one, but expect the starters to play very little if at all as the reserves battle it out for roster spots.
As a reminder, the Texans will honor wide receiver Harry Williams during pregame introductions. As reported earlier this evening by HoustonTexans.com, **Williams took his first steps** this morning since suffering a spine injury against the Dallas Cowboys.
Here's a shot of rookie cornerback Antwaun Molden warming up against Derrick Roberson.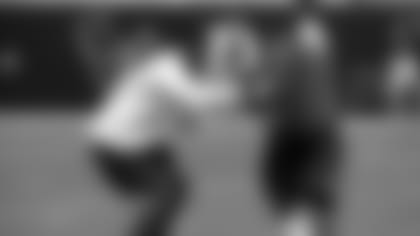 Thursday, Aug. 28 - 4:59 p.m.
We're blogging LIVE from the press box at Reliant Stadium for the Texans' preseason finale against the Tampa Bay Buccaneers, which kicks off at 7 p.m. CST. The game will air locally on the CW, Channel 39.
Here's the late afternoon view from the press box. The Bucs players are warming up in t-shirts and shorts on the field, and the Houston Texans Cheerleaders are finishing up their pregame preparations on the West sideline.