*6:21 - on the favorable weather *
The Texans were fortunate to draw favorable dates for games in which they could've run into some troublesome weather.
The Texans are avoiding hot weather in Miami by playing them in late December. They've avoided the potential extreme cold of Buffalo and Cincinnati, too - both road games will be played by Nov. 1.
Road games at St. Louis, Arizona and Indy all will be indoors in the event of inclement weather (Indy and Arizona have retractable roofs).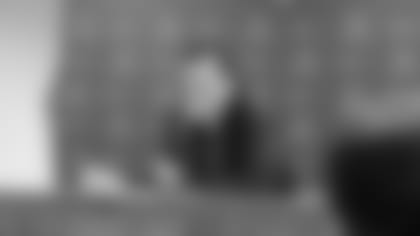 **
Kubiak called the Titans "the team to beat" in the AFC South.
"They're a team we have to be competitive against, we have to find a way to be successful against," he said.
*6:13 - on the importance of the schedule *
I apologize as these updates are coming a few minutes late (Kubiak breezed through his presser in about six minutes), but a guy can only type so fast:
"All schedules, when you first look at them, they all look tough to you," Kubiak said. "You never know how they're going to unfold as far as injuries to the team you're playing or your football team.
"But we're pretty consistent as far as when we play. We're basically a Sunday football team except for the Tennessee game. We're going to need to worry about us and get better as a football team."
"I don't think you ever know (how a schedule will play out). I see teams on here that struggled last year that have been playoff football teams in the past. I don't think you can ever see how it's going to play out."
* 6:10 - on the Monday Night game *
The Texans will play the Titans at Reliant Stadium on Nov. 23 on Monday Night Football.
"Players have to earn the right to play on Monday Night Football," Kubiak said. "They gave us the opportunity last year, and our guys responded. That's a big game, and obviously it's down the road, but that'll be a very exciting time."
Kubiak added that he thought the Texans might have gotten the opportunity to play more than one MNF game after dominating the Jaguars in their MNF debut last year, but he said that he knows even one is exciting for the players to be a part of.
6:05 - Beginning of season favorable
Kubiak opened by discussing the beginning of the season and how it's much more favorable than last year's, when the Texans played their first four games on the road. Three of the Texans' first four games will be at Reliant Stadium this season.
He also was positive about the preseason.
"I think it's a good preseason schedule because we get some good 3-4 work with Kansas City," he said. "We get a Monday night game (vs. Minnesota), which we're going to have during the season."
6:00 p.m.Kubiak just entered the room. Every major Houston media outlet seems to be here.
And here's the 2009 schedule (home games in bold)
9/13 vs. New York Jets (CBS) – Noon
9/20 at Tennessee Titans (CBS) – Noon
9/27 vs. Jacksonville Jaguars (CBS) – Noon 10/4 vs. Oakland Raiders (CBS) – Noon
10/11 at Arizona Cardinals (CBS) – 3:15 p.m.
10/18 at Cincinnati Bengals (CBS) – Noon
10/25 vs. San Francisco 49ers (FOX) – Noon
11/1 at Buffalo Bills (CBS) – Noon
11/8 at Indianapolis Colts (CBS) – Noon
11/15 BYE
11/23 vs. Tennessee Titans (ESPN)# – 7:30 p.m.
11/29 vs. Indianapolis Colts (CBS) – Noon
12/6 at Jacksonville Jaguars (CBS) – Noon
12/13 vs. Seattle Seahawks (FOX) – Noon
12/20 at St. Louis Rams (CBS) – Noon
12/27 at Miami Dolphins (CBS) – Noon
1/3 vs. New England Patriots (CBS) – Noon
#Monday Night Football
5:53 p.m.We're seven minutes away from Texans coach Gary Kubiak's press conference about the Texans' 2009 schedule, and I'm blogging live from the media work room at Reliant Stadium in which the presser will take place. Four media cameras are already set up; more are sure to come.
We'll know soon enough if and how many games the Texans have in primetime, and if their schedule will be any more forgiving than the brutal slate against four playoff teams (three on the road) to open the 2008 season.
Be sure to watch the press conference live on **Texans TV**. And on an entertaining note, check out a **virtual tailgate party** for the schedule announcement at Stephanie Stradley (aka the TexansChick)'s blog on chron.com.
5:02 p.m.
The Texans' regular-season schedule will be released at 6 p.m. CT. Texans coach Gary Kubiak will address the media from Reliant Stadium about the Texans' 2009 slate, and HoustonTexans.com will be there with live coverage.
Check my blog for live updates on Kubiak's comments during the presser. I'll be checking in at about 5:45, 15 minutes before the presser begins.