Nicole is a finalist after making it through 3 rounds of the 2010 Houston Texans Cheerleader Tryouts.
So here we are: down to the 45 finalists.
We finalists were cut from over 500 girls to the top picks of a three-round tryout process. I am so greatful to be considered again for my third year with the Houston Texans Cheerleaders and you would think that after three years, I wouldn't be as nervous.
But I promise you I have just as many butterflies in my stomach this year as i did during tryouts in 2008. There is a lot of competiton this year. The Methodist Training Center was packed full of beautiful girls ready to claim their spot on the 2010 team. That's why I prepared as much as possible before tryouts to make sure I would stand to the judges.
This year, tryouts were at night instead of early in the morning and I liked that so much better. It gave us all day to get ready and make sure that we had our stuff together before 5:00 came. I did a lot of things during the day to prepare for tryouts. I made sure I ate a healthy but hearty breakfast and lunch so that my stamina would stay up during the first two rounds. Plus, I got an early workout in to make sure I was in tip-top shape come tryout time.
This year, I added a special trick to my plan and had a very relaxing and waist slimming body wrap. I sat for an hour-and-a-half letting the wrap work its magic so that I looked great in my outfit. When I got home I did one last outfit check that included a good shake and drop to make sure that I wouldn't have any wardrobe malfuntions. It also gave me time to stich up a few accessories that may have gotten loose since the last fitting.
I loved my outfit this year. I wanted to make sure it went with the night tryout theme and that it would not only look great on me, but represent me as well. The color was fantastic and the skirt felt great to dance in. I ran to the store to pick up a few last minute items, packed my bag of goodies and started getting really nervous around 2:00.
So I took a little nap to calm my nerves. But at 3:00 my alarm went off and it was time to get in Diva mode. Before that day I went to get the perfect makeup to match my look, and it took a good 30 mintes to get everything just right. I wanted a smoky-eye look but didn't want to spend any money to get it done. So I stood in the mirrior and asked my boyfriend if I looked good in order to get the final approval from him!
Next was the hair and making sure it had just enough body to whip around when I danced, but enough hold to not look a hot mess after!
Most of the veterans meet up at tryouts before registration ends. We look at everyones outfits, look at the headshots we all brought, and of couse check out the other girls walking in. They are our competition, of course. Walking in as a veteran is the most amazing feeling. Knowing that we've earned our right to be there gives you the best boost of confidence. It's kind of like a rite of passage: you wait the whole year to take that walk inside.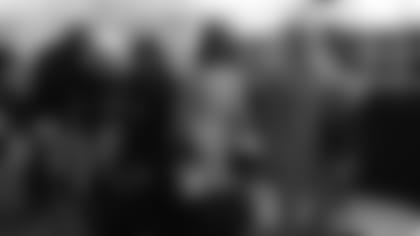 A few veteran cheerleaders walk enter tryouts on Saturday.
As soon as it's time to dance, all of the vets get in HTC Mode. That means our thinking caps are on, we are attentive and listening, and we're doing everything we can when it is our time in front of the judges.
The first two rounds were very successful and all the returning veterans were selected to come back the next day for round three. That round however, we were not all so lucky. It is such a hard thing to lose a teammate during tryouts. There were a lot of tears for vets that didn't make it past round three, and a whole lot of fear. Fear because it is at that time when reality sets in and we all stand there and know that it could have been any one of us, and that it still could be.
We had our first finals practice this week and the competiion is even tougher than we thought. We have practicies over the next few weeks and will give the Texans fans an opportunity to vote for who they think should be on the team at the 2010 Houston Texans Draft Party on April 22.
I am so excited and nervous at the same time! I know that all I can do is dance my heart out and give the judges, fans and Alto Gary every reason they need to believe in me for one more season.
I hope I get the chance:)