In a matter of four days, the inside of Reliant Stadium has been completely transformed. As recently as Sunday, it was the site of the largest rodeo in the world. Now, it's been turned into a basketball arena that will host the Sweet 16 South regional of the NCAA Men's Basketball Tournament this Friday and Sunday.
The areas outside of the Texans' locker room and weight room remain largely unchanged, but other parts of the Reliant Stadium tunnels have been re-painted, lined with black carpet and adorned with NCAA banners.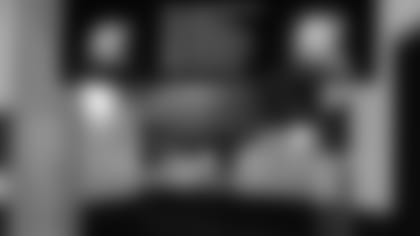 Here's a look at the stadium bowl, with modifications including extra seating and an elevated basketball court in the center of the stadium floor. St. Mary's College was practicing on the court at the time of the picture; the No. 10-seeded Gaels will play No. 3 seed and local-favorite Baylor on Friday at 6:27 p.m. CT. Top-seeded Duke will take on fourth-seeded Purdue (the school that produced Rick Smith, Bernard Pollard, Jacques Reeves and Jeff Zgonina) Friday at 8:57 p.m. CT.