Spotlighting one Texans rookie on each day of training camp: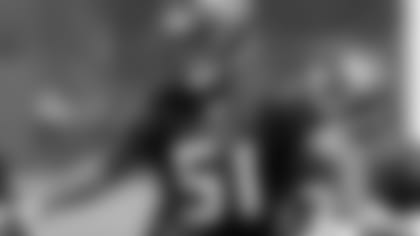 With linebackers Zac Diles and Xavier Adibi sidelined by groin injuries for the past two days of practice, fourth-round draft pick Darryl Sharpton (5-11, 244) has been getting extensive reps with the Texans' first-team defense.
The thickset, hard-hitting linebacker from Miami (Fla.) also has been moved between the middle and weakside positions, making for an even steeper learning curve. Linebackers coach Johnny Holland says Sharpton has been holding his own.
"We've put a lot on his plate, and he's able to handle everything that we give him," Holland said. "One of the biggest things for a young guy is the mental part of the game, and I've been very pleased with how he's been focused on his assignments. And when you correct something with him one time, he usually can pick it up. That's something that a coach really loves."
Playing different positions is a familiar challenge for Sharpton, who spent time at middle, weakside and strongside linebacker at Miami. Another thing that has eased his transition to the NFL is the guidance of veteran linebacker DeMeco Ryans. The two-time Pro Bowler also was asked to play different positions in camp as a rookie.
"He's been helping me out tremendously," Sharpton said. "I'm just following his lead. I watch him on the field and try to imitate all the things he does. His performance speaks for itself, and now I see that how he got there is through his work ethic and just hard work. I'm looking to do the same thing that he's doing and work just as hard, try to keep up with him."
Sharpton won Miami's Hardest Hitter Award as a senior in 2009, though he hasn't been able to fully exercise those talents in the NFL since he's practicing against teammates.
"I love hitting people, but you know, you can't get caught up in the big hits all the time," Sharpton said. "You've got to play within the scheme, and the big hits will come."
Even without pads on, Sharpton was particularly active at practice on Wednesday morning. He jumped tight end Derek Fine's route to swat down a pass from Matt Schaub on one play. On another, he slipped past running back Steve Slaton on a blitz for what likely would have been a sack in a game situation.
"Right now, we're just looking for the best linebackers to play on game day, and there's some great competition out there," Holland said. "Sharpton's kind of saying every day, 'Don't count me out.' He's showing up."