Spotlighting one Texans rookie on each day of training camp: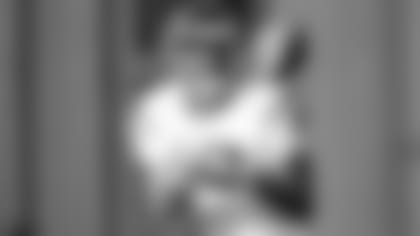 Texans coach Gary Kubiak called Dorin Dickerson a **"great project"** after the Texans drafted him in April in the seventh round out of Pittsburgh. Dickerson's athleticism (4.47 40-yard dash, 43.5-inch vertical jump) was off the charts, and some scouting services rated him as a third- or fourth-round talent.
The problem was that Dickerson (6-1, 222) was an undersized tight end in college, and teams weren't sure where he might find his niche in the NFL. The Texans decided to make him a wide receiver.
When Dickerson showed up to spring workouts at a bulked-up 238 pounds, with an upper body resembling a linebacker's more than a receiver's, the Texans gave him an ultimatum for training camp.
"They told me to come in at 223, and it kind of made me a little nervous," Dickerson said. "I heard about that little thing they have going on where you get fined and stuff (if you don't make weight), so I got nervous. I was like, 'I've got to go lose some weight.""
By changing his workout regime (less weightlifting, more running and core exercises) and his diet (less gummy snacks and Fruit Roll-Ups, more fish and grilled chicken), Dickerson lost 13 pounds between the end of Texans mini-camp on June 16 and the start of training camp on July 30. His weight is now in the 223-225-pound range, and the change is paying dividends on the field.
"From the OTAs to now, I think he has improved a lot," wide receivers coach Larry Kirksey said. "The main reason why is probably because he's dropped that weight. He's a lot smaller now and he's able to play a little bit faster, and he's understanding the things that we want him to do. He's got some work to do still, but at the same time, I like the progress he's made and the way he works. He doesn't complain about anything and has a great attitude."
Dickerson, who also played linebacker, fullback and H-back at Pitt, has been lining up behind Andre Johnson and soaking up tips on the position from one of the best in the game.
"He told me, 'Just play your game,'" Dickerson said of Johnson. "He was like, 'You're going out here and thinking before you do stuff – you're thinking too much.' Once he said that, I said, 'I'll just go and play my game,' and I just started making plays."
Dickerson has been catching a deep ball or two in just about every practice of training camp – though he was hard on himself for dropping one on Monday morning – and said he feels "awesome" at his current weight.
"Every day, I'm learning," he said. "(Kirksey) is teaching me. I'm learning from Andre, learning from all the older receivers like Kevin Walter. The game is starting to slow down. The first day of OTAs, it was a lot of stuff going on; I didn't know what I was doing playing receiver, playing a different position. But now, it's starting to slow down and I can actually play my game and make the plays I can make. So it's getting a lot better every day."