Spotlighting one Texans rookie on each day of training camp: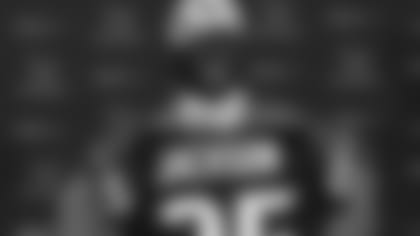 The first-round draft pick out of Alabama and replacement for Dunta Robinson predictably was one of the biggest stories on the first day of Texans camp. But it wasn't so much about what he did on the field as it was about whether he would even be on the field at all.
A media report said that Jackson signed with the Texans early this morning and would be at the team's morning practice. That wasn't the case, but the deal got done between practices and Jackson joined his teammates on the field this afternoon.
"It was very important for me to be out here with my teammates," Jackson said afterward. "These guys are out here running around and sacrificing things. I wanted to get out here and be with them and show that I wanted to be part of the team."
Jackson, who started 40 games in three seasons at 'Bama under head coach Nick Saban, was a starter opposite Glover Quin from the Texans' very first practice of organized team activities in May. He resumed that post on Friday afternoon, squaring off against the likes of Kevin Walter and Jacoby Jones.
"He has a lot of football up under his belt," said Texans coach Gary Kubiak, happy to have his first-rounder in the fold. "This kid didn't miss a day in the offseason. He came in basically as a starter. He moved around really well. It's just good to have him out here."
The Texans drafted Jackson in no small part because they deemed him polished and NFL-ready. And that's exactly the type of confidence that Jackson is exuding after half a day in camp.
"I'm running with the first group and getting a chance to show what I can do and earn some trust from the other guys so that they'll believe in me and believe that I can do the things that need to be done as a player," he said.
"I don't really feel any pressure. If I come out and do what I'm capable of doing, learn the defense and learn the different things I have to do on the different plays… if I do that, then I think I'll be successful."