Spotlighting one Texans rookie on each day of training camp: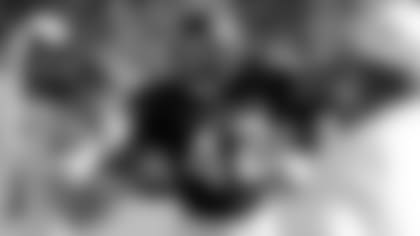 Safety Torri Williiams, an undrafted rookie from Purdue, was one of the stars of the Texans' Saturday morning practice at the Methodist Training Center.
Williams (6-2, 209) intercepted two passes, both off quarterback John David Booty, and ran one back for a touchdown. He also broke up a pass from quarterback Dan Orlovsky in the end zone.
"Anybody that was out there watching him practice today saw that Torri had a couple big plays in the pass game," defensive backs coach David Gibbs said. "He's a true middle-of-the-field, rangy safety with excellent ball skills. He's been improving every day. We knew when he first showed up in OTAs, we thought he had a chance to be a pretty good player and he had a chance to make our football team."
Williams, who grew up near Austin in Cedar Park, had an injury-marred six-year career at Purdue. After appearing in nine games as a true freshman in 2004, he broke his right fibula in spring practice and missed the entire 2005 season. He suffered a season-ending dislocated right knee in the first game of the following season, then ruptured his left Achilles tendon midway through the 2007 season.
"That's why he didn't get drafted," Gibbs said. "He also had some off-the-field stuff, which I'm not sure what it was, but Ray Rhodes had a high opinion of him and I had a high opinion of him, too. We liked him as a player. He played corner in their nickel situations and played free safety in their base defense. Very athletic. Got really good ball skills, which you saw today in practice."
Gibbs has put Williams at free safety and strong safety to accelerate his learning curve to the NFL game.
"I'm starting to get a little bit more comfortable each day," Williams said. "Information is starting to slow down, so I'm starting to process things faster and start to bring my athleticism out a little bit. I have a love for this game, and I feel like if you love the game and if you're passionate about it, it's easy to have success."
Determined to prove he belongs at the pro level after going undrafted, Williams finds himself squarely in the mix of the Texans' safety competition behind starters Eugene Wilson and Bernard Pollard.
"He's got as good an opportunity as the rest of them," Gibbs said. "We've got (Dominique) Barber, who started a few games last year, who's having a good camp. Then Troy Nolan, who's also been running with the twos, he's having a good camp, too. Today, Torri stepped up and made plays. If he keeps making plays and the head coach notices, the general manager notices, he's got a chance. We've got four preseason games, and he'll get all he wants by the time we come down to the final cut. We'll see what happens."