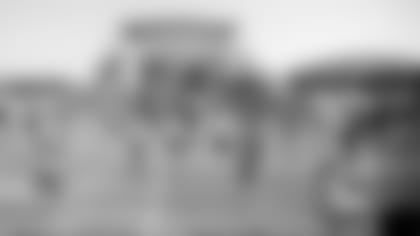 ]( "Running of the Bulls 5K Presented by H-E-B")
The Houston Texans will host the 3rd Annual Running of the Bulls 5K, presented by H-E-B, on Sunday, Sept. 22, the team announced today. The competitive 5K run will start at 8:15 a.m. CT, followed by the non-competitive 5K run/walk and preceded by the TORO's Kids 1K presented by ARAMARK for children age 12 and younger, which begins at 7:45 a.m.

Registration is now open online at www.HoustonTexans.com. The registration fee for the Competitive 5K Run is $30 through July 12, $35 from July 12 to Aug. 26 and $40 from Aug. 27 until Sept. 16. The Non-Competitive 5K Run/Walk is $25 through July 12, $30 from July 12 to Aug. 26 and $35 from Aug. 27 until Sept. 16. Early entry fees for TORO's Kids 1K are $15 through July 12, $20 from July 12 to Aug. 26 and $25 from Aug. 27 until Sept. 16. Proceeds from the run/walk will benefit the Houston Texans Foundation and the sports medicine program at The Methodist Hospital System.
Online registration ends Sept. 16 at Noon. Packets will be available for pick-up at select Houston-area Academy Sports Outdoors locations on Sept. 18-21 and on-site on race day. If spots are available, in-person registrations will be accepted at the packet pick-up locations through Sept. 20. Race registration will close on Sept. 21 and there will be no race day registration.
The route for the 5K run/walk will go throughout Reliant Park with interactive water stops, presented by Cigna, featuring TORO, the Houston Texans Cheerleaders, the Bull Pen Pep Band and more. The race will conclude on the floor at Reliant Stadium, with runners crossing through the bull tunnel that the Texans players run through on game days.
The competitive run is chip-timed and is open to participants of all ages and fitness levels. In order to have racing time recorded, competitors must register for the competitive run. Awards will be given to the top three male and female finishers in each of the following age brackets: 0-14, 15-19, 20-24, 25-29, 30-34, 35-39, 40-44, 45-49, 50-54, 55-59, 60-64, 65-69 and 70 and above.
All entrants will receive a commemorative Running of the Bulls 5K t-shirt. All runners will also be invited to a special post-race party in Budweiser Plaza.