Hi! I'm Samantha, and I'm here to give you the inside scoop on our calendar photo shoot from start to finish. I hope you enjoy!
*Announcement *I first heard the cheerleaders would be doing a swimsuit calendar immediately following the announcement of the new squad. I was so ecstatic because this will be our first calendar in Houston Texans Cheerleader history. I automatically knew it would be extraordinary and I was eager to hear more details.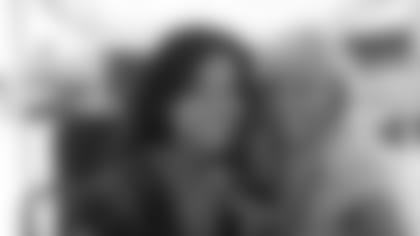 The Countdown Begins
This being my sixth season with the Texans I always try to maintain a healthy diet and workout regiment. But this year was going to be different, we're shooting in swimsuits and I wanted to look my absolute best! So I made a commitment to put some extra hours in the gym and follow a strict diet. In order to keep it fun I alternate my workouts by seeing a trainer once a week, in addition to doing Pilates, step aerobics, jump rope, and of course as many crunches as humanly possible. I even met up with Celina and Kisha to take a hot yoga class. Wow, I have never sweat so much in my life!
The strict diet, on the other hand, was especially hardest during Memorial Day weekend. But I managed to refrain myself and stick to a diet consisting of lots of fruit and vegetables and chicken and tuna.
*Swimsuit Fitting *I receive an email with instructions to make an appointment to go and try on a swimsuit. My heart started beating so fast that I couldn't contain myself! I arrive at the studio with so much anticipation. I tried on a few swimsuits and our stylist decided which one fit me best. I feel so much relief now that I have an idea of what I will be wearing.
*The Eve
*I have been anxiously awaiting this day and now its less than 24 hours away! I pack my suitcase with all the essentials, jump in the car and head down to Moody Gardens. I check in to our room and instantly find the fitness center for one last workout session. Of course, I had so much trouble going to sleep because I was so excited. I felt like a kid on Christmas Eve!
The Time has Come
My call time is 5:30 am! I wake up and walk over to the stylist's room to pick up my swimsuit and the Texans themed sportswear assigned to me. Next I'm off to the makeup room. As I walk in, Kisha is in the makeup chair and she looks gorgeous! Seeing her gets me so pumped up. I can't wait until it's my turn to get made up! Once I'm complete I hop on a golf cart and taken to my location. My first shot is in Texans sportswear. I am positioned in front of rock wall posing sitting and standing. Next up is the swimsuit shot in the rainforest. The scenery looks like I'm in the deepest parts of the Amazon jungle. Walking along the path I discover beautiful waterfalls and animals among the exotic plants and flowers. We even encountered a roaming lizard as we were shooting!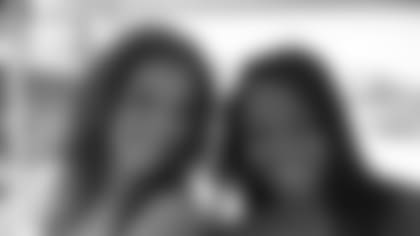 After all the hard work it's finally over and it was so much fun! So what's next? Erika and I decide to stay at Moody Gardens to relax and enjoy the rest of the day. We go for a swim, do some shopping, and let's not forget our reward dinner! I order one of my favorites- fried shrimp and a loaded baked potato. As I drove home I reflect on the day. I feel so honored to have been able to experience the making of our new swimsuit calendar.
Texans fans are you ready for this? Stayed tuned for details on how to get a glimpse of our very first Texans Cheerleaders Swimsuit Calendar!!