HOUSTON - The Houston Texans have agreed to a contract extension with WR Andre Johnson, it was announced today.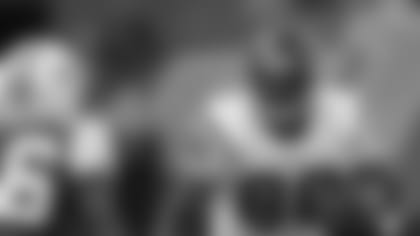 Johnson (6-3, 222) has started 61 games since being the Texans' first-round draft selection in 2003 (third overall). Johnson has led the team in receptions and receiving yards in the last four consecutive seasons and has established nine franchise records.
"This is a great thing for us because Andre's our best player, and he's going to be a Texan for a long time," general manager Rick Smith said. "Not only are we ensured of keeping Andre, but we also cleared some room under the cap, so it was a win-win situation."
Last year, the University of Miami product paced the NFL with a career-high 103 receptions. He also led the team in receiving yards (1,147) and tied for the team lead in touchdown receptions (five). Following the season, he was voted as one of the starting wide receivers for the Pro Bowl for the first time. His first invitation to NFL's All-Star game was in 2004 as a reserve.
"I've enjoyed my first four years in Houston, and I'm excited about finishing my career with the Texans," Johnson said. "I'd like to thank Mr. McNair for showing so much confidence in me. I'd also like to thank our great fans for supporting me and I'm looking forward to us achieving our goals of bringing a winner to the city of Houston."
Johnson was voted the team MVP by his teammates in 2004 and 2006.
Houston Texans Records Established by Andre Johnson:
Receptions (career)                  311
Receiving Yards (career)           3,953
Receptions (season)                  103 (2006)
Receiving Yards (season)           1,147 (2006)
Receptions (game)                    12 (vs. MIN 10/10/04 and vs. STL 11/27/05)
Receiving Yards (game)             170 (vs. MIN 10/10/04)
Receptions (rookie)                   66
Receiving yards (rookie)            976
Pro Bowls Appearances              2