HOUSTON - The Houston Texans announced the signing of unrestricted free agent Mark Bruener today. The veteran tight end spent the last nine seasons as a key part of the Steelers offense, starting 108 of 125 games played.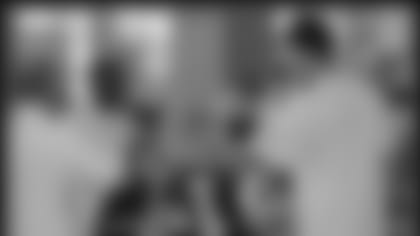 Bruener (right) chats with former and now current teammate Jason Simmons.
With a reputation as a dependable blocker, Bruener also receives praise for his hands; he has 137 career receptions for 1,197 yards and 16 touchdowns. Bruener caught at least 12 passes in eight of his nine professional seasons and set career-highs in receptions (26) and receiving yards (238) as a rookie in 1995, the year he started in Super Bowl XXX versus Dallas.
Bruener (6-4, 260) was Pittsburgh's starting tight end from 1995 until injuries caused him to lose his job to Jay Riemersma last season. He suffered a knee injury and finished the 2002 season on the sidelines for the second-consecutive year.
         After
         completing a career as Washington's school-record holder for
         catches by a tight end with 90 for 1,012 yards, the Steelers
         selected Bruener with the 27th overall pick of the 1995 draft.