HOUSTON - In recognition of Domestic Violence Awareness month, Verizon Wireless and the Houston Texans are holding a wireless phone drive, encouraging fans to donate their used phones at the Sunday, October 3 game against the Oakland Raiders. The phones will be refurbished, recycled or sold to benefit shelters for victims of domestic violence, as a part of Verizon Wireless' HopeLineSM program. Any used phones and accessories will be accepted for donation at Reliant Stadium gates beginning at noon.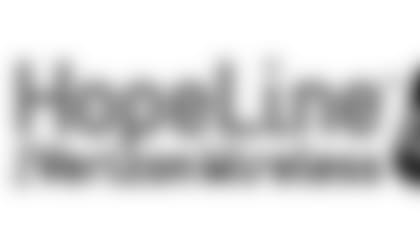 HopeLine helps raise awareness of and prevent domestic violence, a problem that affects a third of all women in the U.S. HopeLine proceeds are donated to domestic violence prevention organizations, such as the Houston Area Women's Center, or used to purchase phones for victims. These 911-ready phones with free airtime provide victims a greater sense of security and, in some cases, have saved lives.
Every 20 minutes, there is one domestic violence incident reported to the police department in Harris County. According to the National Crime Victimization Survey, only 50 percent of domestic violence incidents are reported.
"These victims pass you in the halls at work, carpool your kids and possibly even spend the holidays with you," said Katherine Greene, Houston/Gulf Coast region president, Verizon Wireless. "This drive will be a convenient opportunity for thousands of Houston Texans fans to positively impact the campaign to prevent domestic violence."
"We are pleased to join Verizon Wireless to help spread awareness of the domestic violence issue," said Joanie Haley, Executive Director of the Houston Texans Foundation. "We encourage fans to bring their Texans spirit into this cause and join us in donating their used phones on Sunday."
As a result of HopeLine and related phone recycling programs Verizon Wireless has organized since 2001, the company has collected more than 2 million used wireless phones for the benefit of domestic violence victims and advocacy groups. In 2003, Verizon Wireless donated over $3.7 million in monetary and other contributions to domestic violence shelters and prevention programs across the country.
Donations are also accepted year round at local Verizon Wireless Communications stores, benefiting the HopeLine program.
#
About HopeLine
The national HopeLine program distributes previously owned wireless phones to victims of domestic violence, supports non-profit domestic violence advocacy groups and provides an environmentally safe method of recycling phones. Donations are accepted at all 1,200-plus Verizon Wireless Communications Stores across the country. For additional information, customers can also visit www.verizonwireless.com/hopeline .