Just wrapped up a couple of 1-on-1's with defensive tackles Cam Thomas of North Carolina and Lamarr Houston of Texas. The former was hands-down the most comfortable with this whole process, and in the middle of our interview he put his Under Armour jacket over my sportcoat. The latter was incredibly pleasant to deal with and said he accomplished one of his goals this weekend by weighing in at 305 pounds.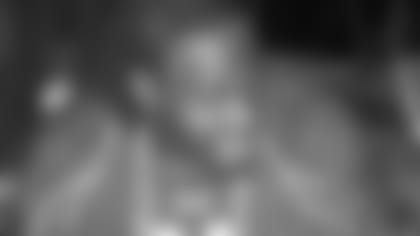 North Carolina DT Cam Thomas gets a point across with the media on Sunday at the Combine.
We'll have snippets from them today and tomorrow, and will show the entirety of their 1-on-1's in the coming week.