Star of Courage | Houston Texans - HoustonTexans.com

The Houston Texans are proud to partner to honor a local first responder with the Star of Courage award. In 2013, the Star of Courage award was created to recognize a first responder who has demonstrated excellence in leadership, bravery, and a commitment to Houston.
Nominations are now open! One winner will be selected to receive the Star of Courage award at a Texans game and a $10,000 donation in their name to the 100 Club of Houston, which supports the dependents of heroes lost in the line of duty. Monthly winners will also be selected and receive an award from the Texans and a tree planted in their honor.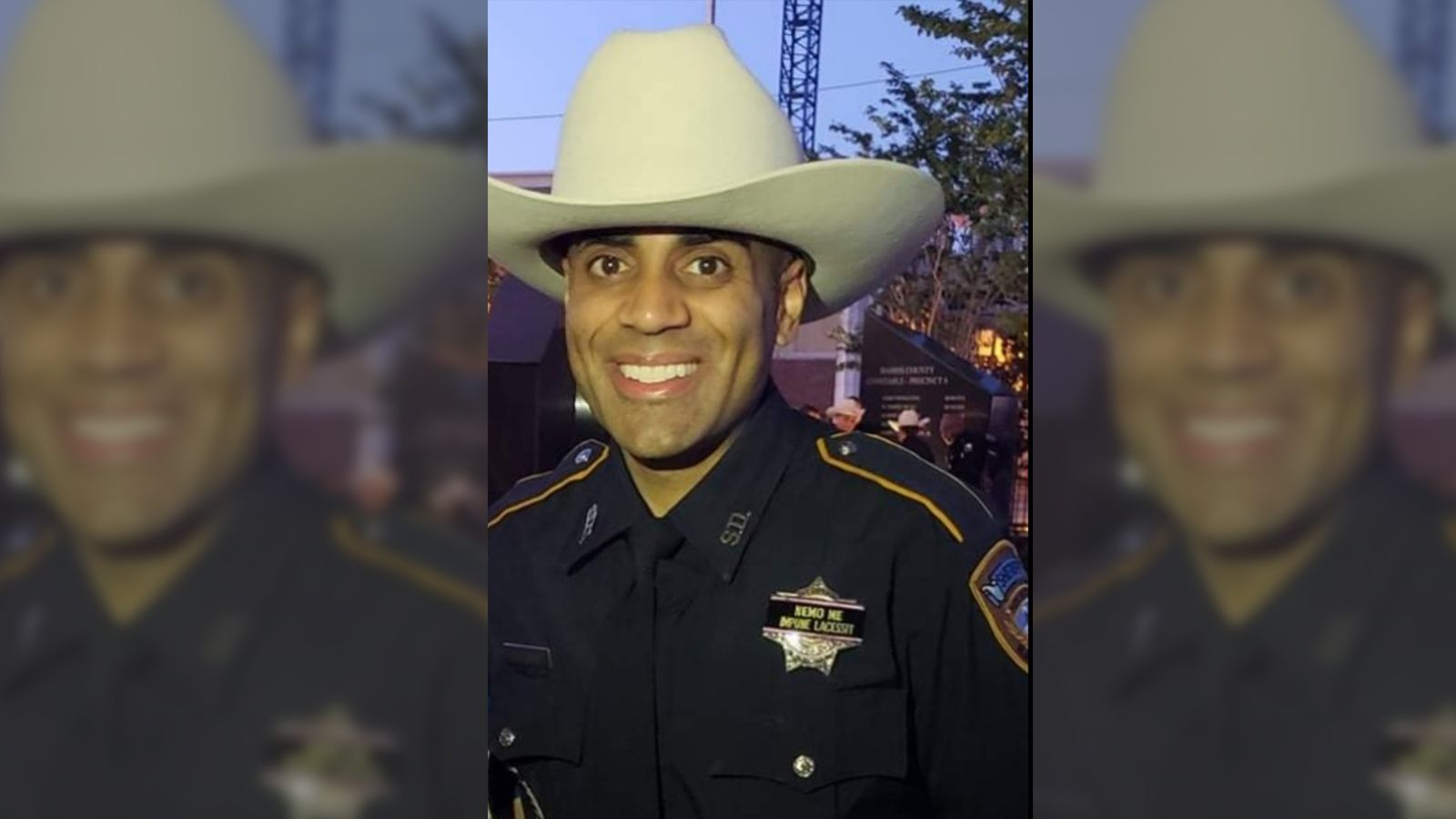 Rishi Singh, Deputy Investigator, Harris County Sheriff's Office
The March winner of the Houston Texans Star of Courage Award presented by Apache is Harris County Sheriff's Office Deputy Investigator Rishi Singh. Deputy Singh has served in the Sheriff's Office for ten years and during that time he has tragically lost six of his fellow officers. From his nomination, "He is my hero because he is turning these horrific tragedies around so he can help even more. Deputy Singh was able to assist in raising more than $10,000 for these fallen brothers' families. He is also a part of the peer support team and the hostage negotiation team. This program allows him to travel within Harris County to support his local brother and sisters in blue. He emphasizes the importance of asking for help and talking to someone. He is highly engaged and motivated to make a difference in the community all while working as a detective. Kids and families in the community are drawn to him because he is present and available for them. He is just a truly amazing hero to a lot of us. Not to mention a diehard Texans fan!" Thank you, Deputy Singh, for all you do to keep us safe!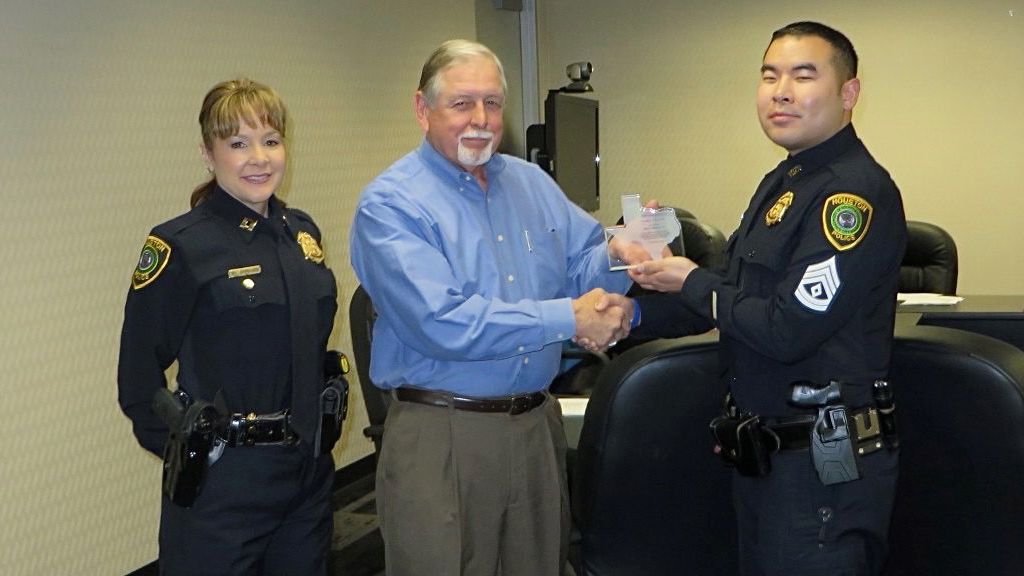 Kenny Li, Jr., Sergeant, Houston Police Department
The February winner of the Houston Texans Star of Courage Award presented by Apache is Kenny Li, Jr., Sergeant, Houston Police Department. Sergeant Li grew up in southwest Houston in the Alief area and wanted to give back to his community by fighting crime. During his outstanding 15 years of service to the City of Houston, he has served in patrol and jail operations, as well as serving as an Internal Affairs investigator. He has been appointed numerous times as an Acting Lieutenant/patrol shift commander and has earned numerous awards. He also has a Master Peace Officer and police instructor certification. Sgt. Li earned a Mayor's Commendation for tracking, locating, and identifying a major jewelry thief and recovering over a quarter million dollars worth of stolen jewelry. Sgt. Li also earned a Crisis Intervention Team Officer of the Quarter Award. From Sergeant Li, "I continue to want to help the community and the City of Houston." Thank you for your service, Sergeant Li!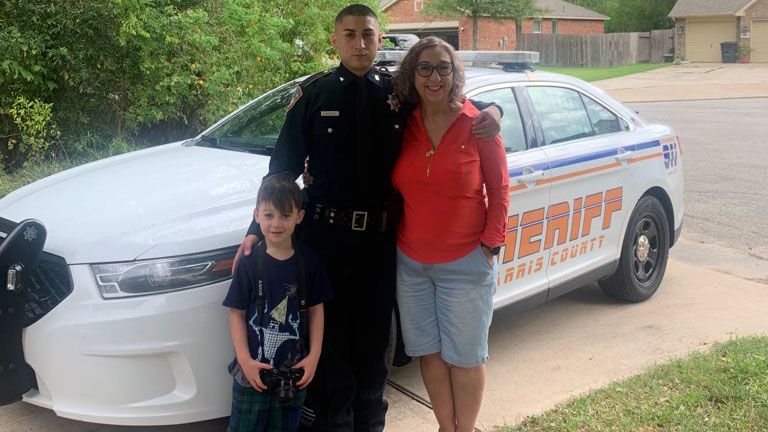 Julian Martinez, Deputy, Harris County Sheriff's Office
The January Houston Texans Star of Courage Award presented by Apache Corporation is Harris County Sherriff's Office Deputy Julian Martinez. Deputy Martinez has served in the Harris County Sheriff's Office for 6 years. He was nominated by his sister, who said, "I nominate Julian, my brother, for his positive attitude, no matter what kind of situation he's in, always with a smile on his face. Always there for his family, friends, and coworkers. Despite the pandemic, and winter storm, he has braved every obstacle and has taken care of others before himself. Always watching out for others first." Deputy Martinez said "I serve because I love to help others and improve my community in any way possible." Thank you for your service, Deputy Martinez!
Lieutenant Julie L. Pleasant, Houston Police Department Victim Services Division
In 2018, the Chief of Police created a new and unique unit that would focus on helping victims of violent crimes. Chief hand-picked Lieutenant Julie Pleasant to lead this unit. Over the past three-years, Lieutenant Pleasant, with her team, has worked tirelessly to create the Victim Services Unit. Lieutenant Pleasant performed all the administrative, budgeting, and operational tasks necessary to make the unit functional. The Victim Services Unit, consisting of 27 victim advocates and a very small support staff, go to the actual crime scenes while they are still in-progress to meet with victims. There they coordinate with a network of providers to link victims with shelter, clothing, food, or any other need that must be immediately met. The next day the advocates follow-up with the victim to ensure continuity of care. In April 2021, Chief of Police Troy Finner, recognizing the value of the Victim Services Unit under the leadership of Lieutenant Pleasant, made the unit a full-fledged division. As such, the newly created Victim Services Division now has access to more resources which Lieutenant Pleasant will manage to help even greater numbers of Houstonians in need. From Lieutenant Pleasant, "I serve because it is very rewarding to see the transformation of victim to survivor and to know I helped create a division that makes that possible."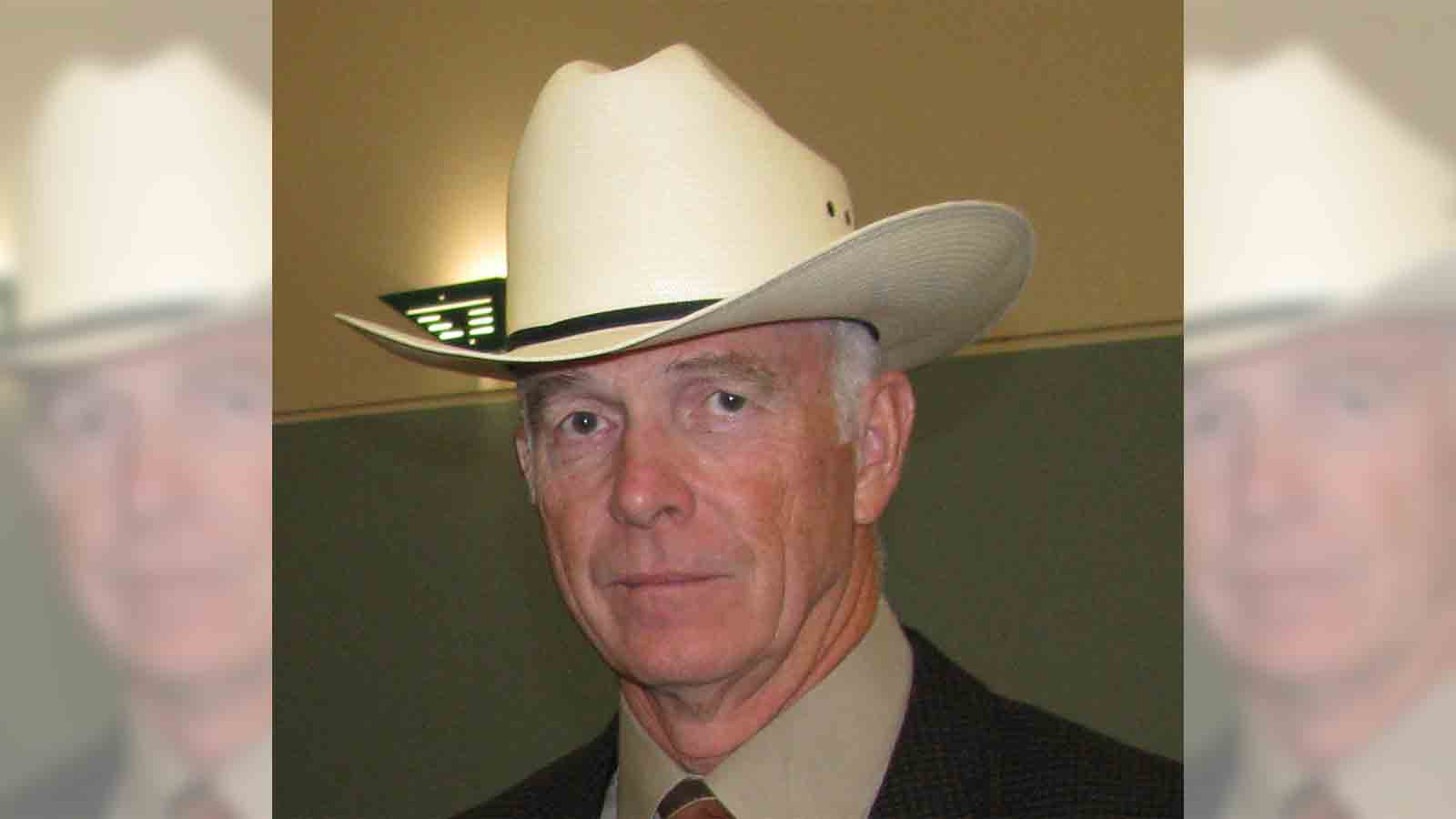 Texas Ranger Joe Haralson
Texas Ranger Joe Haralson has served the citizens of Texas as a state police officer since 1972. Joe is a Vietnam combat veteran serving in the US Army from 1970-1971 in Vietnam. Joe began his career as a Highway Patrolman in Brenham in 1972 and promoted to the Texas Rangers in 1981 where he has served in Texas City and Jasper. Joe has mentored officers, deputies, troopers, specials agents, and rangers his entire career and is truly a "go to" guy for any questions any of us have on complex investigations. Ranger Haralson is as active this year (his 50th year in law enforcement and 40th as a ranger) as he was when he began, he is tireless, fearless, always ready to lead, or follow, and is a true Texan to his core!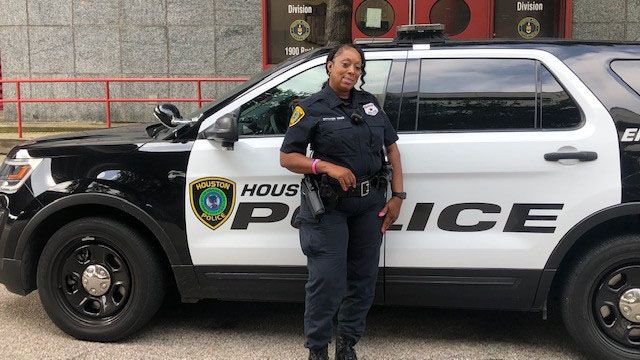 Senior Officer Marjorie Booker
HPD Senior Officer Marjorie Booker has been working at the Houston Police Department for 28 years.
Sr. Officer Booker works in the Downtown Patrol Division and is a trained Crisis intervention Officer and also serves on the Special Response Group. Sr. Officer Booker became a police officer because she loves to work with people. Her passion is helping women and children in domestic violence situations. Said her son, who nominated her, "My mom has been a member of the Houston Police Department for more than 25 years. She has never hesitated to suit up and go do her job. She has worked bravely through traumatic events such as the protests, Hurricane Harvey, and the pandemic. She loves her job and she is very good at it. My mom also put in overtime to put me and my sis through college. In my eyes, she is an American hero."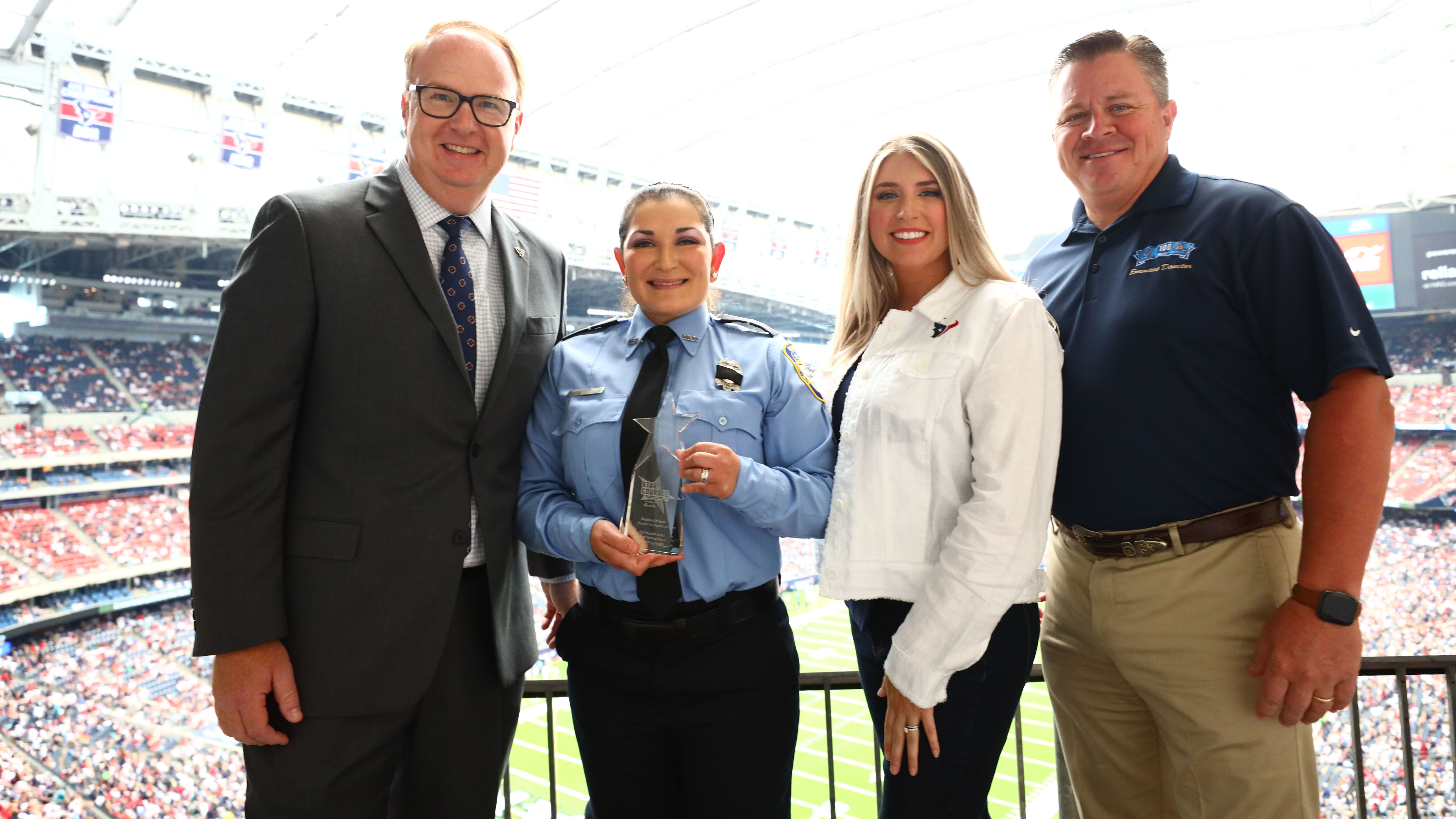 Houston Fire Department EMT Christina Calderon
Houston Fire Department EMT Christina Calderon demonstrated incredible bravery this summer on July 23 when an armed assailant highjacked a Houston Fire Department ambulance with EMT Calderon in the back along with her injured patient forcing out the driver. The high jacker then took off with EMT Calderon and her patient still inside. When EMT Calderon discovered the assailant, she was threatened with a gun. EMT Calderon remained calm and was able to alert HPD dispatchers who were able to track down the ambulance, apprehend the assailant and bring the incident to a close. It was Calderon's quick thinking and calm that saved her patient and prevented further tragedy. In September, EMT Calderon was surprised with the Star of Courage Award by Texans Chairman and CEO Cal McNair and Vice President of the Texans Foundation Hannah McNair at a private lunch and practice visit for 150 first responders. EMT Calderon was then presented with the trophy at the September 12 Texas vs Jaguars Liberty White Out game presented by BHP.