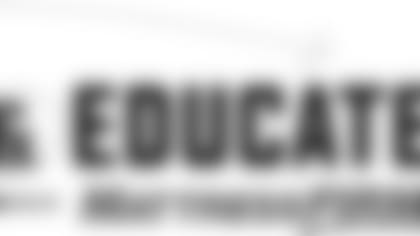 Day 1 of the Senior Bowl is a hectic, crazy and wild day, but the best part of it all is when the players get out on the Ladd-Peebles Stadium turf and compete. We were able to see the South team practice today, so all of my observations are from that 90 minute workout. I'll be able to see both practices tomorrow, so I can let you know how QBs Baker Mayfield and Josh Allen look up close and personal. Deal? Cool. Here are my handful of observations from the workout.
I'm going to start with Humboldt State, well, a player from Humboldt State. Now if you're not sure where that is, you're not alone. It's a Division II school in Arcata, CA, and it has gifted the Senior Bowl a young offensive tackle by the name of Alex Cappa. I watched a couple of Cappa's games near the end of the season and all I could think of was WWE. Yes, wrestling. It looked like he wanted to choke slam nearly every single defensive player he faced. Every single one. I remember thinking, "Well, that won't happen at the Senior Bowl." The players were not in full pads today, but that didn't matter, as Cappa brought his angry game to Mobile. He matched up with outside linebacker Marcus Davenport from UTSA, perhaps the highest-ranked prospect heading into the game, in a run drill, and did nearly the same thing to Davenport that he did to those poor Division II defenders.
I thought big-time pass rushers would be a tough test for him, but Cappa stood right up to USC star rusher Uchenna Nwosu on a rep that I saw during pass rush one-on-ones. Of course, off the field, he has a smile bigger than Mobile, but on the field, whoa.
UCF outside linebacker Shaquem Griffin is a blur. One pass rush rep, he literally ran right around an offensive tackle, got clear of him in a blink, planted his outside foot and took a beeline right to the quarterback. Later, he tried to throw a spin move from the right side back inside and nearly got home. As I said earlier this week, I don't know where he plays on a consistent position; heck, he might be position-less for all I care. That dude can ball the you-know-what out.
Clemson interior lineman Taylor Hearn is an intriguing guard prospect with his power. He'll strike you, and I saw that during that inside run blocking drill against Alabama defensive end DaShawn Hand.
Let me just say this as well about football playing dudes - Clemson's Dorian O'Daniel. Total dude. Like Griffin, he's not huge, but there isn't a linebacker responsibility that he can't complete. Cover tight ends like a glove as I saw him do today? Check. Pop the pads? Check. Run like the wind? Check.
Auburn safety Tray Matthews will knock anyone into next week. On an outside run, he popped LSU running back Darrel Williams right in the earhole and then told him all about it as they both ran back to the huddle. That's his strength, now he has to prove that he can cover just as well to find a spot at safety in the NFL.
Southern Mississippi running back Ito Smith is pocket dynamite. In five years at the Senior Bowl, I have never seen a run during inside run drill pop for a clean touchdown as it did today when Smith took one to the house. Burst, quicks, whew, that guy is a handful. He's only 5-9, so some teams may not be interested, but wow, he can scoot.
San Diego State fullback Nick Bawden runs well for a large individual. I watched him during running back drills and he's, shall we say, acceptable, if that's the right way of saying it. But, he's going to get paid to mash some linebackers. I saw him sift through the trash to find a South linebacker during an inside run drill and introduce himself with authority. In fact, a couple of plays later, in a similar matchup that same linebacker tried to slip the block and Bawden caught him in the chops again.
Texas defensive lineman Poona Ford is one of the strongest pound-for-pound players on the defensive line. Watching most of the interior players try to move him off the ball is almost comical.
There's a lot of hype around UTSA star defensive end Marcus Davenport and it's warranted. But, the word is raw. The finished product with years of development and progress is going to be a wonderful one. You can see the assets and the tools, but you can also see him trying to figure out how to use them all effectively. I think tomorrow will be a great day for him.
I didn't spend much time watching the wide receivers and defensive backs, but when I did, it was clear that Oklahoma State star WR James Washington was today's dude. He measured just under 5-11 at weigh-ins, but he has glue sticks for hands and can run by any defensive back in Mobile (and those not here). He has to polish up his route running, but there's a lot to like about Washington as a future pro.
That's about it for now. I'll have a ton more tomorrow and, of course, observations from the North practice as well. See ya then.