 The 2018 running back class will be remembered for THE star at the top, but in future years, we may be talking about the depth that was available. College running backs are asked to do much more than line up in the I formation and hammer through the line on power and isolation as they did decades ago. They're entering the NFL with varied skill sets and versatility that NFL teams covet. The days of devaluing running backs (if that were ever true) may be over, starting with this class.
Here are my top 10 running backs in the 2018 draft class.1. Saquon Barkley, Penn State (Harris 100: #2)Early entry, 6-0, 233 lb.
The gold standard in this draft class is clear. Barkley has the size of Leonard Fournette (Jaguars), the speed of most cornerbacks in the league and the versatility of Christian McCaffrey (Panthers). The closest comparison I could come up with was a combination of Ezekiel Elliott with Shady McCoy's quicks/jukes. He was a highly effective receiver out of the backfield and should have a significant impact no matter where he's drafted.2. Derrius Guice, LSU (Harris 100: #18)Early entry, 5-10, 224 lb.
I went out on a limb in 2016 saying that the Jaguars were drafting the second best running back on the LSU roster, putting my chips all in on Guice. For good reason, too. He's one of the angriest runners in the nation, playing with a massive chip on his shoulder. He said that he patterns his game after Marshawn Lynch and that's more than evident when you watch Guice carrying the football.3. Sony Michel, Georgia (Harris 100: #26)Senior, 5-11, 214 lb.
After the year that NFC Rookie of the Year Alvin Kamara had in New Orleans, teams have been looking for the next Kamara. Michel might be as close as anyone is going to get. He's a dynamo in space, but has the power/explosiveness to run effectively inside. In three games against top 10 ranked opponents (No. 10 Auburn, No. 3 Oklahoma and No. 1 Alabama) to finish the 2017 season, Michel ran for 324 yards on 32 carries, averaging over 10 yards a carry. He's a true baller.4. Nick Chubb, Georgia (Harris 100: #28)Senior, 5-11, 227 lb.
What if Chubb hadn't injured his knee in 2015? It's a question that I've asked myself often the past two years. That knee injury certainly slowed Chubb in 2016, but in 2017, he was close to the "old" Chubb, rushing for 1,345 yards and 15 touchdowns. He's powerfully built and will sideswipe feeble ankle or low tackles. Furthermore, his agility/change of direction flashed again in 2017. He posted a 38.5-inch vertical leap and a 10'8" broad jump, displaying his raw, explosiveness power, and ran a 4.52 in the 40-yard dash at 227 lb. Not to mention, he's unassuming and lacks diva qualities, which should please some team to no end.5. Ronald Jones, USC (Harris 100: #31)Early entry, 5-11, 205 lb.
Wearing No. 25 in college, Jones reminded me of former Chiefs star Jamaal Charles. Like the former Chiefs star, Jones is from Texas and ran like a wild mustang let out of the gates of the ranch. He's a one-cut slasher who can take every run to the house. When he finally ran a healthy 40 this offseason, he posted an expected 4.4. He lacks the size of the backs in front of him on this list, but the ability to make a house call on every single play has the attention of NFL teams for certain.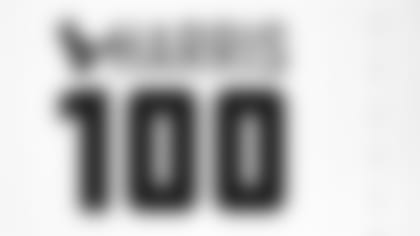 ](http://www.houstontexans.com/news/Harris100.html) 6. Kerryon Johnson, Auburn (Harris 100: #45)
Early entry, 6-0, 212 lb.
Someone asked me what made Johnson great, and after thinking about it for a second, nothing overtly stood out. He's not the fastest. He's not the quickest. He's not the biggest. He didn't put up monster numbers. But, I finally said, just put the film on, you'll see. It's the patience. It's his ability to make defenders miss with change of direction or power. It's the versatility in his game. It's the way that he put Auburn's offense on his back in November 2017 and carried it to the SEC West championship. Put it this way, after Johnson was injured late in the Alabama game, the rest of the season was an offensive mess. With Johnson used in a limited capacity, the Auburn offense struggled against both Georgia in the SEC championship game (Auburn beat UGA with Johnson earlier in the season) and UCF in the bowl game.
7. Rashaad Penny, San Diego State (Harris 100: #53)
Senior, 5-11, 220 lb.
I was studying an Aztec offensive lineman a couple of years ago when #20 for SDSU took the opening kickoff back to the house for a touchdown. I mean, I just yelled out, "Wow, who's that?" I immediately went to the roster and saw the name Rashaad Penny. He backed up college football's all-time leading rusher Donnel Pumphrey until Penny's senior season. Suffice to say, he made that single season well worth it, leading the nation in total rushing yards (2,248 yards) and rushing yards per game (172.9 ypg). He's got legit speed and home run hitting ability every time he gets out in space. The team that tabs Penny is going to think it's gotten the next Kareem Hunt (not stylistically, but production-wise).
8. Kalen Ballage, Arizona State (Harris 100: #71)
Senior, 6-1, 228 lb.
Ballage is a height/weight/speed guy and an impressive specimen at that. He shined at the senior bowl in nearly every capacity, which raised even more questions. Why didn't a guy with that size, speed and versatility completely dominate at Arizona State? Many scouts and coaches have been asking that same question over the past few weeks. He has David Johnson (Cardinals) like size and speed and the receiving skills to match. He has great hands and could be a tremendous weapon in the passing game, but that disconnect has left NFL teams puzzled. Which Ballage will they get?
9. Nyheim Hines, NC State (Harris 100: #93)
Early entry, 5-9, 197 lb.
Whether Hines lines up at slot receiver or running back, he's got world class speed and that might be enough to get him drafted on day two. If he gets a sliver, he can embarrass defenses at any point in time. He did run for 1,112 yards at NC State, but may be more of a matchup back/receiver type in the NFL. He's got a track background so he expectedly blew through the 40 at the combine, posting the best time for any running back in Indianapolis (4.38). If speed kills, Hines will too for the NFL team that calls his name.
10. Mark Walton, Miami
Early entry, 5-10, 202 lb.
Unfortunately, Walton's junior season, and career, was cut short when he got injured in 2017. He was a star in the first four games, rushing for 428 yards, before he was injured in the Florida State game. He's got excellent vision, great feet and excellent change of direction. He sees openings to make cuts that aren't seemingly there until they are. He runs with a South Florida chip on his shoulder and would be getting a ton more recognition had he stayed healthy in 2017.
Next five:
John Kelly, Tennessee
Ito Smith, Southern Miss
Josh Adams, Notre Dame
Royce Freeman, Oregon
Ryan Nall, Oregon State
Diamonds in the rough:
Chase Edmonds, Fordham
Senior, 5-9, 203 lb.
I first saw Edmonds as a sophomore. He was an FCS All-American and he was the only sophomore that year to achieve such status. Why? He's a blur. He embarrassed defenders with his quickness and poor man's Ronald Jones-like skills. He can make people miss in a phone booth. He was banged up in 2017 so he didn't dominate the FCS ranks, but he did enough in his career to be on team's radar screens.
Jordan Wilkins, Ole Miss
Senior, 6-1, 216 lb.
Wilkins missed all of 2016 and bounced back with a solid 2017 in difficult circumstances at Ole Miss. He's more workmanlike and won't be a home run hitter, but he can hammer the rock at his size. He ran 4.50 at his pro day and posted a 10'3" broad jump and a 37-inch vertical, so he's athletic enough to certainly be a complementary back at the next level.
Martez Carter, Grambling
Senior, 5-10, 206 lb.
At his pro day, Carter ran a 4.49 in the 40-yard dash and posted a 36-inch vertical. That confirmed the explosiveness this young man has in his game. There were a few runs in his career that took my breath away. I love his game and he'll find his way onto a 53-man roster this fall for certain.