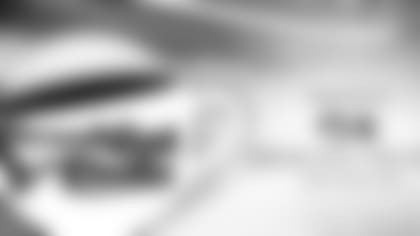 Last week, I put together a list of the top 25 offensive players that the Texans would face in 2016, assuming, of course, 100 percent health and no suspensions.
This week, we'll take a look at the top 25 defensive players that the Texans will face in 2016. Minus potential matchups with Tom Brady and Aaron Rodgers, the defensive players on the Texans schedule are probably a tad more stout, especially at one position in particular. There are EIGHT former edge rushing Pro Bowlers on the schedule and not all of them made the top 25.
OLB Von Miller, Broncos - We can only hope the Broncos pull a Josh Norman-Panthers move and rescind the franchise tag. But, I don't think that's happening anytime soon.
OLB/DE Khalil Mack, Raiders - Perhaps the next big thing off the edge, in just two seasons in the NFL.
OLB Justin Houston, Kansas City - The only caveat here is that Houston's injury may keep him from seeing the field in September, which can only help the Texans.
CB Marcus Peters, Chiefs - The very first play of his career in 2015 was an interception... against the Texans, which led to a Pro Bowl season for the rookie.
OLB Demarcus Ware, Broncos - Sensing a theme here with the Broncos defenders and with good reason. Ware might be a bit long in the tooth, but there's little question he can still play.
DT Geno Atkins, Bengals - The former Georgia product found his sea legs in 2015 and earned his fourth Pro Bowl berth.
S Eric Berry, Chiefs - How good is Berry? Oh, he just earned another Pro Bowl berth after chemotherapy treatments all last offseason.
ILB Jamie Collins, Patriots - He can play inside. He can line up outside. He can drop. He can play the run. He can win off the edge rushing the passer.
OLB Clay Matthews, Packers - All indications are that he'll move back to his original position of outside linebacker, but don't be surprised if he lines up all over the defensive formation.
DE Ziggy Ansah, Lions - It's scary to think that he's only been playing football since Snapchat was invented.
CB Chris Harris, Broncos - The man doesn't give up touchdowns to anyone.
S Harrison Smith, Vikings - He was recently rewarded with one of the biggest contracts in league history for a safety and he's well worth it.
S T.J. Ward, Broncos - If you're anywhere in the vicinity, he's going to knock your lights out, but he's become a true playmaker for Denver's defense.
CB Malcolm Butler, Patriots - After Super Bowl XLIX, everyone thought he'd be a one game/play wonder. But, he followed that game up with a stellar 2015 season.
ILB Derrick Johnson, Chiefs - Still the leader of the Chiefs defense and still as productive as any inside linebacker in the AFC.
DT Mike Daniels, Packers - He'll talk all game long, but he has the game to back it up.
CB Vontae Davis, Colts - The Texans have seen him a bunch the last few years and he's still a thorn in their side.
ILB Telvin Smith, Jaguars - He might look like a safety, but he plays and strikes like the outstanding linebacker that he is.
S Reggie Nelson, Raiders - The former Bengals star led all safeties in interceptions, including one at the end of the half last year vs. the Texans.
S Devin McCourty, Patriots - Steady as can be, he's the leader in a secondary that has been significantly transformed over the past few years.
DE Malik Jackson, Jaguars - The most sought after free agent in 2016 signed a massive deal in Jacksonville to provide some pop to the Jaguars rebuilt defense.
S George Iloka, Bengals - He's quietly grown into one of the best Bengals defenders and Cincinnati locked him up for a while with a 5-year contract extension this past offseason.
CB Logan Ryan, Patriots - He was outstanding vs. the Texans in 2015, tracking Texans wide receiver DeAndre Hopkins all over the field.
OLB Anthony Barr, Vikings - The former UCLA product made his first Pro Bowl last season, but it won't be his last, given his speed, agility and quickness.
OLB Tamba Hali, Chiefs - The elder statesmen of the group can still create havoc off the edge, chasing quarterbacks all over the field.
Others receiving votes, in no certain order:
DT Linval Joseph, Vikings
DT Jurrell Casey, Titans
CB Adam Jones, Bengals
CB Aqib Talib, Broncos
DE Derek Wolfe, Broncos
S Glover Quin, Lions
CB Jason Verrett, Chargers
OLB Julius Peppers, Packers
S Ha Ha Clinton Dix, Packers
CB Xavier Rhodes, Vikings