(opening statements) "After viewing the tape of the game last night, I like the approach that our team took. We wanted to come out and be aggressive. We wanted to set a tone. You're always talking about what formula it is going to take to go out and play winning football games. For the first time we were able to establish that formula.

"I thought our kicking game contributed a positive side to the game. You go through a number of things. We had 10 points in the kicking game where they had none. We had a nine-yard advantage in our drive start. We had two big plays, we downed the ball down at the six-yard line and we tipped a punt that we took over on the 34-yard line, so we were able to create field position with that. We were over 10 yards on a punt return and had better net punt than them. I think our kicking game did a really good job.
"There were three penalties that hurt us at times in the kicking game and we need to get that ironed out and taken care of.
"We looked at a lot of young players. I think there are a lot of guys on our team who know the avenue for them to make this 53-man roster is through the kicking game. They were out there competing and working and there were some good things.
"Offensively, I think our first group was sharp. They came out and were able to execute. We have some playmakers on offense. I think we have some guys who can play pretty physical. I think you saw that with the bootleg we threw to Mark Bruener. I thought that was a very physical play. I thought we had some physical play with our front people in terms of the run blocking. I think it was a good start there in terms of taking care of the ball. The only turnover we had was late in the game, down the three-yardline. You never want that to happen. We have to make sure we do a good job of taking care of the football.
"Defensively, I like the way our guys responded in terms of being aggressive. We were able to come up with four sacks. We turned the ball over once on the fumble. We came up with four sacks and we were plus-three in the takeaway-giveaway. That's normally a winning formula. Those are things we have to take and build on. Our defense responded well in third down situations. They responded well with two-minute situations. They responded well with sudden change situations. Being able to make plays, like the two interceptions we had down in the red zone, was extremely big. Any time your offense has the ball down there and turns it over, it's a will breaker because you're sitting right there. The same thing happened to us when we fumbled the football.
"I thought overall it was a good start. We have something to build on. It's like anything else. When you come in and look at the tape, things are never as good as they seem and never as bad. But I think our guys have improved over the 20 practices and the first preseason game. Now we have to come back in and take a look at this tape. There's an awful lot to learn from it. Then we'll have seven practices to get better and go up to Pittsburgh and hopefully perform better this next weekend."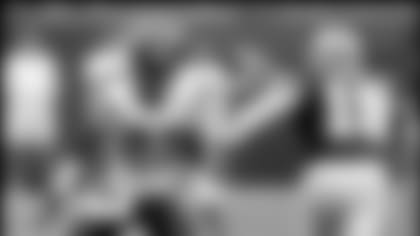 Capers: (on rookies, CBDunta Robinsonand OLBJason Babin**) "You could see their ability and they made a lot of progress. Where they are night now is like most rookies. Certain things where you see errors come up is because they haven't seen these things before. It's impossible to cover every situation for a young guy and they don't have a lot of reference to draw from. And you'll see a lot of little things. But the good thing is both of those guys are on the field for every practice in the spring and training camp. They've been with the starting unit every practice. They've gotten better and you saw their ability show up. The one pass rush that Jason Babin had, where he came through and knocked the ball out, is what we hope to see. The one-to-one post route, where Dunta made a real timing play and broke up the pass in the post, that was a real outstanding athletic play. I think both of them are on the right course. They both have a lot of work to do. There are some mental things in there they have to get squared away, but there wasn't anything glaring in terms of what you'd be disappointed in. We're encouraged. We just have to keep working these guys and they'll get better each week."
Capers:(on the pressure LB Antwan Peekand Babinapplied) "Well, you think those guys will certainly give us a chance to improve our pass rush. When they are both in there together, they both have to be dealt with. They are both relentless players. If they have a block, then they are going to fight and be relentless in terms of trying to get off the block and get to the quarterback. That's a big part of it. You're going to get blocked at times but you have to continue to fight. You never know if the quarterback has to hold the ball. (Peek and Babin) make effort plays and I think you combine that with some explosive ability and that's what you're looking for.
Capers:(on playing OLB Kailee Wongat inside linebacker) "We're going to meet to talk about that this week. There's a chance we could do that. We've discussed it and, in fact, at some point we're going to move him inside. It's more of just preparation for the season in case we have injuries. We'll meet tonight to see if this is the week on whether or not we want to do that. There's a chance that could happen. Again, Kailee played well, he did a good job. He had 10 plays and did all the things we asked him to do. We have to prepare for everything if we have an injury. Kailee is a smart player, he's a technique player, he has a good background in both positions (inside and outside linebacker). The more versatile you are the better; the more alternatives it gives you. We see that in a number of positions on our team where we're asking guys to do some things. Jason Simmons, for example, played strong safety, free safety, nickel and dime last night. He played four different positions last night."
Capers:(on the versatility of players effecting the shape of the regular season roster) "We see (versatility) in the offensive line and we're trying to get the best five linemen out there. I think we have a lot more flexibility in our offensive line because we have a lot of dual-position players. We haven't really had a lot of that on defense. We're trying to look down the road here and make sure that if we do run into some unfortunate injuries, we have ourselves covered and could still put our best football players on the field. With various personnel groups, you try to get your best people on the field, in terms of athleticism and explosiveness. Now is the time when you need to look at those alternatives"
Capers:(on Antwan Peek and Jason Babin playing at the same time) "On third down you could very well see him on the field at the same time. Again, we use a lot of different personal groups. Last year there were times we had five linebackers on the field just to try to generate a little pass rush when we were struggling. It helped us. We were able to pick it up after we had a number of injuries, just by putting in more athletic people on the field."
Capers:(on Seth Wand's performance against Dallas) "I think it was a good start for Seth in a game. We were able to control the down and distance situations, for the most part, and keep them to our advantage. You go through your first preseason game and don't give up a sack and with a new left tackle out there. He competed from week one against the Dolphins to week 2 against the Cowboys. I think he made a lot of strides and you saw improvement in a lot of areas that we really worked on."
Capers:(on Vontez Duff returning punts) "We continue to look at Vontez back there. I think he's a guy that is secure with the ball. He's done it before, so I think he's confident back there. We'll continue to get a good look at him this week. We might work somebody else back there at times, but we will continue to try to get a good look at Vontez."
Capers:(on injuries from the Dallas game) "The major injury was to Jason Anderson, who fractured his fibula. He will definitely be out. Overall, as I look at the team this week, we'll have more people back practicing and we'll be healthier. We'll have RG Zach Weigertback practicing. TE Jabari Holloway will be practicing on a limited basis. P Chad Stanley, who we'll pull out of practice Monday, has some inflammation around his knee. CB Kenny Wright will be out of practice Monday. I think there's a chance he'll be back toward the middle of the week. We will evaluate TE Kevin Zureki. There is a chance he can be back practicing, but there aren't many changes. We'll have some guys working on a limited basis.
"We had the normal bumps and bruises from a game. CB Darrick Vaughn should be back working on a limited basis. NT Seth Payne and DT Junior Ioane will continue to work on the same schedule as they worked last week, when they started to take some team repetitions. Hopefully we'll be able to increase that as we go on. The only major injury was to Jason Anderson. Because of that, we'll definitely have to bring another running back in."
Capers:(on RB Tony Hollings' runs and taking care of the football) "When you see Tony's speed and his run ability, he can make big plays as you saw on the screen play. The biggest thing Tony has to focus on is ball security and taking care of the ball. We did have the ball on the ground three times and we only lost one. It's a big factor, a big part of the game. That was a big factor in the game last night, us getting four take aways, three interceptions and a sack-fumble. Even the fumble we had inside Dallas' five, at worst we'll line up and kick a field goal. I think that's going to be the real point of emphasis for Tony is to take care of the football."
Capers:(on Drew Henson's performance) "I think he's a good athlete, and like anybody he's out there playing his first game. People don't realize how hard it is to play this game when you're out there for the first time. I think because of his athletic ability he's going to learn a lot and improve. When you get in the red zone, for a quarterback, things get confined, things move much faster. There is not much margin for error. The one interception he threw to CB Jason Simmons, Simmons played perfectly. He sat inside, it looked like the slant was open and he made a break. The confined field down there is something you have to learn as a quarterback. You can't make the same throw as you make up the field."
Capers:(on the offense playing well) "It was a good feeling to see that happen. We've done some good things offensively. Our Achilles' Heel has been our consistency on offense. You have to be consistent and everybody has to take care of their job in order to put together drives. I thought our guys came out with the right approach, they were tuned in, they were focused and we were fairly crisp in our execution.
"We had four penalties on offense, a couple false starts. Most of that comes from communication from a quarterback to a line and that type of thing. You always want to eliminate those types of things.
"For the first preseason game it's a good start and gives us a lot of things to coach off of. We can say 'hey we want to do these things. These are the things we have to get taken care of if we want to be a good team.'"
Capers:(on David Carr running the ball) "It all fits together. If you can run the ball you can threaten people running the football with your play-action pass. I think David is doing a better job of play-faking the pass. I think we're doing a good job in terms of running the ball. One of the things he did very well last night was coming out of the play action and running in the opposite direction. He's excellent with running the ball and throwing the ball on the move. It puts an awful lot of pressure on the defense.
"In a third-and-four situation he tucked the ball and ran for a first down. I really believe David can put a lot of pressure on defenses. If it's not there, and as long as he's smart and doesn't run like a fullback, that he knows to get out of bounce when he can and when to slide and not take the hit. I think he knows that far more now than he ever has before. He can be a real weapon doing that because he's a good athlete, he's very good throwing the ball on the move, and I think you saw his athletic abilities show up last night. He did a really nice job on the 27-yard play on the bootleg to TE Mark Bruener. Mark did a nice job of running after the catch, breaking tackles. When you get into a game and you have 14 or 15 third down plays and you can make a couple of them by pulling them down and running, it's very frustrating for the defense when you have everybody covered and the quarterback pulls the ball down and runs for the first down. We know that from playing against mobile quarterbacks ourselves"
Capers:(on having a balance offense) "It helps your run game. But it all starts with your run game. If you can't run the ball then you can't do those other things. By running the ball it helps your play-action pass and the screens hopefully keep people from just pinning their ears back getting up the field. If you're running the football, people now start wanting to get up and stop the run and it puts one-on-one coverage outside. We threw ball outside to our wide receivers a couple of times when they had more people up there to stop the run."
Capers:(on the Carr's touchdown pass to WR Jabar Gaffney) "It's a sign of maturity because it is an adjustment. David bought enough time and threw the ball right where he had to throw it; it hit him right in the numbers. Jabari made a tremendous adjustment coming back and caught the ball right where he had to catch it. Those are the type of plays to be a good team in the NFL. Sometimes when you're on the other side and trying to defend that play you just say 'that's one for them, they made a heck of a play,' because the defender's not that far off and you have a quarterback that's buying time for him and adjustments. I think those are the kind of capabilities that we'll have because the more playmakers you put on the field the better your chances are. One of the things we're looking for right now is the type of production we get out of guys and trying to find as many playmakers in all 3 phases of the game as we can."