(Opening statements) "I think when you look at our game yesterday it points out that this is such a game of field position, and takeaway-giveaway is such a critical factor in being competitive and being able to win these football games.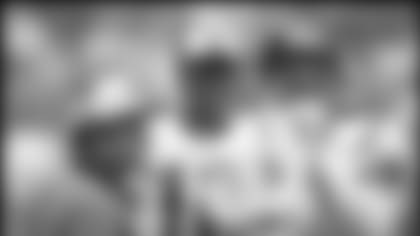 "I said after the game yesterday that I wasn't sure, but after looking, this was really our first minus-four takeaway-giveaway game that we've had since we've been here. I don't know over the years if I've ever been involved where you can win a game when you're on the minus-four side of the takeaway-giveaway. Certainly we didn't give ourselves a chance yesterday, it was 20-20 in the fourth quarter and we turned the ball over three times.
"There were some reasons why it was still a close game. It's frustrating when you go out and have that happen. It's extremely frustrating because you know how hard our team prepared. I know that they're frustrated and disappointed. The key is going to be how we respond. When you get knocked down, you find out a lot about people, how they handle adversity and how they bounce back.
"There were some good things that happened in the game, things that were encouraging to me and things we can build on. We placed a lot of emphasis on the kicking game. I thought our kicking game did a very good job yesterday. Our net punt was very good, 39.5. Our drive start, we had a nine-yard advantage. Our drive start was at the 33 to their 24. I thought our kickoff coverage unit did an outstanding job and I thought our return game made some big plays. We had a kickoff return out to the 40, one to the 48. At crunch time when we needed it the most, J.J. got the ball down to the 34-yard line. I think those are all positives.
"Offensively, it was a frustrating day because we did some things better than we've done them since we've been there. We ran the ball for 110 yards. We won on first down 15 to 27 snaps. We were 4-of-5 in 3rd and 5 or less and 5-of-9 on third down which 56 percent is excellent of where we've been in the past.
"We averaged 8.4 yards per pass. We were 2-of-2 in goal line situations. Overall, we probably had our highest percentage of efficiency we've had since we've been here. That doesn't override the fact that when you've got ten possessions in the game, which we had on offense, and four of those end up in turnovers, really you're playing a six-possession game. The way I look at it, in those six possessions, we scored two touchdowns, we kicked two field goals and we punted twice.
"The Chargers came in and beat us with the formula that we feel is the winning formula. They did not turn the ball over. They had 11 possessions and there's a big difference if you've got 11 possessions with no turnovers and if you have 10 and have four turnovers. You just don't give yourself a chance.
"We've got to make sure that we go back to work in terms of taking care of the football. The other thing that we've got to do offensively is that in crunch-time in the fourth quarter is when we had three-and-out, three-and-out and three plays and a fumble in a critical time of the game.
"It was 20-20 in the fourth quarter and then they went up 27-20 and that's when you've got to be able to make the plays. Unfortunately in that last series we gained nine yards on the first run, came back and threw a pass for eight yards and then we ran the ball for three yards and fumbled it and that was basically the game.
"On defense, we did not respond well to the adversity situations. Two of their touchdowns came after a fumble at the 45 and then the interception at the 49. They were able to take those possessions starting on our side of the 50 and take them down and score touchdowns. We have to do better at that.
"The other thing is that we've got to improve our third-down percentage. We had them in some very advantageous down and distance situations and we let them off the hook. And then we have to make sure that we improve our coverage. They had four big plays in the passing game. Two to the tight end for 29 yards a piece and we had the one where Dunta (Robinson) fell down and of course it was a touchdown after he did fall down. Then we had a 40-yard pass interference penalty where we got called for an arm bar.
"It wasn't the way we wanted to start. We've got an awful lot of work to do. There's only one thing you can do when you get off to that kind of start is that you've got to come back in and go to work. We looked at it today and I think our guys understand that it's up to us to come back and go to work and get ourselves ready to go to Detroit and just eliminate the downside. We've got plenty of things to build on, we just know we've got to do a better job of taking care of the ball on offense and we've got to perform a little bit better in the critical situations of the game and we've got to eliminate the big plays on defense."