On similarities between Lions QB Joey Harrington and himself:"We were coached by the same guy for a couple of years – Jeff Tedford, obviously. That's the first thing that comes to mind because I still spend some time with him and obviously Joey does. Other than that, we're both from the west coast. We played on some good teams in college. It is kind of impressive that we are both from the west coast and came out one and three. That's pretty good. We're both still with a young team trying to go do some good things. It's kind of exciting"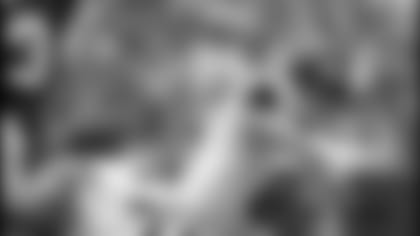 On whether he looks at this game as a competition between himself and Harrington: **"If he played strong safety, I'd probably notice him a little bit more. It is going to be a little different because I'm not going to get a chance to see him on film. It is going to be fun to play against a guy like that. He's a competitor. I've seen him on TV a couple of times, a couple of highlights and whatever. It is going to be fun to get out there and compete against a guy that likes to win."
On where he got to know Harrington:"I spent some time with him this summer at a little golf tournament out in California honoring one of my good friends and his, Trent Dilfer. Jeff Tedford was out there. We all got to hang out. It was kind of a neat deal. It was the first time (we) ever got to hang out. It was kind of a neat deal. That was the first time I ever got to spend significant time with him. It was fun. We played good golf. Obviously, he's a good golfer, so we had some fun together."
On whether he tracks Harrington's production:"Honestly, I'm too busy with our guys. If he was in the AFC, I probably would get a better chance, but since he's in the NFC and we don't really have too many common opponents, it is kind of hard to watch him."
On the Texans growing together as a team:"It's been good for us. We're starting to come into our own a little bit. We're starting to get a good feel for each other, obviously, like they are up in Detroit. I think that the groups are similar. We have two young receivers. I have Gaffney, who has been here with me since he came out and he has Charlie Rogers, who unfortunately broke his collarbone, and he's got Roy Williams. It is a similar group. Then I've got Dominick Davis in the backfield. Young guys growing up (together) is kind of nice to have and I'm sure he feels the same way."
On getting sacked in his first season:"70,000… 76 I think was the actual number – a lot of prayer (got me through it), basically. The good Lord was looking out for me. It was tough, but I wouldn't trade any of those snaps for anything because I got a chance to play with guys like Chester Pitts and Steve McKinney, who I am now going into my third year with. Corey Bradford and Jabar Gaffney were out there with me every down. Hopefully when we turn this thing around and start winning some games it is going to be that much sweeter. We'll be able to look back at those times and laugh about them because we learned so much from them. Now hopefully it is going to turn around for us."
On the high expectations for this team:"It does (surprise me), but I think that if you don't have high expectations, you are going to shoot pretty low. The expectations are kind of nice to have because, honestly, my first two years, we didn't have that many expectations. We'd go out and if we lost the game, fans and our family and everybody would just be like 'Well, you lost, but you'll get better.' I actually like the fact that even though we did lose that game Sunday against San Diego, fans expectations are higher. They're bummed out, they're upset. We're upset. It is kind of a different feel. It is good to see. If you can take any positive out of that game, it is the fact that there are high expectations for this group, on the team and just people watching."
On the pressure after losing the season opener:"Not much, honestly. That was something that we went out, we moved the ball effectively. We just had turnovers. We turned the ball over. I talked to my guys and if we go out and we do what we can do, what we've been doing all preseason through the first game minus the turnovers, then we're going to be fine the rest of the year. I'm not worried about it whatsoever."* *
On whether CB Andre Goodman is going to get more attention now that CB Dré Bly is out:"Andre is a good young player. I think he is in his third year. He's got great athletic ability. He's similar to Fernando (Bryant) on the other side. They're going to play good football. It is not really like he's going to get extra attention, but obviously with Dré being out, is an advantage for us a little bit because he's a great football player. The guys that step in for him are going to play just as well and as far as (our) scheme goes, I still have to go through the same reads. It is not automatically going to take me over there because he's going to be pressured to step up in place of Dré and I'm sure he is going to do a good job."