Following are comments from free agent linebacker Danny Clark, who visited with the Texans on Tuesday.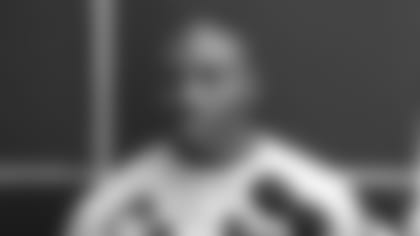 (on why he's interested in the Texans)  "I'm excited so far.  I met the staff and all the coaches are great.  The plan that they have in place for the future of this team is looking well.  Ultimately, we have to negotiate and we haven't been there yet."
(on the lure of more playing time with the Texans)  "If I come here I'm concentrating on being a starter, which is the only way I would come.  I think that we're talking about that and hopefully we get that done."
(on other visits) "It's set up for now and I do have other visits.  But, I haven't negotiated anything.  Once we get to talking I'm optimistic.  I think it may work out that I may not leave here today."
(on his season with the Saints)  "I had one year with the Saints and it wasn't a good one.  The team was great, we had a good team and I just didn't get the opportunity to play.  I played well in Oakland and I look forward to doing the same here."
(on what he brings to the field)  "I'm a leader first and foremost, definitely.  I'm a physical linebacker, I think, that likes to go out and hit people.  I think that is what being a linebacker is about.  And leading a young group of linebackers; DeMeco Ryans played an outstanding year last year and I think I can help him, as well as a couple other guys and lead this defense to places they haven't been yet."
(on not leaving here without signing)  "Who knows.  We haven't negotiated anything yet.  I haven't spoken with (GM) Rick Smith and I'm excited about doing so.  Once we meet, we'll know something better."
(on this being his first stop)  "This is my very first stop.  I've got some good acquaintances throughout the staff and players and college teammates, so I would love to play in Houston.  The numbers have to work out and if it does, most definitely I'll be here."
(on what he likes best about the team)  "I just like the fact that it's getting better.  The team is five years old and they continue to get better.  If I can do anything to help, I want to be part of the growth and the success of this ball club."
(on playing with the Saints who improved last season and the Texans improvement chances)  "Coach Kubiak is putting people in place as far as the staff goes and the personnel.  I think I would be a great addition.  But at the end of the day, we'll have to see what the numbers look like and we'll see what happens."
(on other scheduled visits)  "There are a few teams. I don't' care to mention names because I'm not at liberty to.  So, my agent is setting that stuff up.  And I'm sure once I leave here, if something doesn't get done, I'll be off to another city."
(on last season firing him up)  "Definitely.  I'm a player.  I think I can go produce in this league and be very productive.  Any time you go out there and not get an opportunity it kind of doesn't sit well with you.  When I come here and I feel like I can contribute in a positive way that is definitely in the back of my mind."
---
Below are comments from free agent quarterback Patrick Ramsey, who met with the Houston media during his visit with the Texans on Tuesday.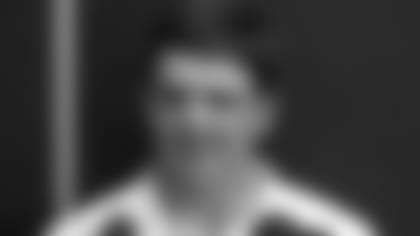 (on the visit to Houston)**  "I'm excited to be here, obviously.  It's a great organization that I've heard great things about and I'm just learning a little bit about it as I'm here."
(on what's attractive to him about the Texans)  "Obviously, a shot at competing to play.  That's the main attraction, and this is certainly a team that has a lot to offer and that I think has a bright future."
(on whether he's been told who he would compete against)  "I don't know who it is, whether it's (QBs) David (Carr) or Sage (Rosenfels), whoever it may be.  Just an opportunity to do that and a fair shot, a legitimate fair shot at competing is something I welcome and I hope can happen."
(on if his agent and the team have begun negotiating)  "Not that I'm aware of.  I've just kind of been around here checking things out."
(on if this is his first visit)  "This is my first visit here."
(on if he's been to visit any other teams, and if so, which ones)  "I have gone a couple of other places.  I don't know if I could or should (name which teams he's visited), so I'm going to refrain from doing that."
(on what he's looking for in a team)  "Just precisely what I said earlier.  I think (Texans Head) Coach (Gary) Kubiak's been with a lot of quarterbacks and he's developed those quarterbacks.  I think the opportunity to play coupled with the opportunity to develop and learn the game, we're all looking to get better.  Hopefully, and probably, this place can provide that."
(on what he brings to the team)  "I've played a little bit; I've started a few games and I've been in the playoffs the last couple of years, and although I wasn't playing, I experienced that.  I think hopefully, just whatever I can bring—whatever I think I've experienced or know something about that I think will help the team.  That's what I hope to bring."
(on what he knows about the Texans offense)  "It was kind of short notice, to be honest with you.  I was in another place and came straight down here from there, so I don't know exactly the process, but I've been a little bit informed just of what's been going on as I've been here."
(on if he's been through free agency before)  "I have not.  I was traded last year.  I was drafted and then I was traded, so I haven't had the opportunity to choose a team."
(on what the free agency process is like)  "It's just like what I'm sure any other player would tell you.  It's much like college recruiting and deciding on what place is best for you, and now at this point I have a young daughter and a wife, and I have to also consider them and decide what we think is best for my career and for my family."
(on whether starting experience helped his progression as a player) "Hopefully it has.  That's the way I look at it: I've had an opportunity to learn and I've seen two different teams be successful as I was watching.  I watched the guys who were leading those teams and did what I could to help them, so I do.  I feel like I saw some things that were different in the previous years, and I think taking a step back and watching these guys play and the things that each of them did I think helped."
(on if he was given the chance to compete with previous teams)  "Certainly, I feel like I was in New York, and (New York Jets QB) Chad (Pennington) just had a great year.  Chad played excellently and led our team to the playoffs and he did a great job."
(on if he has more visits planned)  "We'll see.  I don't know.  We'll just kind of play it by ear as we go through."
(on if he has the ability to throw the ball downfield)  "I hope so.  That's something that I have done, but it's all within the offense and what's called for and what the coaches ask for you to do.  I'm not going to say, 'Hey, I'm going to come in here and throw bombs.'  I'm just going to say that whatever's asked of me and if that's something that they desire and that's something that's stressed that they want to improve at, then that's certainly something I want to do."
(on if playing close to his home in Louisiana is attractive)  "Obviously.  It's certainly an attraction.  My wife and I are both from North Louisiana, but at the same time, there have to be a lot of other factors that are also in our favor."