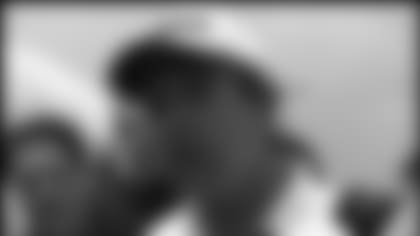 (opening statement) "All of our guys except the injured guys participated today. I liked their attitude; they came out and were all business. I think that they understand the purpose of what we're doing right now. For us to be able to go into training camp and be productive is critical to us right now. We have more of a veteran presence on our team right now and you can sense that. The good thing about that is that if you have good veteran leadership then they can help the rookies learn how things are done."
(on Robinson learning from Glenn and Coleman) "The best way to learn in this league is to have a guy that's made the journey before you show you how to do it."
(on Marcus switching positions) "It will be an ongoing process that we'll go through but Marcus is a good athlete and he has his size and ball skills and most of the things that you look for back there in a free safety. It went well for the first day. With Dunta Robinson out there at right corner and Marcus at safety, it was a good start."
(on the two first round picks starting right away) "When you take a guy with the 10th pick in the draft, we did it with David Carr the first day David walked in here and we did it with Andre Johnson and we're giving Dunta every opportunity. There's nothing etched in stone but with both of our first-round picks, we lined them up there today and we want to give them as much experience as possible this camp and we'll see how they progress in training camp and preseason games."
(on Marcus being willing to help Dunta) "I think it's crucial. We all know that it's not always the most talented teams that win in this league but it's the best teams. A big part of that is guys having a sense of responsibility and accountability to other guys and I sense that with our team." **
(on switching from corner to free safety) "I get a chance to use my ability. I came out today and I wasn't as rusty as I thought I was going to be. It's been about seven years since I've done it. I'm just trying to make sure that I get used to making all of the verbal calls and putting everybody in the right spot."
(on how hard has the transition been) "It's not hard. The only thing I have to learn now is where the 'backers are a little bit. Some of the calls I didn't have to make I now have to make. At corner I was kind of doing that anyway. I kind of like to know what's going on everywhere and where everybody is because that helps me be a better player."
(on any additional pressure) "I would say there's less. As a corner you get left out there by yourself. There were plenty of times where I've looked at everybody else and I was on the other side of the field by myself. The pressure is far greater outside than it is inside." **
(on his first day with the vets) "I'm the new guy here. These guys have been through it so everything that they have to say is positive. My ears are open to whatever because those guys can only help me get better. It's good when you have guys that are willing to help you."
(on Coleman moving positions) "If the older guy had a problem moving, then I would feel awkward. But he was open to the move and he thought he would be a good guy at that position and he thought that bringing me in would only make the secondary better so I'm in a good position."
(on his expectations) "I was a little wide-eyed when I came in this morning and saw the vets. It's different. It's like being a freshman in college all over again. Coming into a new situation you never know what to expect, but I got day one out of the way and I sort of know what to expect from here on out."