Wide receiver Andre Johnson **will soon be the only Texans player** to have a display at the Pro Football Hall of Fame in Canton, Ohio. Johnson established a new NFL record this season when he recorded 10 catches or more in a game seven times, and the **jersey** and **gloves** he wore when he set the record in the season finale against the Chicago Bears – along with the **ball** he caught for his 10th catch in that game – arrived at the Hall of Fame on Tuesday, Jan. 6.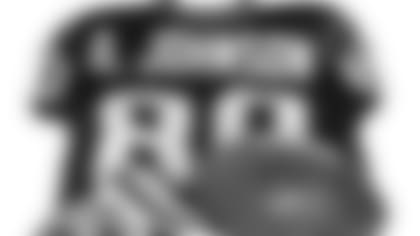 The three items will go on display sometime in the next week or so in the Hall's "Pro Football Today" gallery, where current records and mementos are showcased. The items will remain on display at least until the start of the 2009 season and probably, according to Hall collections curator Jason Aikens, through the end of 2009. Items in the "Pro Football Today" section are cycled as new records are set in the NFL each season.
The only other Texans items currently in the Hall of Fame are displayed in the "Teams in the NFL Exhibit," which includes jerseys, helmets and other noteworthy items and information from each of the 32 NFL teams. Aikens said in a phone conversation that the Hall was happy to have the opportunity to recognize Johnson after several outstanding seasons. I replied to him by saying that hopefully, Andre will have a bust there some day and be the Texans' first Hall of Famer. He'll have a great shot if he has many more seasons like this one, in which he led the NFL with 115 catches for 1,575 yards.