Free agent running back Ahman Green spoke to Houston media on Sunday after visiting with Texans officials.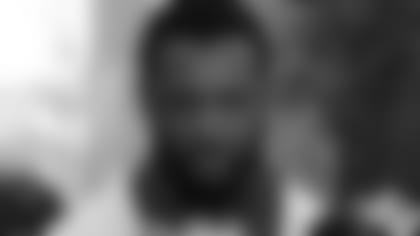 (on the visit to Houston)  "The visit went well. Everything I expected right off the plane.  I remember when I was at Texas; they do everything big down here.  It's a big state of Texas.  I enjoyed myself last night at the game (Rockets game) and I've been enjoying myself.  It's kind of taking a step back and taking everything in from meeting the coaches and seeing the facility."
(on teams not letting potential free agents go and the hard sell) "It has to be there.  It's just the nature of our business.  It's the nature of everything going on in free agency.  I went to Denver first and then came here.  I was talking to my agent and it's been a good overwhelming feeling because I've been two places, Denver and here, where they definitely want me.  I felt that when I talked to the coaches and I talked to the players.  I've known (T) Ephraim (Salaam) for a while and I talked to him while I was here last night and it's definitely some of the things I'm looking for.  That family atmosphere where everybody knows each other, kids, moms, dads, stuff like that and with that, that's what makes a team successful.  I know Houston is in the early stages of their development and it's been rough at the beginning, but this is an organization that is making the steps to get to that respectable level in the NFL."
(on if he's looking for a long term deal or just the right situation)  "That is not my job; my job is to play football.  My agent is definitely doing that stuff with Rick Smith, the GM here.  I'm just looking for a situation where I feel comfortable around the players and the coaches where I can be myself.  Come down here and just play football and have fun.  That is what I'm looking for."
(on if he feels like he's out of Green Bay)  "No, I don't feel like that.  That's where the majority of my career is at.  I think speaking in general with anybody that has been in a situation for a long time, regardless of if it was good or bad, I've been there seven years.  Some good, some bad, but regardless of the fact, staying or leaving will be tough.  I don't know yet, but, I think for anybody generally speaking it would be tough to do.  When you're a kid and you transfer a school, and that school you have all your buddies.  Regardless of if it was good times or bad times, it's still a tough time to leave."
(on if he has any other visits scheduled)  "I did.  I have gotten to the point where I have seen enough.  I don't need to venture out anymore. I know a few teams that are disappointed because I did have some visits set up, but from the two teams that I have visited, I don't need to see anymore."
*(on positives of Houston) *"It's a nice little list.  I've been here a few times I would say as a guest of Houston in terms of visiting the city and all I've seen is good; the neighborhoods, the people, the atmosphere of the town and the weather, you can't beat that.  And then, now meeting the players and the coaches, a few of them I know, Coach (Mike) Sherman as one, and some of the players I have played with, (C) Mike Flanagan, (TE) Ben Steele, (RB) Samkon (Gado), I know (RB) Ron (Dayne) and few of the linemen.  (T) Zach (Wiegert) was here, he played for Nebraska, we're Nebraska boys, and (K) Kris Brown as well.  Knowing those guys are here it makes it a little bit easier to have them on my list and to make it to where I can see myself in blue and red.  You kind of get that notion; you get that feeling when you come off a plane sometimes.  I had the same feeling in Denver, so this is going to be tough for me.  But I know one thing, whatever decision I go with is not going to be a bad decision for me or whatever team I'm with.  Especially with the team here in Houston, they are young.  There are veterans here that have got the leadership behind them and then with someone like myself, the younger guys can definitely latch on because I'm a team player."
(on if he will make a decision in the next 24 hours) "Possibly.  Possibly."
(on if the quarterback situation in Houston and if he can be 'the guy' to carry the offense) "I wouldn't say 'the guy,' but I am definitely a guy that will, if I become a Texan, be part of the mix, because I've been watching the Texans since the inception of the whole organization, and being a football fan—not just a player, but for a fan—I know with David (Carr) being the quarterback, he has done his best.  He has gone out there and thrown the ball, and as a running back, when you're watching SportsCenter and it says 'David Carr has been sacked 100 times in a season' or some crazy number, I'd have a heart attack.  I don't care if it's (Green Bay QB) Brett (Favre) or a seventh-round draft pick quarterback in the backfield, it it's up to me, my quarterback is not getting touched.  As a running back, you take it personal.  I just feel like now that I have the opportunity where I got to come down here and visit, and if I become a Texan, that's going to be one of my priorities outside of running the ball and scoring points and making yards, it's to protect David or whoever is back there throwing the ball.  I'll put it like this: I'm going to be his Kevlar back there stopping the blitz."
(on if Broncos owner Pat Bowlen sent a plane for him) "Yes he did.  It was commercial; American into Denver, which is OK."
(on flying to Houston on Texans owner Bob McNair's private plane) "I kind of expected that.  In the free agency arena, I expected that.  It was kind of a gesture to let you know how serious this team is."
(on his familiarity with Texans offensive coordinator Mike Sherman) "With that, and the few players that are here, like I said: Flanagan, Ben Steele, Samkon Gado, (FB) Vonta Leach, those guys, and Kris Brown goes all the way back to college.  So they can help me possibly adjust to this area, and I don't think I would have a hard time adjusting to it."
(on the Rockets game he attended Saturday night)"I didn't understand that game, because when I was in Denver the night before, (Rockets F Tracy) McGrady had a heck of a game against (Denver F) Carmelo (Anthony) and those guys.  When I saw them last night, I said 'This is definitely not the same team I saw 24 hours ago in Denver.'"
(on whether the Rockets could use him) "I'm just a jumper.  I'm not a shooter.  I play defense.  I'm more like The Worm; I'm like (Dennis) Rodman without all the extracurriculars off the court on that note, but I would be a defender and a rebounder and a dunker, but that's about it."